By
for on October 26th, 2019
'The Great British Baking Show' Season 7 Semi-Final Recap: Pâtisserie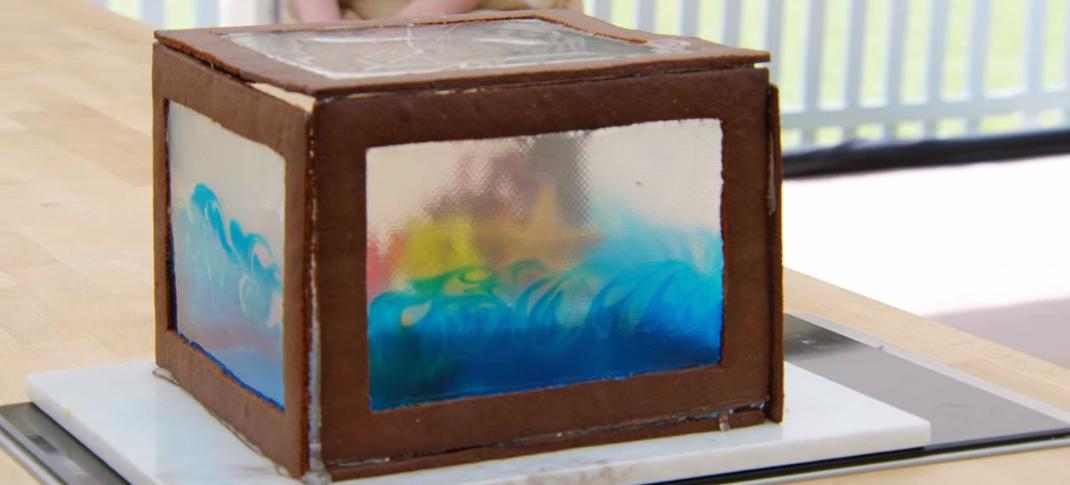 The Great British Baking Show keeps things traditional with a return to Pâtisserie for this season's semi-final. This has been the standard semi-final challenge nearly every year since Series 2 (which has never aired in the US.) Series 4 and 6 (Seasons 2 and 3 for PBS viewers) are the only ones that didn't stick to this strict line-up -- Series 6 did it a week early, Series 4 replaced it with "French Pastries," which was a "same church different pew" move.
This season, the challenges have gone a bit off the wall, as if the show feels like they're running out of ideas. (This also happened last season, but the Netflix binge format made it so American audiences didn't feel it as much.) So it's comforting to see the production is willing to stick to the same shape of the competition, even if it makes the contestants do terrible things in the name of creativity. (Such as making pie dough structural and then wondering why everyone's pies were dry as dust. Hello? You demanded the dough be structural! What on Earth did you think was going to be the result?!)
The opening Signature Challenge sounds concerning, but it's pretty in line with other semi-final challenges, the domed tartlet, which is a french pastry shop staple. These are small bite-sized pastries with a jelly semicircle top on them. The challenge is to make a set of eight matching domes, and they have to make sure that no one in the tent can make boob jokes about their appearances.
Let's take off the Henry-inspired ties everyone is wearing and dig in. As always, pass/fail, etc.
David Aperitif Domed Tarts Pass Paul says the nuts are a bit large, but the flavor is delicious.
Rosie Lemon, Raspberry & Mint Domed Tarts Pass, but barely. They look and taste great, but they collapse upon cutting.
Steph Raspberry, Lemon & White Chocolate Domed Tarts Pass. They're messy, but it's a great pudding.
Alice Mocha, Hazelnut & Orange Domed Tarts Pass. They're not quite matching, but the overall effect works, and the texture is stunning.
Prue sets this week's Technical Challenge, which may be the worst news anyone in the tent has heard so far this week. Then she says these are very hard to make look good, and THAT is definitely the worst news anyone in the tent has heard so far this week. It turns out she's having them make Gâteau Saint Honoré, and THAT, well you get the picture. These pastry desserts are supposedly named for the French patron saint of bakers and pastry chefs, Saint Honoré. In reality, the name comes as much from Chiboust bakery on Rue Saint-Honoré in Paris that invented these things in 1847.
Usually, these are made of a circle of puff pastry filled with crème chiboust with a ring of pâte à choux piped around it and caramelized cream puffs attached across the top in a ring, decorated with whipped cream using a St. Honoré piping tip. But because Prue is determined to be worse than Paul, she's demanding these be rectangular.
Rosie has made them before, even if she failed. Alice has a picture of what the circular one looks like. David looks genuinely ill.
4. Alice: The cream's overworked, and the caramel is too strong.
3. Steph: The choux buns are all different, and the cream is a little eggy.
2. David: The pastry is soggy, the butter poured out.
1. Rosie: The choux buns are upside down, but everything else is perfect.
The Showstopper is a horror show, though not in the "pie dough must be structural" vein. How bad is it? It's a Sugar Glass Display Case of pâtisseries. This is a sugar challenge, where they have to cook and pour and assemble sugar panes to create a glass case. Inside must be a pastry one might find in a pâtisserie window showcasing something that the baker cares about more than anything. That can be anything from a place to a cause to their loved ones.
This means everyone is not just baking. They have to turn out a piece of architectural structure in an artistic form, made of sugar. Sugar work, for the record, is a skill in and of itself, separate from baking, and something that would be considered super tricky if it were assigned in a Food Network professionals challenge. To ask amateur bakers to create them is bordering on lunacy. 
The lunatics are on the sugar glass. Let's see how they did.
Steph's A Night at the Opera Give the girl the win right now. That is a showstopper of a presentation. Prue loves the antique glass look. The opera cake inside is neat as a pin and tasty too.
David's Greenhouse Growing Moss The box is a stunner, especially the pink panes. The carrot cake inside technically isn't a pâtisserie, but the flavors are bang on. "Blindfolded, I know this was yours," says Paul, a huge compliment.
Rosie's Time with Family The clock hands on the top of the box don't read well and not all her panels are see-thru. Paul complains the small pastries inside are a bit boring and dry.
Alice's Save Our Oceans Her box (the feature image up top) is not see-thru at all, so I've taken the liberty of posting the cake-sized pastry inside. The only flavor that comes through in the raspberry, the mousse in flavorless. But the appearance is stunning.
Of the four bakers left, only Steph has earned Star Baker before. David, Alice, and Rosie have not. Rosie was already almost assuredly going home this week, the judges have made it clear they view her as the weakest link. Though she knocked out the Technical, they're ignoring that and going ahead with sending her home. As for who gets Star Baker, they hand it to Alice, which unfortunately makes David the Finale's Official Underdog.
---
By
for on October 26th, 2019
More to Love from Telly Visions