By
for on October 22nd, 2019
'The Great British Baking Show' Season 7 Quarterfinal Recap: Pastries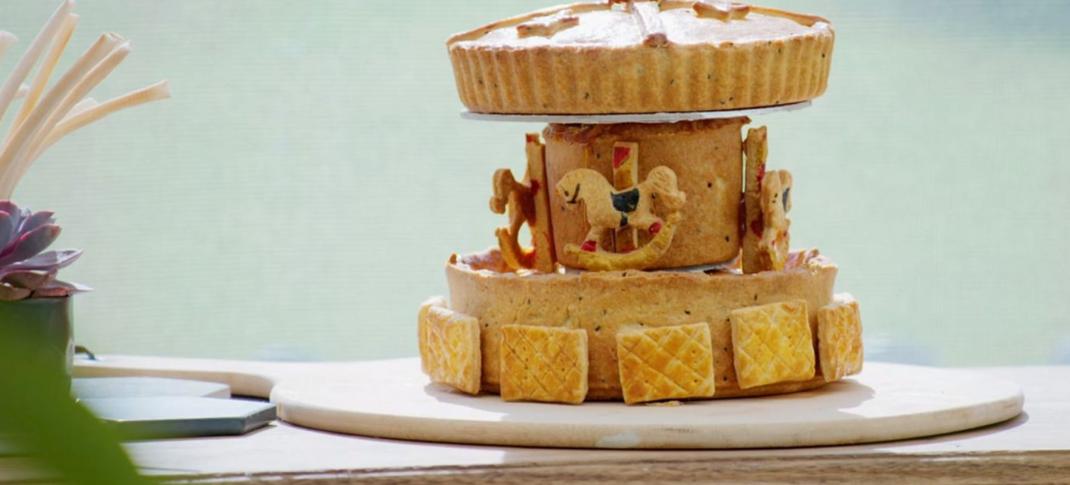 The Great British Baking Show hits pastries for the Season 10 quarterfinal. Pastry is one of the standards of the series, having been a Weekly Challenge every season save Series 2 (never seen in the U.S.) and 3 (PBS Season 5, aka GBBS: The Beginnings on Netflix). In those seasons, the "Pastry" challenge week was replaced with "Pies" instead.
It's not wrong to equate the two: Several of the "Pastry" challenges over the years have been pretty pie heavy, and this season is one of them. That's a little disappointing. "Pastries" is one of those challenges that usually comes later in the seasons because these require multiple skillsets, all firing at once. It also can encompass a vast swath of different types of pastry, like eclairs, or Vol-au-vents.
But this season's Pastry Week is mainly comprised of pies. The Signature is the fresh tart classic the Tarte Tatin. This pastry from the 1880s was initially made with apples and is sweet. (The origin story says the Hotel Tatin chef was attempting to make an apple pie and this resulted.) So as the added twist, our contestants are being asked to make Savoury Tarte Tatin.
As always, these are graded on a Pass/Fail metric.
Henry Crab, Tomato & New Potato Tarte Tatin Pass. It's a bit soggy, but well cooked and good flavor.
David Caramelly Carroty Tarte Tatin Pass, but barely. It looks burnt, but it's not, the purple carrots are just dark. But the tart is dry.
Alice Leek, Apple & Goat's Cheese Tarte Tatin Pass. The tart isn't caramelized, and it's a touch soggy, but the lattice is lovely, and the flavor is spot-on.
Steph Caramelised Onion & Goat's Cheese Tarte Tatin Pass. The flavor is excellent, but they hate how the goat cheese is plopped on top.
Rosie Shallot, Aubergine & Goat's Cheese Spiced Tarte Tatin Fail. It's soggy, and the top is dark brown, but the kicker is "too much garlic."
There's a dread heading into the Technical Challenge this week. Over the season, the Technicals have been some real doozies. It's to the point of fans making jokes about how much harder the show has gotten. The unease in the tent heading into this one says that those who are living through making them are perhaps suffering just a touch of baking PTSD when it comes to technical challenges at this stage of the game.
They have a right to be worried. This week's Technical is to make a Moroccan Pie made from warka pastry. (We can blame Paul for this.) Neither Noel nor Sandi knows what a warka pastry is, but they cue cards tell them to say that the contestants have to make a dozen thin sheets of it and then wrap them around the filling to create a pie. It turns out warka pastry (or brick pastry) is just a fancy name for a kind of phyllo dough.
Also, as Paul points out, it is SUPER hot in the tent today, which means that these phyllo dough sheets are going to melt. Disaster ahoy!
5. Henry: The warka pastry is all wrong, and it collapsed.
4. Steph: It fell to bits, despite the dough being too thick and undercooked.
3. Alice: Immaculate looking, but it's soggy on the bottom, and too spicy
2. Rosie: It burst on the way to the plate, the bottom melted, but the dough is bang on, and the flavor is great
1. David: The only one who knew what this was, and it shows. It's the only one that held together with the right dough consistency and flavors.
After weeks and weeks of being second in the Technical, David finally wins one! "Only took eight weeks," he deadpans. Still, peaking at the right time is the best way to play the game.
The Showstopper is "A Stunning Vertical Pie." It's more like a pie sculpture, with a large pie base that has vertically stacked decore, and then has two more pies "supported" on top. Paul says these further pies should be "stacked" on top, though I am personally picturing pie stands to hold them separated from each other. But that's not what the bakers are doing. They are attempting to make pie crusts that are thick enough to support their upper pies, but by the end, support structure items are quietly added to make everything work. Most are just making the required three, but Henry is doing four, and Rosie is doing nine. (NINE! PIES!)
Let's see if these pies hold up for the judges.
Rosie's Rapunzel's Tower The design is excellent, but the pies are thick as hell and dry, and it's really good she went first, lest it collapse.
Alice's Apple Tree House Pie It's a little messy, but super cute, and the truck looks great. But "the pastry is tough as old boots" as Paul puts it, and again it's too dry.
David's Whitby Fish Pie His pie is a tribute to his hometown, and the topless pies as the sea is a  great idea. Paul hates it. For him, a topless pie is a tart, and it's too spicy. Again, also dry.
Steph's Curried Chickpea & Potato Carousel It's super cute! Paul says, "It's very organized, It's very Steph." And it's delicious, the first pie not to be dried out for fear of collapse.
Henry's Chandelier Picnic Pie It doesn't look like a chandelier, it looks like a bunch of pies stacked on top of each other. It's just a pie stack. The pies themselves are so thick, they're raw in the center (hence the outside cracking) and dry as a bone inside. 
Steph comes from behind after middling to bad Signatures and Technical to win Star Baker, as the only non-dry pie in the house. As for who is going home, it's Henry! Don't worry, Henry. I'm sure Thomas Brodie-Sangster will play you in the TV movie of your life.
---
By
for on October 22nd, 2019
More to Love from Telly Visions