By
for on July 14th, 2018
'The Great British Baking Show' Season 5, Episode 5 Recap: Pie Week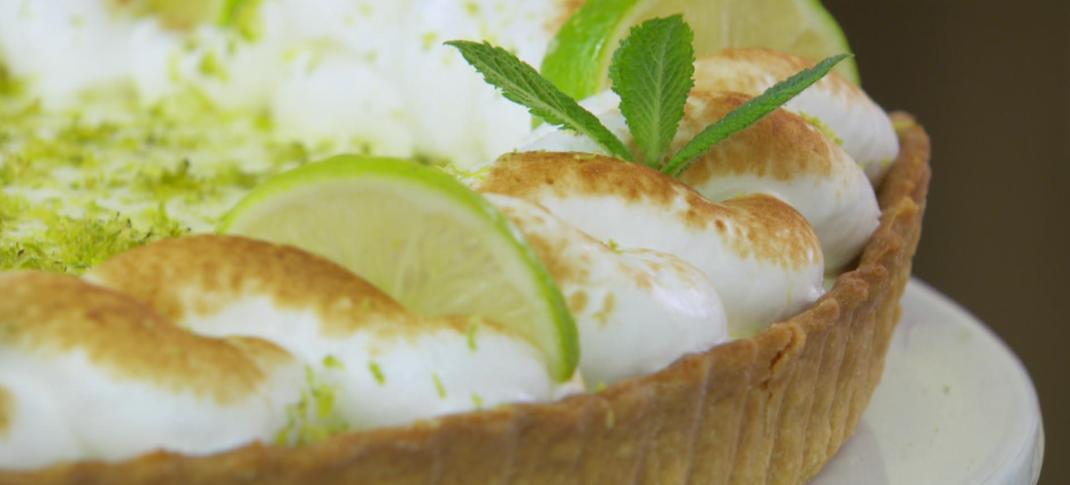 Eight bakers arrived back in The Great British Baking Show marquee to take on the newest trilogy of Berry-Hollywood challenges. (Mel Giedroyc also made a welcome return.) At the half way point of the competition, things were getting serious for Pie Week. Not to be confused, of course, with pi week which celebrates the ratio of the circumference of a circle to its diameter. Though if you think about it many pies are round… 
And while I'm digressing anyway, let's review last week's results. Dessert Week was sweet for Brendan. All his bakes got superior marks which culminated in his being awarded the Star Baker title for his skill, dexterity and flair.  Sue referred to his retro design clementine and chestnut signature torte as a flourless anti-depressant. His crème caramel earned the first-place spot for its nice caramel, lovely texture and delightful wobble. And for the hat trick, his pear, chocolate and hazelnut dacquoise showstopper towered above the other layered meringue desserts.  
Unfortunately, Stuart's luck finally ran out.  With a messy, sub-par signature, an eighth-place ranking in the technical and a doorstop of a showstopper, it was Stuart who was eliminated. The teacher had a few promising bakes in previous weeks, but he couldn't deliver as consistently as some of the others who had upped their games.
As for this week, our octet of amateur bakers was handed three pie challenges, created for the purpose of separating the upper crust from those who would be eating humble pie.
The signature challenge was to whip up a tasty Wellington. This pastry-wrapped log of filling needed to be at least eight inches long and would preferably avoid the dreaded soggy bottom. Traditionally filled with beef, our bakers could let their imaginations run riot, but a flaky rough or full puff pastry was a must.
Paul Hollywood asked the bakers to tackle the lost art of hand-raised pie making in the technical challenge. They were required to present two identical hot water crust pies with chicken, bacon and apricot in two and quarter hours. Most of the bakers had not made this kind of pie or used the specialist equipment. Wooden dollies were provided to shape the crust rather than a mold or tin. The final step was to add a gelatin/stock mixture to the pies to prevent them from drying out. And if the task itself wasn't agonizing enough, the bakers then had to leave the pies to set overnight so that meant the judging was delayed until the following morning.
Finally, for the showstopper the judges wanted a classic American family-sized pie with a British sensibility in regards to the level of sweetness. They had three and a half hours to make this open-topped pie with a blind baked crust.
Highlights:
It was a rare Wellington that was up to the judges' standards. Brendan's salmon coulibiac in a Scandinavian pastry looked nice on the plate and featured a lovely unaged cheese called quark in the pastry. Ryan's curry spiced seabass Wellington with puy lentils had a clever fish design, great texture and well-baked and flavored fish. The only issue was a bit of sogginess in the middle underneath.
It was Cathryn's gigantic full English Wellington, however, that surpassed them all. The filling consisted of eggs, tomatoes, mushrooms and black pudding wrapped in Parma ham.  Covered in a flaky pastry, her glorified sausage roll exceeded size requirements and though Sue Perkins remarked you "could do someone a real mischief with that", Paul and Mary were impressed with this lovely family Wellington.
None of the top finishers in the hand-raised pie technical achieved perfection, but Cathryn's effort was deemed to be the most like Paul's. Her pies possessed good color, crimping and layers though her jelly was nowhere to be found. John came in second despite his thick, underdone pastry and Brendan's slightly lopsided pies with good layers and nice flavors nabbed third place.
As for the showstopper sweet pies, Brendan's all-American chiffon pie with blueberries, raspberry chiffon and Chantilly cream received kudos for its elegant appearance, well-baked base and balance of sharp and sweet flavors.
However, it was Ryan who blew the judges away with his key lime pie topped with Italian meringue. Considering the amount of screen time dedicated to this pie, you had assume Ryan's creation would be a triumph or a disaster. Paul said the photographer nailed it and that his pie was "very special". Mary Berry agreed, calling it "sheer perfection".
Ryan's dismal performance in the technical (more on that later) would have normally made him ineligible for the top honors this week. But Paul and Mary decided to break their own rules and name him Star Baker based solely on the merits of this otherworldly pie which they declared one of the best things either of them had tasted. If like me you have been wondering, it became obvious that Paul had not yet developed his Hollywood handshake since Ryan's effort surely would have merited such an honor.
Missteps:
Most bakers missed the mark with their signature Wellingtons. Manisha, James and John all had appetizing interiors, but were found lacking in the flaky pastry category. Meanwhile Danny, with the lone vegetarian option, disappointed with her filling of chickpea, spinach and mushroom.
But it was Sarah-Jane's traditional beef Wellington with Parma ham and gorgonzola cheese that failed most spectacularly. The judges seemed concerned with her method for cooling the meat from the start and, just as they feared, Sarah-Jane's pastry melted and split right off the roast. Paul compared the beef emerging from the pastry to the Alien film. The vicar's wife had to concede that, at the moment, it couldn't have gone worse.
The technical round had its share of woes as well.
The wooden dollies posed problems for a majority of the bakers, mainly because once their hot water crust was formed on the contraption, they couldn't find a way to get it off cleanly. Ryan's pies were judged the worst; he ended up fashioning a free-form crust that dropped and ballooned into something more like a pasty. Danny followed close behind with pies that contained none of the required jelly filling. James came in sixth place for his messy lack of crimping.
Many of the American pies had weaknesses for Mr. Hollywood and Mrs. Berry to prey upon. Cathryn's peanut butter pumpkin pie with chocolate short crust pastry was pleasing visually, but Paul and Mary simply did not like the flavor at all. Danny, whose childhood memories of pumpkin pie were disgusting, endeavored to made a less sweet trick or treat pumpkin pie. Lined with salted caramel and filled with roasted butternut squash flavored with maple syrup, her effort was unfortunately ruined with the overwhelming taste of spiced rum. James made a Southern-inspired sweet potato pie, and while the original flavor was winning, Mary said it lacked the wow factor expected of a showstopper.
Alas it was Manisha's sloppy banana scotch pie topped with meringue that sealed her fate this week. Her failure to use a setting agent resulted in a gushing avalanche of filling. 
Her middling technical and her failed Wellington pastry did her no favors this week, so the struggling baker was chosen to leave the tent. In her parting comments, Manisha said the competition had given her confidence, but she got tearful nonetheless when she mentioned her family and the hope that they weren't disappointed in her.
So we have five episodes down and five more to go. How are you feeling about the competition thus far? Without actually tasting the Ryan's miraculous key lime creation, do you feel one bake should be worthy of Star Baker designation? I also have to ask, did you get to see Mel's food history segment on eel pie or was that just included in my press screener version?
Let's chat about the challenges and the brave bakers who attempted them in the comments section below!
---
By
for on July 14th, 2018
More to Love from Telly Visions