By
for on June 23rd, 2018
'The Great British Baking Show' Season 5 Episode 1 Recap : Cake Week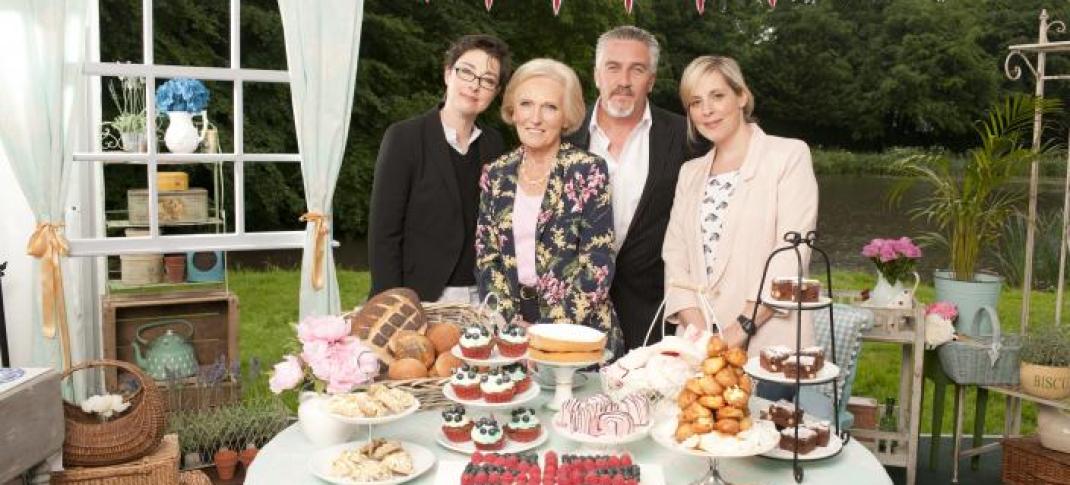 Cake, bread and pie lovers, rejoice! Our penchant for watching British people politely yet passionately baking in a tent will once again be satisfied thanks to the return of another season of The Great British Baking Show to PBS.
Granted this set of episodes is not new. In fact, this season literally transports us back to 2012 which is older than any previous series we've seen in the US so far. Paul Hollywood's hair is darker, presenters Sue Perkins and Mel Giedroyc have not yet achieved their master punster status and this televised competition has only just started to influence culinary Google searches. (According to Sue, up until the previous year, the most searched for food term on the internet used to be "chicken". Now, it's "cake".)
Fortunately some familiar aspects of The Great British Baking Show have always existed. The frequent and sometimes alarming appearance of those blue plasters (aka band-aids), the inexplicable agelessness of Mary Berry and the starting field of a dozen amateur bakers determined to make an impression on the judges with their culinary know-how.
Season five's contestants include six women and six men who range in age from 21 to 63 and represent a wide variety of occupations.
Let's introduce the ladies first. Cathryn is a mother of two who works as a shop assistant at a motorway service station. Child care worker Manisha hones her skills by cooking for her father and brothers. Victoria is the CEO of a charity that strives to preserve wild plant life in Britain and is the resident baker at her workplace. Sarah-Jane is the wife of a vicar and mother of two children. Her bakes are popular at parish events. Danny is an intensive care physician and a keen traveler who has researched recipes and baking techniques from all over the world. Finally, Natasha is the mother of two teenagers and a midwife for whom baking is a form of therapy.
We lead off the gents' group with Ryan, a photographer and father of two who learned to cook at his family's Chinese takeout restaurant. Stuart is a PE teacher whose grandmother began showing him to bake at four years old. The youngest competitor at 21, James is a medical student who treats his kitchen like a laboratory. Peter is a sales manager and father of two whose cakes are in demand at work as well as his children's birthday parties. At 63, Brendan is the oldest baker in the competition. He is a semi-retired recruitment consultant who started baking as a child in rural Ireland. Last but not least is John, a law student who learned all he knows about baking from his mum.
Throughout the history of the competition, week one has always been cake week and this season is no exception. The signature challenge was to make an upside-down cake - basically a simple sponge topped with fruit of the baker's choice. The fruit must hold its shape and the judges expect the cake to be moist, light and full of flavor. No soggy bottoms or pulpy produce.
The first technical challenge was a trial by yeasty cake. The bakers were asked to create a 1970's staple called rum baba. They had three hours to make four perfect babas with Chantilly cream in the middle and perfectly sliced fruit on top. Mr. Hollywood predicted this hybrid between bread and cake would have many of the bakers scratching their heads.
The episode concluded with a showstopper round where a capacity for spatial relations was a definite plus. The bakers were tasked with making a hidden design cake which, when cut, revealed a secret and clearly defined shape running through the middle. The bakers had five hours to engineer a cake that was both precise and tasty.
As I always like to point out in the first week of the season, the number of contestants in the competition makes an in-depth analysis of thirty-six individual bakes time prohibitive. For example, in this episode, we didn't get even a peek at two or three of the bakers' showstopper creations due to editing.
Highlights:
In the signature round, Cathryn, Victoria and John led the pack. Paul's initial questioning about her "very busy cake" led to some panicked moments for Cathryn. But after reassurance from Mary and Mel's de-clenching advice, the unnerved baker rallied to make an apple, hazelnut and Calvados (a French apple brandy) upside-down cake that was declared gorgeous by Paul and scrummy by Mary. Victoria took no shortcuts with her pear and pecan upside down cake. The sturdy structure of her fruit and the roasted pecans earned her kudos for a professional appearance and lots of delicious pear flavor. Though Paul tried, he couldn't find anything in John's toffee apple, orange and cranberry upside-down cake to have a go at. Flavor, texture and color were all spot on.
In the technical, Sarah-Jane came in first with the most attractive of the rum babas.  James, who commented that he had just made a batch of babas (with whiskey) last week, came in second with some well soaked, well-baked cakes. Despite Peter's decision to cover up his babas' imperfections with fancy sugar cages, Paul wasn't fooled by this distraction. They must have been better than he thought since Paul and Mary ranked them in third place over all.
The showstopper round was a story of simple precision, two Union Jacks and a nursery rhyme.  Cathryn's berry flavored hidden cupcake cake and John's moist hidden pink hearts cake (which was compared to the texture of a Muppet) were well received by the judges. Peter made an impressive Jubilee cake with a meticulous Union Jack design hidden inside that put another baker's similar cake construction to shame.
But it was Victoria's impressive nursery rhyme-themed blackbird cake shaped like a pie that most wowed the judges. Combined with her superior showing in the upside-down cake challenge, Victoria nabbed the first star baker prize of the season rather like the bird who grabbed the maid's nose.
Missteps:
Many of the blunders in the signature round demonstrated that sometimes when you take a chance on an unusual or daring flavor it may come back to bite you. Peter's pear, Muscat and chocolate upside-down cake lacked the essence of both pear and wine which made Mary ask if the baker might have had a little tipple before he started.
Ms. Berry also said James' parsnip, pear and pecan upside-down cake was a brave choice, but didn't taste strongly enough of the root vegetable it contained while Paul merely called him "Professor". Natasha's pineapple and passion fruit upside-down cake looked quite tempting, but the passion fruit lost its flavor when heated into a sauce.
It was Stuart's maverick tomato and ginger upside-down cake, however, that was the biggest casualty. In his haste to get his cake in the oven, the teacher forgot to apply his tomato jam so his concoction turned out to be a very dense, unattractive ginger cake. Stuart had to admit that though he tried to push the boat out, it didn't work this time.
In the rum baba technical, it was Brendan, John and Natasha who came in at the back of the pack. In tenth place was Brendan whose baba making skills were admittedly rusty. His dough adhered to a cloth he used during proving which interfered with the overall texture. John was a victim of a dreaded salt/sugar snafu. He tried to slice off the offending outer layer, but it had permeated the cake which had Paul coughing and proclaiming the babas "dead salty."
The gravest mistake of all was made by Natasha who overthought Paul's sparse instructions and employed the bain-marie method which steamed her babbas to oblivion. Her fears of annihilation by Paul were realized when she was assigned last place in the technical.
While the design element worked for most of the bakers in the showstopper challenge, a few stumbled. Sue teased that James' very large Simmer Dim (which refers to the night-long twilight found in the Northern Isles around midsummer) sunset cake could be seen from space. The sheer size of the genoise cake packed it down making it quite dense. Stuart's lemon pistachio Union Jack cake, though tasty, was not nearly as impressive  Peter's more meticulous effort.
Alas for Natasha, her lovely double-toned rose decorations couldn't mask the raw paste-like consistency of her Mother's Day four layer cake. This combined with her last place finish in the technical and a middling result on her tropical upside- down cake meant that Natasha was the first baker who was asked to leave the competition.  The midwife assured us that she would continue to share her baking with others.
There you have it! Episode one of The Great British Baking Show was certainly no cake walk for the bakers. The challenges will only get tougher, so who has the skills and nerve to emerge victorious? Do you have any early favorites? Only time (and Paul and Mary) will tell.
Please share your thoughts about contestants, cake and the fact that we're getting the back catalog of the show rather than moving ahead to the new GBBO reboot. Does that matter to you? Do you want to see Brendan shimmy or hear the other end of the call to Manisha's family? Let's discuss!
---
By
for on June 23rd, 2018