By
for on August 4th, 2017
'The Great British Baking Show' Season 4 Episode 9: Patisserie Week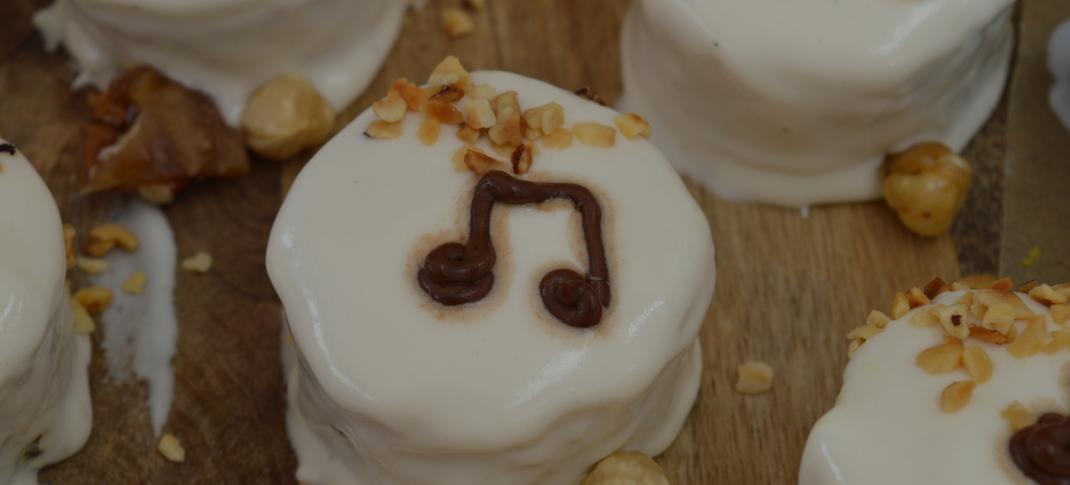 The air was steamy and the stakes were high as our four remaining bakers entered the tent this week. With just three patisserie challenges standing between the contestants and a spot in this season's The Great British Baking Show final, even Mel and Sue's bad French accents couldn't completely relieve the anxiety. You could cut the tension (and the fancy yeasty cake) with a knife.
Last week's Tudor round resulted in Benjamina saying farewell. While none of her bakes were a total disaster, she struggled with pie pastry, jumble knots and her marzipan maze. Candice was awarded Star Baker for a third time on the strength of her first-place technical effort and her outstanding marzipan peacock centerpiece.
However, a new week meant the danger of elimination was in the forefront of Andrew, Candice, Jane and Selasi's minds. The pressure began with the signature challenge to make twenty-four savory puff pastry palmiers, in two completely different shapes and flavors of course.  Paul and Mary were looking for delicious fillings and laminated pastry layers throughout.
In the technical, Mr. Hollywood tasked the bakers with making a savarin - a ring-shaped, yeasted cake that is soaked in orange liqueur syrup and topped with Chantilly cream and fresh fruit. He expected excellent taste and appearance.
And for the showstopper challenge, the contestants were required to produce two varieties of shop standard fondant fancies, thirty-six in all, with flat sides and a glossy smooth appearance. The sponge had to be genoise and the fondant had to be made from scratch.
Highlights: While all the bakers were praised for their signature palmier flavor combinations, Candice's heart-shaped mushroom, streaky bacon and parmesan variety was singled out by Mary Berry as beautifully crispy and something she'd like to eat for breakfast. Despite Andrew having to start again on his pastry dough, he got away with it anyway. The judges appreciated his beautiful display and particularly enjoyed his roasted red pepper and goat's cheese elephant ears.
Jane came first in the technical challenge. Her savarin had the best color, decoration and infusion of boozy syrup. Andrew followed in second place. His cake was slightly overdone, but the decoration was good and he had removed the membrane from his orange segments which was apparently a big deal.
As for the showstopper fondant fancies, Jane received compliments for her flavors (pistachio and raspberry and lemon curd surprise) Yum! Selasi's decision to re-do his sponge was vindicated when the judges declared them perfect and free of air pockets. Mary told Candice there was "nowt wrong with that" when it came to the flavor of her chocolate praline fondant creations.
But it was Andrew who came out on top with his overall excellent fancies – stunning presentation, good textures, flavors and finishes. His solid bakes in the previous two challenges gave him the edge over Candice and earned him a second Star Baker title.
Missteps: Flavors aside, the puff pastry was problematic for most of the bakers in the palmier signature bake. Jane's efforts ranged from not quite done to soggy. Candice's red onion, cambozola cheese and walnut variety contained too much filling and therefore lost definition. Paul went as far as to say he wouldn't class them as a palmier at all. Selasi struggled the most. His salmon, spinach and mushroom elephant ears were soggy while the pastry in his tomato, onion and pepper butterflies was actually raw in places.
It was Selasi who came in last in the technical round. His savarin cake had inconsistent coloring, the syrup didn't soak in well and his oranges weren't even segmented. Candice's effort came in just ahead. Her cake was overdone, close textured and underproved.
The showstopper was very much about appearance and so Jane's choice to forgo applying buttercream to her fancies turned out to be unwise. The sides showed every crumb through the fondant thus ruining the glossy finish. Candice's stunning flavors couldn't divert the judges from her less than tidy cakes.
Sadly, it was Selasi who just couldn't make things work this week. Last place in the technical and his raw palmiers put him in a position where his showstopper had to approach perfection. Alas his lime and ginger and pink velvet and raspberry prosecco fancies were too sweet, too basic and too clumsy to earn a place in the final. It must be noted that Selasi was the only contestant in this semifinal who hadn't been named Star Baker during the season. With his familiar charm and laid-back style, he summed up his experience as splendid.
That being said, in an uncharacteristic GBBS diss, he told Mel Giedroyc during a particularly stressful moment that he'd leave the crying to Andrew! Also I guess since Benjamina had departed it was up to the presenters to provide the requisite flirtations with Selasi. Sue Perkins went as far as to blot his perspiring brow and save the cloth as a sweaty souvenir.
And so we have Candice, Jane and Andrew through to the final round. We know Jane has the time management skills, Andrew the precision and Candice the tendency to go big or go home. Who will triumph and claim the championship title? We're about to find out!
---
By
for on August 4th, 2017
More to Love from Telly Visions