By
for on July 15th, 2017
'The Great British Baking Show' Season 4 Episode 6: Botanical Week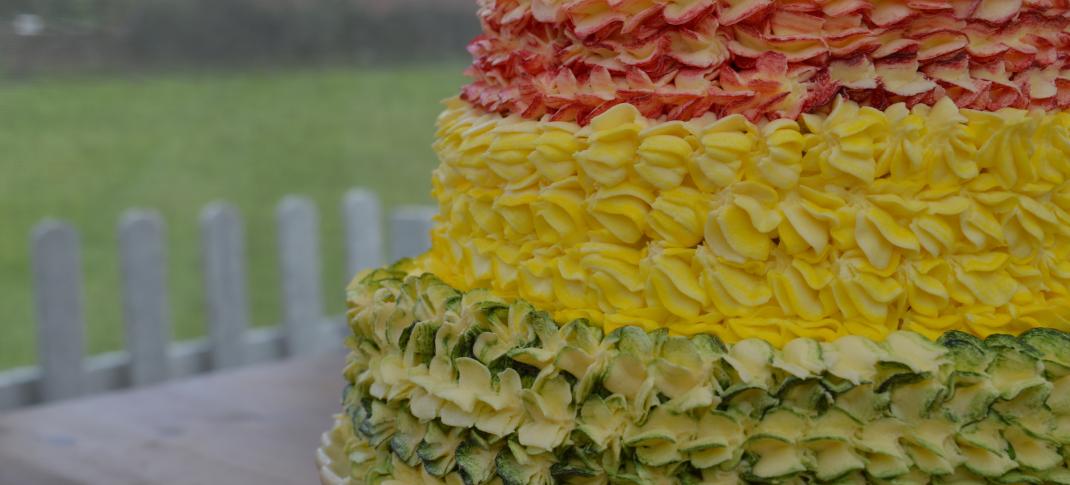 Seven contestants remained as The Great British Baking Show introduced its first ever botanical week, sort of a baking version of the Rose Parade. All three challenges were inspired by nature and the bakers were encouraged to raid the garden (and the produce aisle) to give their bakes deliciously aromatic flavors.
But before we plow ahead, let's review the results of last week's pageant of pastry. Candice got some good momentum with a second-place finish in the Bakewell Tart technical and then pulled ahead to capture the Star Baker title with her duet of savory sausage and sweet banoffee amuse-bouche. Alas for good-natured yet quirky Val, her pastry skills weren't up to scratch.  Time was not her friend and she left her showstopper bake incomplete. Val's playful spirit and unique way of looking at things will certainly be missed in the tent.
This week, bakers had the opportunity to turn over a new leaf and more than a few believed this round's theme would give them room to blossom. The signature challenge was to make a pie with perfect short crust pastry, melt in the mouth meringue and a sharp citrusy filling. And all were advised, though only one heeded the warning, that use of a blow torch on the meringue would displease Mary Berry.
Paul Hollywood set the technical challenge this week so you know that means something yeasty. The bakers had to produce two leaf-shaped fougasse flavored with rosemary, sage and thyme. This classic French bread should be crispy on the outside and soft on the inside.
And, finally, the biggest showstopper challenge of the series so far was a three-tiered floral cake. The judges were looking for exquisitely infused botanical sponges and elaborate floral designs.
Highlights: In the signature round, Jane (the only baker to forgo the blow torch) was praised for her lime and coconut pie. Her flavors balanced well and her baked Swiss meringue held up beautifully. Perhaps the floral print blouse brought her luck? Benjamina's graperfruit pie was favored over Selasi's. Her bake had an overall lovely appearance with good proportions and a delicious gingery grapefruit tang.
The fact that Tom's fougasse placed first in the technical came as no surprise. His bread week performance earned him Star Baker so he knows his way around a loaf. He also said this variety of bread is his cinema snack of choice. Benjamina came in second for her well-baked fougasse with a nice herbal flavor.
As for that elegant flowery cake showstopper, Candice's quartet of flavored layers received three out of four big thumbs up from Paul and Mary – only the carrot cake let her down. Selasi's three-tiered ombre floral cake featured impressive piping and beautiful botanical layers of lemon, carrot and vanilla and strawberry sponge. Flowery shirt mojo, perhaps?
But it was Tom who rebounded and emerged victorious as Star Baker this week. Not one to play it safe with his flavors, his floral tea cake with elderflower rosettes was a triumph in the showstopper after his less than successful signature round blood orange Halloween pie. Factor in his textbook fougasse and there was no doubt Tom was in his element in the botanical arena.
Missteps: Meringue proved to be a problem in the signature challenge. Selasi's was too thick, Candice's was too wet and Rav's was too soft. In addition, the flavors in Rav's Mandarin margarita meringue pie lacked the punch necessary to stand out.
Selasi came in last in the technical round. His fougasse were pale, spongy, the cuts were in the wrong place and the loaves needed more time in the oven. Andrew's bread also needed a longer bake.  but his leaf cuts were properly positioned so he came in just ahead in sixth place. (If it were me, I would have placed Candice in sixth and Andrew in fifth.)
The enormity of the tiered floral cake showstopper was a stumbling block for a majority of the contestants. Jane's orange cake with floral chocolate collar and sugar paste flowers looked a mess, according to Paul, and was overbaked. Andrew's spring elderflower trio cake needed more decoration while the lemon, strawberry and cherry layers were overbaked and the elderflower flavor was too subtle. Benjamina's floral tea cake looked unfinished to the judges and while the orange blossom layer was tasty, they couldn't detect any tea in the other sponges.
But it was Rav who foretold his fate when he said at the start of the show that his bakes weren't neat or pretty.  His blossom cake with orange, vanilla and almond flavored sponge failed to wow the judges. The icing was messy, the flowers were washed out and it just wasn't very creative. Paired with his less than stellar meringue pie, Rav's third place technical showing couldn't keep him in the running. Upon leaving the tent, Rav said getting this far was a big accomplishment. He was proud of himself and was leaving with a smile on his face.
The field of contestants continues to shrink and everyone must up their game for next week's round of dessert challenges. One soggy bottom, dry sponge or bad flavor combo can mean disaster. As we count down with only four weeks to go, who do you think has the skills, creativity and nerve to make it to the final? Were Sue and Mel a bit off with the puns this time around? And does anyone else think Selasi and Benjamina are just a bit flirty with one another? Or is it more like sibling rivalry? Please discuss by leaving your comments below!
---
By
for on July 15th, 2017
More to Love from Telly Visions