By
for on June 10th, 2016
'The Great British Baking Show' Returns to PBS This Summer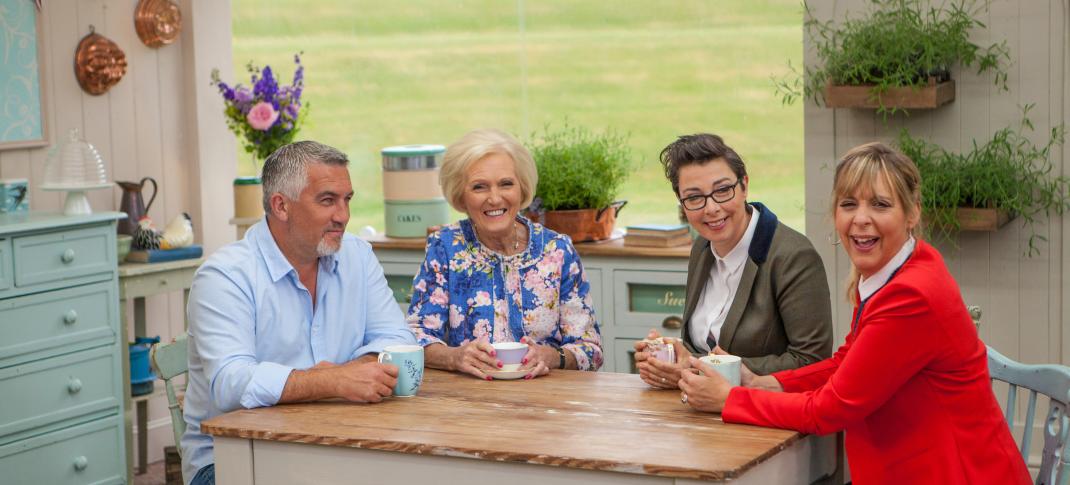 Good news, America – it's time to start baking again! Another season of the highly popular cooking competition The Great British Baking Show will be airing on PBS stations nationwide this summer, beginning July 1.
PBS has aired two previous seasons of The Great British Baking Show, and will broadcast Britain's Season 6 this summer, and call it Season 3. (The previously aired US seasons were actually Seasons 4 and 5 in British time. Confusing? A little bit. But let's go with it.) PBS is also planning to air additional seasons of the show over the next two years, with more information on that to be announced later.
The Great British Baking Show features 12 contestants all jockeying to win the tite of Britain's Master Baker, as judged by leading cookbook author Mary Berry and professional baker Paul Hollywood. The competitors' skills are tested on a different challenge every week – from cakes to breads to pastries of all kinds. The competitors are then eliminated based on their performances in the various challenges until only one remains.  Unlike many similarly themed American reality shows, which focus on frequently vitriolic drama, Baking Show relies on its earnestness and charm to hook viewers. And, judging from its rather immense success, this is a formula that really works.
Known as The Great British Bake Off on the other side of the pond, the BBC series is a phenomenal hit in the UK, and the most recent season finale was the nation's most popular show of 2015 when it aired last October. It has aired six seasons thus far in England, and spawned several spinoffs, including companion series An Extra Slice and Bake Off: Crème de la Crème, in which teams of professional pastry chefs compete against one another. 
Watch the new PBS promo for show's return: 
For those who need as much Baking Show as they can get, the BBC trailer for Season 6 is below: 
The Great British Baking Show has found its own loyal audience in America so the news that another season is airing should make a lot of folks very happy. (Honestly, this is one of the shows I get asked the most about in my inbox, so yay, for having an answer for people!)
As with the majority of summer programming, however, I have to caveat this announcement with a reminder to definitely check in with your local station to determine when they're airing Baking Show. There are a couple of pledge periods for most stations during summer months, so the show could move around. So keep an eye out for broadcast announcements in your area, just to be on the safe side. As for you folks who watch on WETA - we'll be airing it on Sunday nights - twice, actually! You can catch the new season starting at 7pm on TV26 and WETA HD, or at 8pm that same night on WETA UK. 
If you need some more information on the show, we've got recaps from last season (American Season 2, British Season 4) with many enthusiastic fans extolling the virtues of the show in the comments, along with a detailed list about why you should give a reality competition about baking a chance.  So, take a look and see what you think! 
 Are you excited for more Great British Baking Show in America? Let us know in the comments. 
---
By
for on June 10th, 2016