By
for on November 2nd, 2015
'The Great British Baking Show' Recap: The Semi-Final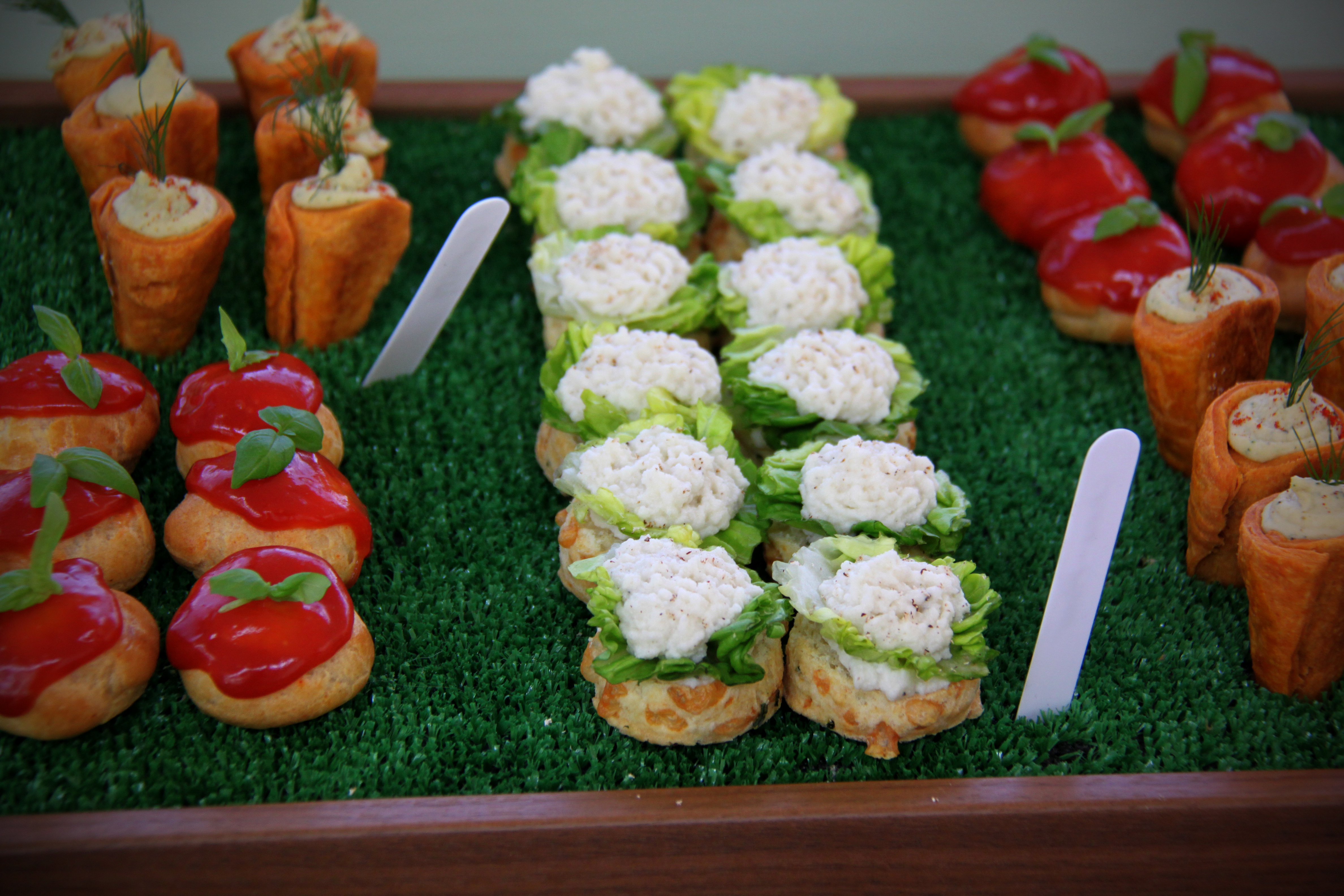 On last week's episode of The Great British Show, our contestants were stretched to their limits without any gluten and had to rise to the occasion without eggs or any other dairy. Youth won out over experience as we bid farewell to Christine and Ruby was awarded yet another jewel for her Star Baker tiara. For a look at the all the alternative baking shenanigans, check out the recap here.
The four remaining bakers who advanced to the semifinal had to pull out all the stops to survive French week. As if deciphering Mel and Sue's Franglais wasn't enough, they had to whip up bakes from appetizers to desserts all originating from the land across the Channel.
In the signature challenge, the bakers were asked to create the most important component of a successful drinks party. No, it's not keys in a bowl, as Sue suggested, but instead three different varieties of savory canapé. Our semifinalists had to employ choux in one of their hors d'oeuvres, rough puff or short crust in another while the third one was the bakers' choice.
For the technical round, the competitors were assigned the task of tackling Mary Berry's recipe for Charlotte Royale. This French dessert consists of a sliced Swiss roll surrounding a fruited pastry crème set with gelatin. Basically, it's a pudding that unfortunately resembles a brain.
And after an already demanding weekend, the showstopper challenge required the ladies to construct their own unique version of a layered, almond sponge opera cake. Oddly enough it appears the word "opera" must be piped somewhere on the top of the dessert in order to identify it as such. 
[This video is no longer available.]
Highlights: In the signature bake round, Kimberley's trio of canapes (pea purée tarts, crab and wasabi profiteroles and steamed buns with barbecue chicken) earned high marks for their originality, great flavors and good quality pastry.
Though Paul initially rolled his eyes at Frances' cutesy, garden-themed canapes (Chantenay carrots, choux pastry tomatoes and cauliflower cheese scones) he eventually sang her praises particularly for her scones declaring them "lovely, lovely, lovely" and giving her a Hollywood handshake.
Kimberley and Frances also excelled in the technical challenge coming in first and second respectively for their exceptional Charlotte Royales. The main distinction between the two being that Kimberley had a tighter roll which kept the bavarois mousse from leaking through the Swiss roll outer layer.
The opera cake showstopper was a bit more of a mixed bag. The judges liked Frances' and Kimberley's original spins on the opera cake, but had issues with their flavor choices with the former's soap opera cake being too sweet and the latter's passion fruit and lime opera cake being too bitter.
In the end Kimberley won Star Baker and flashed us her winning smile as she called her family to deliver the good news that she had made it to the final round.
Missteps: Ruby's canape combo ( beetroot jelly on poppy seed biscuits; spinach, parmesan and egg tartlets and choux buns with goat's cheese and caramelized onions) had some noticeable faults, but no major disasters.
Beca, on the other hand, struggled to wow Paul and Mary with her trio of hors d'oeuvres (Stilton and walnut macarons, beetroot and salmon choux puffs and Welsh rarebit tartlets). They found her canapes uniform, but not memorable and her flavors overwhelming, particularly the Stilton in her macarons and the ale in her rarebit tartlets.
Ruby was tripped up by the technical challenge which brought her to tears when she initially didn't line her bowl with cling film and had to start assembling her dessert over again. In the end, her Charlotte Royal wasn't high enough and the mousse had mysteriously disappeared earning her last place in the round.
Though not as catastrophic, Beca came in third since her bake had too much of the mousse center coming through the sponge and her fruit wasn't evenly distributed.
So the elimination decision all came down to the showstopper round with Ruby and Beca in danger of being sent packing. Though Ruby's chocolate, almond praline and saffron opera cake was not polished in the least with Mary tactfully commenting that it wasn't the type of finish they like to see, it did taste good. Beca's opera cake disappointed Paul and Mary on a number of levels. From layers that were too thick to grainy caramel and a lack of real banana flavor, our lone Welsh baker's banoffee inspired cake was the opposite of "tidy."
Alas, it was Beca who was asked to leave the tent this week. I will miss her lovely singing voice and her cheeky attitude. I know I'm letting my personal feelings get in the way, but I think the final could have used her fun-loving approach to the competition rather than Ruby's "woe is me" drama queen persona. Ruby herself acknowledged that the decision must have been close. What do you think? Did the judges get it right?  And most importantly, who would you wager on to win the whole shebang - Frances, Kimberley or Ruby? Please share your comments below!
---
By
for on November 2nd, 2015
More to Love from Telly Visions