By
for on October 26th, 2015
'The Great British Baking Show' Recap: Quarter Final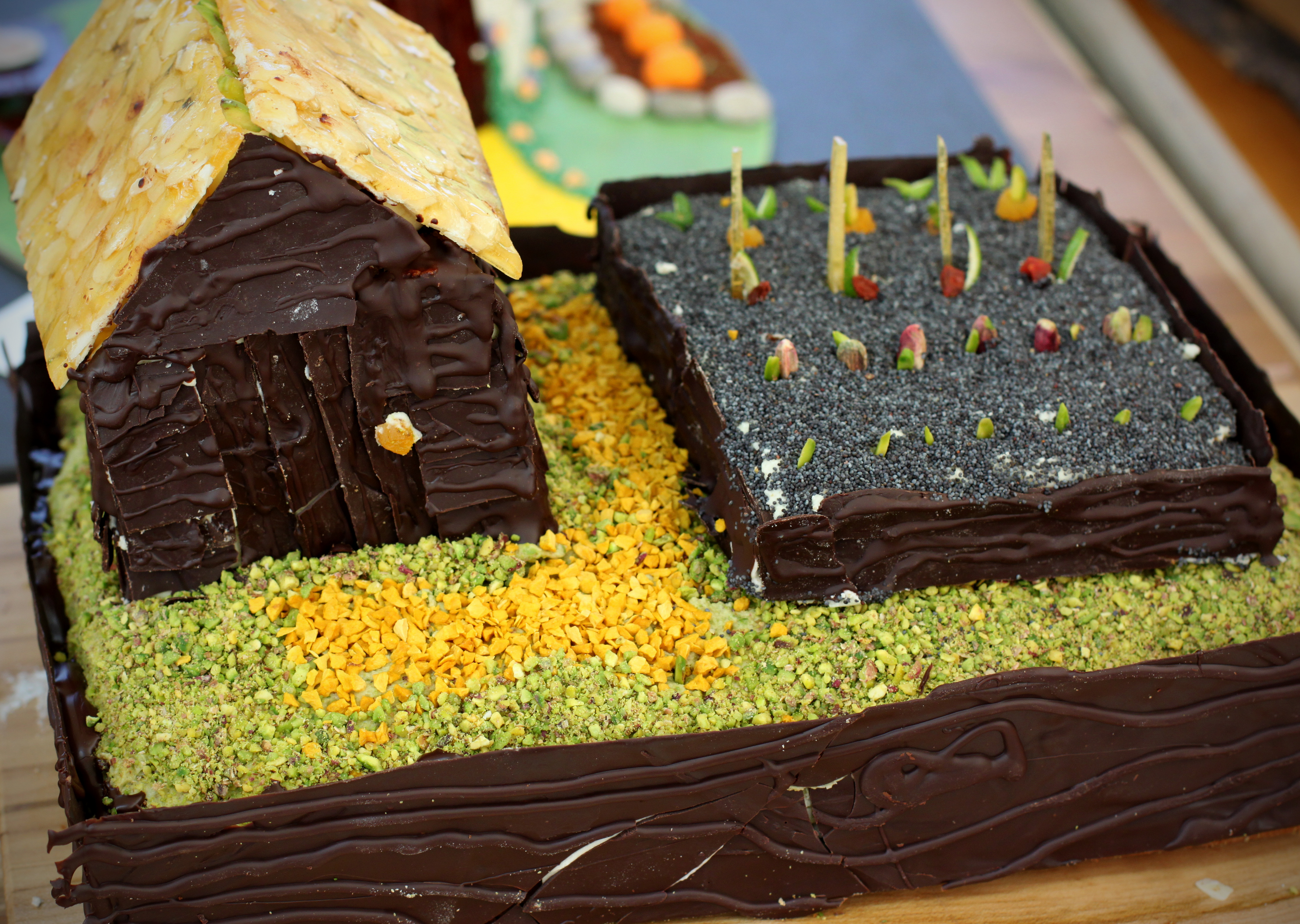 Previously on The Great British Baking Show: Pastry week proved to be one of the most challenging yet. Frances finally achieved Star Baker status with her whimsical and tasty creations while Glenn, maker of big, bold bakes, was sent home for taking a chance on inverted puff pastry. The rest of the flaky details can be found here.
This week Sue proclaimed the tent testosterone free, taking a little dig at Paul in the process. But the fact remains, we had an all-female quarter final and this quintet of bakers had virtually no margin for error. 
The theme for this episode focused on special dietary bakes. 
Our contestants were asked to leave out some traditional ingredient be it dairy, wheat or gluten altogether. I have people in my household with sensitivities to both those basic foodstuffs so I can sympathize when it comes to finding palatable alternatives.
In the signature round, the bakers were required to produce a loaf that omitted traditional wheat flours.  Instead they could use flours such as spelt, rye, and chestnut. Also known as grandfather grains, these flours provide a challenge because they have very different proving rates. 
[This video is no longer available.]
In the technical bake, Mary provided the recipe for a complicated gluten-free dessert, a hazelnut dacquoise. This consists of layers of coiled meringue, coffee custard and a hazelnut praline top with dollops of chocolate ganache.
For the showstopper, the quarterfinalists were asked to design a 3-D novelty cake. The catch was it needed to be made from vegetables and be dairy-free, including the icing. Mary emphasized that it needed to be something quite beyond an ordinary carrot cake. 
Highlights: Beca's potato, spelt and rosemary focaccia was the judges' clear favorite in the signature challenge. Mary declared it scrummy and Paul praised it as a melt-in-the-mouth, very good focaccia. You could tell Beca was confident in her loaf because she seemed free of nerves as she sang and danced about the tent. Frances' 'Chelsea flour show' bun bouquet received kudos for its aesthetically pleasing appearance and fullness of flavor; unfortunately, her spelt dough did need more proving.
Ruby came in first in the technical round for her exemplary dacquoise. It had decent meringue, good definition, excellent flavor and the custard filling held up well. Kimberley came in second with her effort. It was neat with good layers and crunch.
Kimberley also got positive marks in the showstopper for her butternut squash and spice cake toadstool house. Paul said it was executed perfectly as it was moist, detailed and had good flavors.
But it was Ruby who was awarded the Star Baker crown (for the third time, mind) on the strength of her carrot cake and pistachio garden plot. The judges found her design original, her chocolate work skilled and the overall flavor and quality of the bake good.
Missteps: The signature challenge had a few pitfalls, but no major disasters. Christine's multi-seeded loaf with pumpkin, sesame and sunflower seeds had a bit of an issue with coming out of the pan in one piece. Ruby's mango and nigella seed spelt cob had a winning flavor, but was underproved and underbaked. And while Paul loved the flavors of Kimberley's wild garlic pesto and Parma ham spelt loaf, he said it was too dry and the textures were wrong.
The hazelnut dacquoise dessert tripped Christine up earning her last place in the technical. Her meringue was too chewy as a result of being baked too quickly. It was untidy and lost definition of the layers. Beca came in right behind though the main thing the judges mentioned was that her decorative ganache was not set. Frances, who came in third, seemed to have more issues. Her custard wasn't thick enough and her meringue wasn't crispy. She did, however, have good ganache.
Several of the showstopper cakes garnered harsh criticism from Paul and Mary. Frances got scolded for her hidden carrot cake being dried out, the flavor too bitter and the pots not being made from scratch. Beca's spiced butternut squash and pecan 'cheese' cake (which she did not practice in advance) was criticized for being too simple in design and having no discernable flavor.  Paul thought she may have even measured her ingredients incorrectly.
However, it was Christine, a two time Star Baker, who was eliminated this week. In addition to her average gluten free loaf and her last place showing in the technical, she produced a sweet potato guitar with passion fruit icing and marshmallow fondant that was bland and needed considerably more icing. The most senior baker in this competition, Christine displayed great poise by saying that this experience was "the best thing I've ever done and I haven't had a boring life."
Our quintet has been whittled to a quartet and the stakes will be higher than ever before. Moving forward they will be required to delve even deeper into their bag of baking skills and tricks. With only two more weeks remaining in the competition, how does this field of semi-finalists compare to your initial impressions?  
---
By
for on October 26th, 2015
More to Love from Telly Visions