By
for on October 18th, 2015
'The Great British Baking Show' Recap: Pastry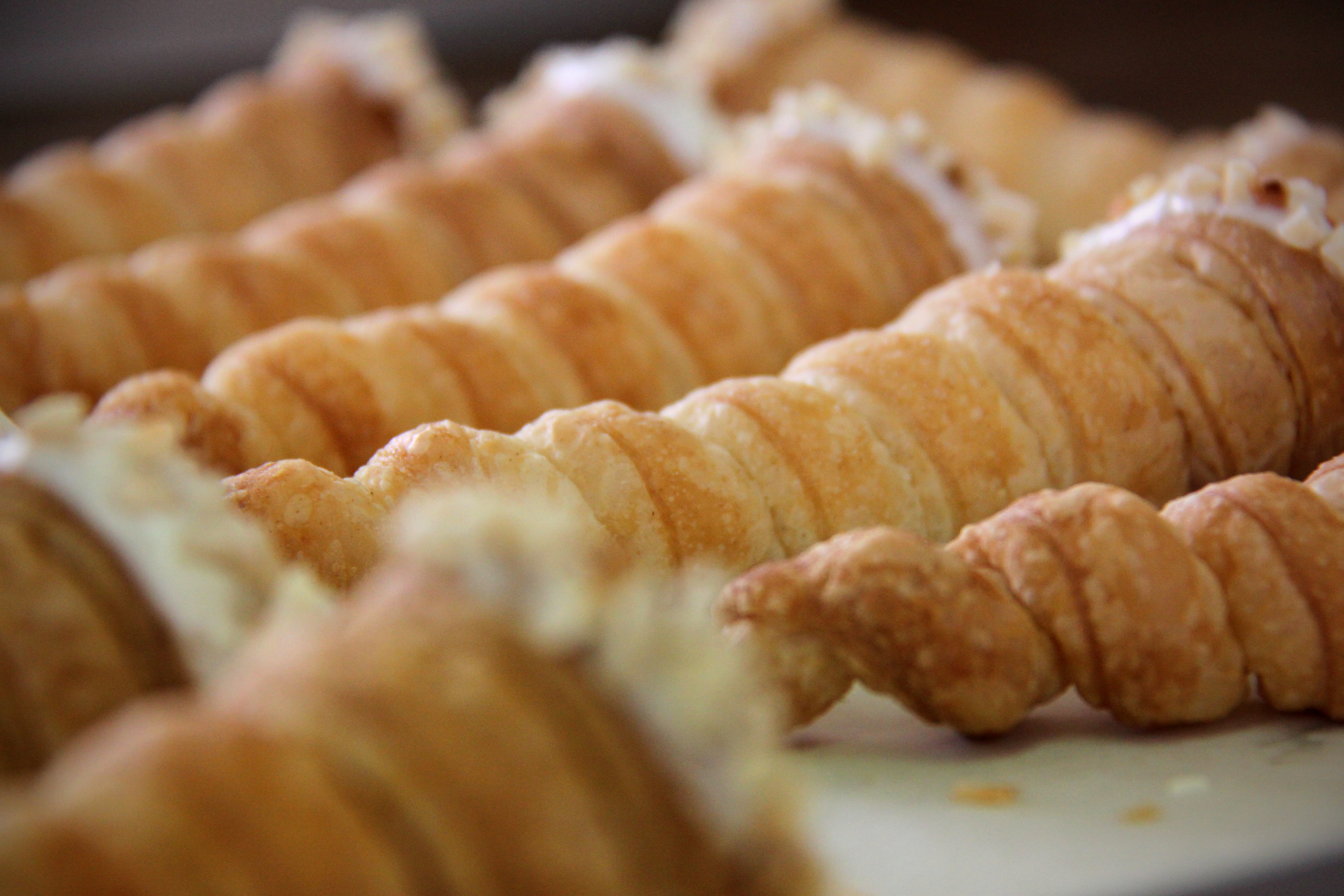 Previously on
The Great British Baking Show:  
The basic facts of last week's episode are as follows. Howard was sent back home to Yorkshire for alas his hemp loaf and peachy buns didn't make the grade. Bless him. Ruby, thanks to her solid skills and habit of downplaying her bakes, was named the reigning Star Baker. If you require more detail regarding the events of the recent sweet dough round,
the recap can be found here
.
But as the field narrows, the pressure builds and with the quarter final fast approaching, this week's competition couldn't be a walk in the park.  Paul and Mary ruthlessly escalated the difficulty of each challenge. No more sponge sandwich cakes or custard tarts for our bakers.  In order to advance, they had to up their game and show they had the skill, ingenuity and organization of a professional pastry chef. 
For the signature challenge, the contestants were required to make a sweet or savory, family-sized suet pudding. This old-fashioned dish could be boiled, steamed or baked, but it had to have a crispy exterior and a soft inside.
In the technical round, the bakers were asked to whip up eight uniform religieuses according to Mary Berry's recipe. French for "nun", these are pastries made of choux buns, topped with ganache and filled with crème patisserie then assembled with precision to resemble a papal headdress, not actually a woman wearing a habit. 
[This video is no longer available.]
And in the tensest showstopper challenge yet, the bakers were assigned the grueling task of creating a dozen each of three different types of puffed pastries. One batch must be filled, one iced and the third was the baker's choice.
Highlights: The good news is that, in the signature round at least, everyone got some sort of kudos for their suet puddings.  In particular, Frances was praised for focusing on flavors with her delicious figgy roly-poly pudding.  Ruby's plum jam roly-poly was with ginger ice cream was something Paul said he'd order from a menu. 
When it came to "nun bun fun" Beca won the technical challenge for her practically perfect religieuses. Ruby was ranked second with the only complaint being that her piping was sub-par. Glenn was happy with his third place finish because, even though he finds himself right in the middle of the pack, in the Olympics he's still have won a bronze medal!
With three challenges in one for the showstopper, it was difficult for anyone to get top marks for their trio of puff pastry. Frances hit the right notes, however, with French framboise cream horns, bass clef palmiers and sheet music mille-feuille. For the first time in this competition, Frances achieved the right balance of style and substance and was bestowed with the thus far elusive Star Baker honors.
Mistteps:  The only criticism in the signature bake round was actually a split (and rather ironic) decision. Mary found Glenn's prune and Armagnac pudding with butterscotch sauce was a bit too boozy for her while Paul loved it.
Christine came in last in the technical as her choux pastry buns were burnt and too small. Frances was close behind in 5th place despite the fact that her religieuses were good overall, but her crème was runny. Kimberley rounded out the bottom half for the inconsistent size of her finished product.
Ruby seemed to be losing it a bit during the showstopper challenge to which she enlisted Mel to remind her to "get a grip." Her bakes which included caramelized apple lattice, Portuguese custard tarts and raspberry and passion fruit mille-feuille were judged to be burnt and untidy. 
But it was Glenn deciding to go against convention (and Paul's advice) to use an inverted puff pastry method  who met with quite unsatisfactory results. His caramelized apple and marzipan tartlets, chocolate elephant ears and passion fruit mille-feuille lacked layers and flake. They were declared messy and some of the pastry was borderline raw.
Therefore it was Glenn, the last of our male bakers, who was evicted from the tent this week. Christine was relieved seeing as this had been an uncharacteristically mediocre performance for her in the technical this time around. But always the sentimental one, she admitted to her sadness at another friend leaving their merry band of bakers.  And Glenn, the great big bear himself, expressed his satisfaction with getting so far and having had a wonderful time.
So we move forward with a female five-some; Beca, Christine, Frances, Kimberley and Ruby. As Beca said, "Watch this space" because though they all get on very well, it's still a competition and they all want to win it. Do you feel the tension? Who do you feel has the nerves of steel required to win the whole thing?
---
By
for on October 18th, 2015
More to Love from Telly Visions