By
for on November 8th, 2015
'The Great British Baking Show' Recap: The Final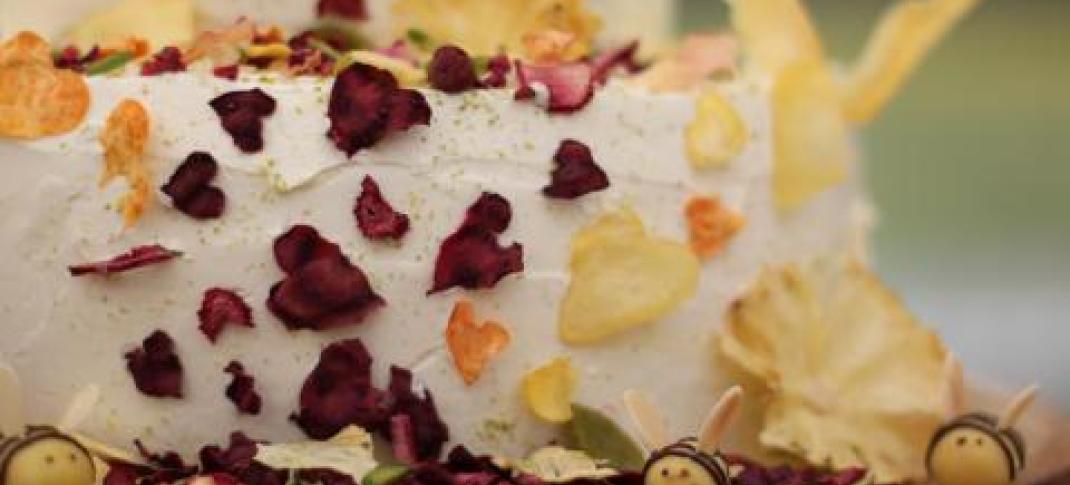 The day has finally arrived; a culmination of the past nine weeks of baking triumphs and blunders. But before we tuck into the deliciously stress-filled finale of The Great British Baking Show, you can review last week's semi-final recap here. In fact, if you want to go back and remember how the whole series unfolded, you can check out recaps of every episode this season right here and relive the sweet and savory, the joy and the tears (mostly Ruby's).
And so the field of 13,000 applicants had finally been whittled down to the three amateur bakers deemed most talented by Paul and Mary. Ruby, Frances and Kimberly faced off for one last trio of challenges In hopes of earning the Baking Show championship title. They had to impress the judges with their technique, flavors and originality – not a walk in the park (or down the aisle) by any means.
This being the final round of the competition, we got to meet the contestants' families and learn a bit more about their backgrounds. 
According to Frances' parents, she always loved to draw and studied art all through school. Whenever she made cakes for her childhood friends they were always quirky and included some sort of clever play on words.
Paul and Mary praised Frances as the most creative and original baker to ever grace their tent though her flavors were not always up to the same standard. Frances countered that she needs to "bake her flipping socks off" to win the competition because the judges expect perfection.
Kimberley and her little sister used to pretend to be on a cooking show which may have been a premonition of things to come. Kimberley's boyfriend, Giuseppe, has been her primary guinea pig and he can attest to how badly she wants this title. Her family's suggestion for a winning strategy was for her to crush the competition.
She has made the steadiest progress throughout the competition. Her flavors are almost always on the money and she has the most extensive technical knowledge of anyone in the tent so Paul and Mary's recipes rarely stump her.
Ruby is the youngest in this set of bakers.  While she has struggled with the pressure of competition and has buckled under the stress from time to time, the judges have named her Star Baker three times. They attribute Ruby's success to her instinctive baking flair and Paul and Mary reckon she is the wild card in this final round.
Ruby has had the disadvantage of having to develop most of her signature and showstopper bakes while studying at university. She has returned to her parents' house to get ready for the final and her mother gives us insight into Ruby's constant state of dissatisfaction with her bakes – she has always been a perfectionist and is never entirely happy with her results. Ruby's strategy for this championship round is simply to avoid having an episode.
This week's daunting challenges were as follows:
In the signature round, our finalists were required to fashion a savoury, short crust picnic pie. The fillings had to be assembled to reveal an elaborate design within the pie and the crust had to be strong enough to stand on its own outside the tin.
The technical challenge was to make Paul's soft pretzel recipe. The ladies had to prepare a dozen precisely twisted pretzels; six salted and six containing poppy seeds and orange zest and drizzled with an orange glaze.
And for their last ever bake, Frances, Ruby and Kimberley were assigned the Herculean task of whipping up the ultimate centerpiece showstopper, a three tiered wedding cake in just six hours. This challenge would test their design, flavor, and organizational skills, not to mention their nerves.
Highlights: Frances and Ruby had a very similar design for their signature bakes and both fared very well. Frances' rainbow picnic pie and Ruby's picnic basket pie both featured weaved lattice work to resemble a woven basket. Though Ruby's was a vegetarian dish filled with roasted vegetables and couscous and Frances ' contained marinated rainbow trout, the judges basically called it a draw  for defined layers and sublime flavors on both sides. Paul even commented that Ruby's pie looked like something Frances had made – high praise indeed!
(Another highlight from this round – Sue Perkins' picnic pun about "hampering" your progress.)
Kimberley won the technical challenge for making the best pretzels, both in taste and especially in appearance.
In the showstopper, Frances soundly beat her competitors with a very professional looking Midsummer Night's Dream wedding cake. It was judged pretty, original and everything on it was edible. The flavors in each tier were good and the cake was moist. The only criticism was that the rhubarb in the bottom layer didn't come through and therefore was useless.
It was also lovely to see this season's former contestants back for the garden party. As they waited for the formal announcement, everyone seemed to have thoughts about the potential winner. Beca put her money on Kimberley; Howard named Frances as his pick and Glenn chose wild card Ruby to bring home the coveted cake stand.
Yes, that's right. There is no cash or other prize associated with this competition -just the honor of the title and, obviously, the possibility of cookbook deals and celebrity appearances.
Missteps: Kimberley's chicken and pig pie was a bit soggy coming out of the oven due to her choice of cooking her filling raw in the pie. Despite her always good flavor choices, Paul found the texture to be wrong the moisture from the filling had broken down the structure of the pastry itself.
The results flip-flopped in the technical finding Frances at the bottom of the pile. Her pretzels looked more like dinner rolls and they needed more color. Ruby stayed in the relatively neutral middle with pretzels that were soft with a tight structure, but had unfortunately been left in the hot water too long.
The complexity and creativity required for the showstopper proved too much for Ruby (who is not a fan of romance, by the way, and so may not have had her heart entirely in the task). The colors of her raspberry, lemon and passionfruit wedding cake were not unifying, two of her three cake tiers were overbaked and Paul commented that she'd got the icing wrong. In the end, it wasn't special enough to be the centerpiece of a wedding reception.
While Kimberley's flavors were good and the judges admired her orange and pistachio checkerboard layer, they were disappointed in the overall appearance of her languages of love wedding cake. Mary wanted to see more skill, piping and self-made decorations.
So after a grueling and emotional weekend of baking, our threesome crossed the bridge and greeted their friends and family at the garden party. As they held tight to one another, the announcement was made that Frances had won the competition for her amazing attention to detail, great flavors and the improvements she made each week.
Thank you for checking in and experiencing this series of The Great British Baking Show on PBS with me. I hope you'll share your thoughts about the final or any other aspect of the show (including your own baking aspirations) in the comments below. Have you been inspired to take to the kitchen? If so, on your marks, get set, BAKE!
---
By
for on November 8th, 2015
More to Love from Telly Visions