By
for on October 4th, 2015
'The Great British Baking Show' Recap: Biscuits and Traybakes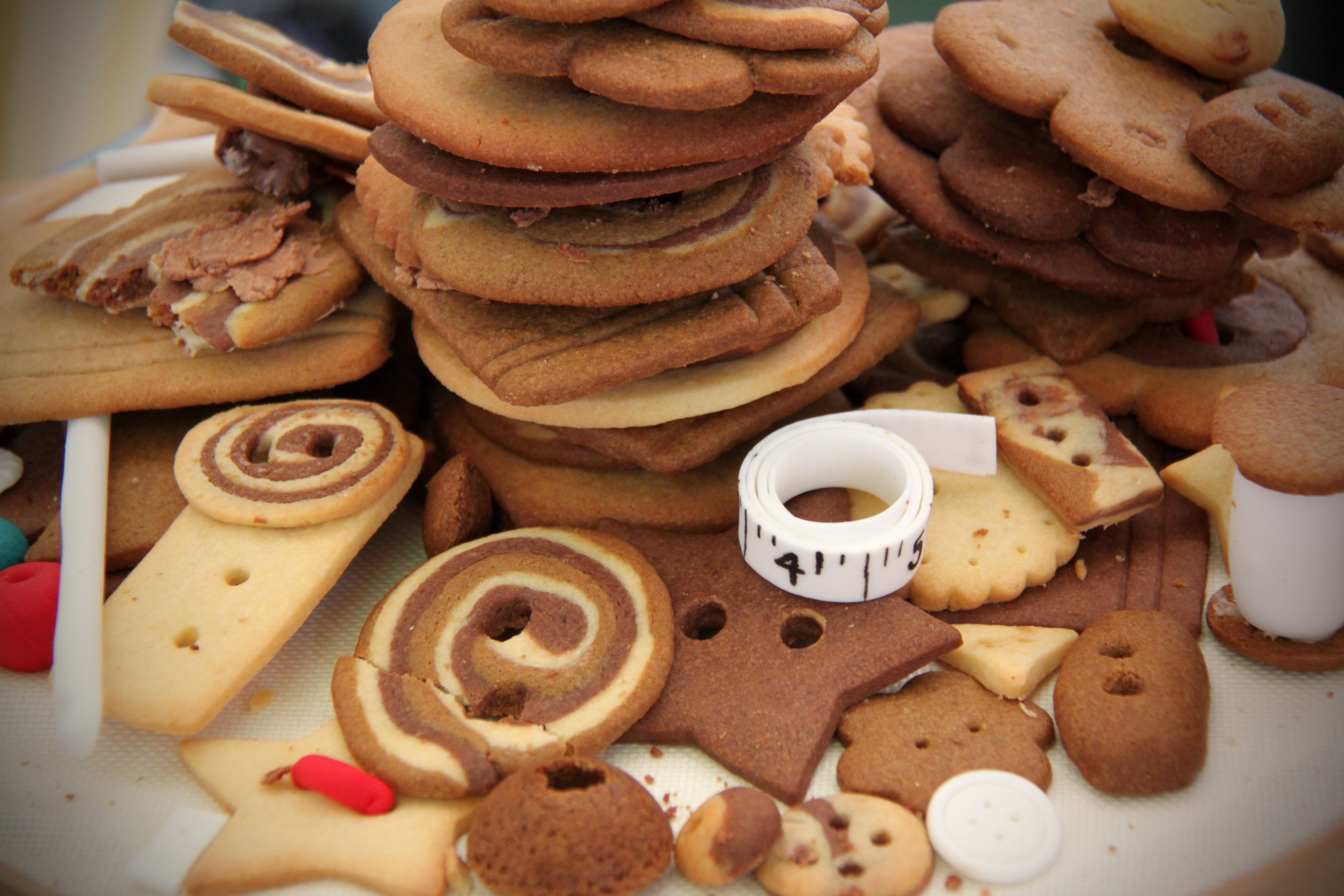 As you may recall, last week's installment of The Great British Baking Show ended with Ali departing the competition defeated by a round that was not as easy as pie. Kimberley came out on top as the queen of tarts though she remarked that winning Star Baker didn't get her an upgrade on her train journey home. All the crusty details from the previous episode can be found here.
However, a new trio of challenges awaits which means no one is safe from elimination or exempt from rising to the heights of Star Baker.
At the halfway point of the series, our bakers found themselves in the tent on a rainy English weekend, eager to show their prowess in the area of biscuits and traybakes. (According to Mel, Britons spend almost as much annually on biscuits as fruit and veg. Sue concurred adding it's important to get your five a day – jammie dodgers, wagon wheels, shortbread…you get the idea.)
For the signature bake, our contestants (and by this point in the competition, let's face it, our friends) were asked to make a one pan biscuit, cake or pastry-based traybake. Paul stipulated it must be brimming with good flavors and textures and cut into identical sized pieces.
In the technical round, the bakers were required to carefully whip up eighteen impossibly thin French biscuits called tuiles using Mary's recipe, of course. Half of them needed to be shaped in the traditional manner (in my opinion, they resemble Pringles potato chips) and piped with chocolate circles. The remaining wafers were to be rolled into a cigar shape and the ends dipped in chocolate.
An architectural element was included in this week's showstopper as the assignment was to bake and fashion a biscuit tower. At a minimum height of thirty centimeters, the creation had to look good, taste good and be deemed a sound structure. 
[This video is no longer available.]
Highlights: The judges found Frances' Millionaire banoffee bonus, Christine's mixed berry and almond crumble traybake and Kimberley's cherry and almond Bakewell Florentine slice   to be without fault.
Christine also came in first in the technical challenge for crisp and evenly decorated tuiles. Glenn was gobsmacked to come in second seeing as he claimed to be eighty percent clueless at the beginning of this tuile task.
Recognized as outstanding in the biscuit tower category were Glenn's shortbread and macaron helter-skelter, Ruby's 'dropped ice cream' biscuit centerpiece, and Howard's Japanese pagoda tea tower (though Mary thought the tea-flavored biscuits were boring). It was Christine, however, who shone most brightly with her shortbread Bavarian clock tower. That's a trifecta for our most senior competitor. Can it be any wonder she was awarded Star Baker status for a second time?
Missteps: No one really had a catastrophic signature bake, however, there were some problem spots. Ruby's blackberry and lemon Bakewell slice had a soggy bottom, but we might be inclined to forgive her since she just came off exam week and had little time to practice. Rob's Spanish inspired blueberry and orange traybake was under cooked though Mary said it had a lovely topping. Paul called Glenn's apricot and pistachio tiffin "grotesque" but the flavors were excellent.
Few bakers had total success with the tuile recipe. Howard's were too pale and too thick, earning him last place in the technical. One spot up from Howard, Kimberley had the opposite problem as her biscuits were burnt. In sixth place, Ruby's tuiles were too short and thin. You knew there was going to be trouble when, frustrated with having to make her own piping bag, the young contestant announced, "I will not be defeated by a sodding French biscuit."
The showstopper challenge always has the potential for disaster and this week was no different. True to Paul's prediction, Kimberley's choice of piped Viennese biscuits could not hold the structure of her black and white wedding cake stack. Frances' always clever but unstable haberdashery box design toppled upon assembly, leaving Mel to hold the fort while Frances went off to have a cry away from the cameras.
Nevertheless, it was Rob's Dalek that led to his extermination from the competition. The overall look was acceptable, but as Mary noted, many of the elements weren't edible and the taste left much to be desired. Last week's Star Baker, Kimberley, looked on in shock as Rob's name was announced, demonstrating clearly that she fully expected to be sent home then and there.
While this episode was not without its triumphs and dramas, it was the strong return of Sue Perkins' puns that made this installment a delight. Some of her gems included "I hope you haven't bitten off bourbon you can chew"; "tuile of fortune" and something about a "tuiley bin."
Also I want to take this opportunity to admit to my baking ignorance. Until this episode, I didn't realize there was a difference between a macaroon and a macaron. I just thought it was the English way of pronouncing it and was confused about the glaring absence of coconut.
That's what the BBC and PBS are for, after all -to provide entertaining and educational programming. What have you learned from The Great British Baking Show?  Have you been inspired to try your hand at a bake you've never tried before? Please share your experiences and thoughts about the show with us in the comments section.
---
By
for on October 4th, 2015
More to Love from Telly Visions