By
for on October 9th, 2021
'The Great British Baking Show' Collection 9, Episode 3 Recap "Bread Week"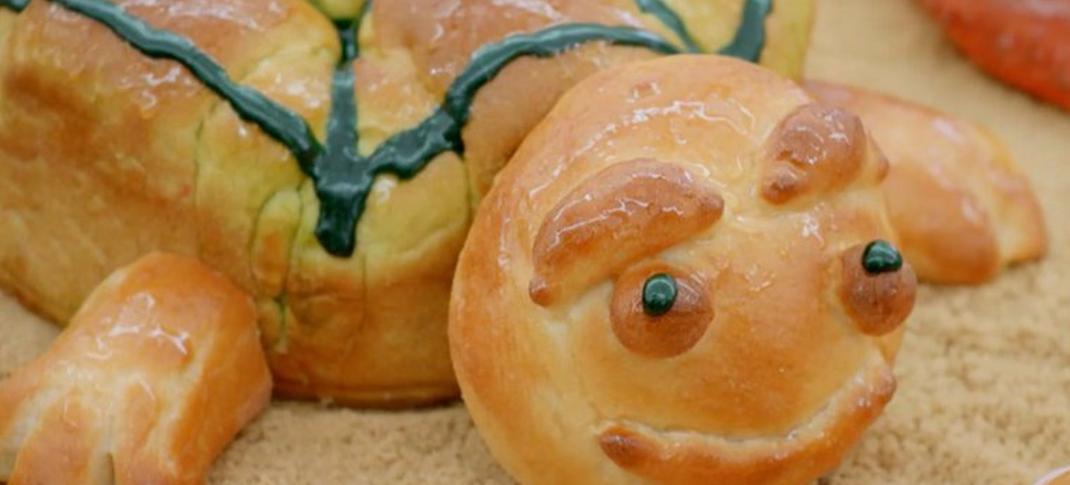 It is once again Bread Week in The Great British Baking Show tent, the third of the show's opening foundational bakes triumvirate along with Cakes and Biscuits. Bread has been part of the show's opening weeks since the series' initial first season. While Biscuits have occasionally risen higher, Bread has stayed relatively stable, in the same place on the schedule as the third-week challenge, much like Cakes have been the show's opening challenge for nearly the entire run.
Bread is also, famously, Paul Hollywood's thing, Lord of the Loaf songs aside. Winning Bread Week isn't essential to winning the show, but no contestant named Star Baker on Bread Week has ever placed lower than the Top Six. Doing poorly on Bread Week (and not being eliminated) means Paul will champion your ouster at the slightest misstep. This has gotten worse since Mary Berry's exit, so doing well on Bread Week is a must. Get ready for oven kneelers.
The Bread challenge is also a baking week where math and engineering are not enough to create magic the cookie and cake weeks can be. Bread sculptures are about baking and crumb structure and careful proofing. That means if there's a week to break Jürgen's streak, this is it.
Signature Challenge
Giuseppe's focaccia. Stunning. #GBBO pic.twitter.com/SI8OjjPYDV

— British Bake Off (@BritishBakeOff) October 5, 2021
The Signature Challenge is focaccia, which has appeared on the show before as a Technical Challenge back in the unaired-in-the-U.S. Series 2. (Note this is the second mining of old challenges from these unknown to Americans seasons, Brandy Snaps were also a Series 2 repeat.) As always, the Signature is judged on a Pass/Fail metric.
George Greek Inspired Focaccia (Pass) He redid his dough when it didn't behave the first time, and the risk paid off.
Maggie Classic Focaccia (Pass) They're letting her off easy, as her toppings didn't stay on, and her dough is soft.
Freya Mexican Fajita Focaccia (Pass) Prue was worried about her spice levels, but it's a delicate balance. Paul loves it.
Rochica Roast Garlic Focaccia with Tomato, Feta & Pesto (Fail) The design is pretty, but it's almost inedible due to the garlic overload.
Amanda Chasing Grainbows Focaccia (Fail) It's over orderly and overbaked.
Chigs Spanish Cheesy Meaty Focaccia (Pass) Overbaked but super delicious
Crystelle Feta & Grape Focaccia with Fennel & Walnut (Pass) Her structure is wrong, but Paul has to pass her because the flavor is damn good.
Lizzie Final Furlong Focaccia (Pass) Paul can't find anything wrong with it.
Jürgen Kipper-caccia Focaccia (Fail) The structure is wrong, and Prue doesn't love the flavors.
Giuseppe Breakfast in Gaeta Focaccia (Pass) Practically perfect in every way. Hollywood Handshake recipient.
It may not be a week for engineers, but that was a challenge for Italians, and Giuseppe was ready. He cries after Paul tells him he must have the recipe. Jürgen better watch his back; the competition is coming up behind him.
Technical Challenge
When you're REALLY into bread. #GBBO pic.twitter.com/W49weEce3M

— British Bake Off (@BritishBakeOff) October 5, 2021
Paul set this week's Technical, and it's a double whammy: ciabatta breadsticks. Olive and cheese ciabatta breadsticks, 18, all uniform with a tzatziki dipping sauce. Nightmare or no, these have been a challenge before, though not together: Ciabattas was a Technical challenge in Series 5 (Collection 1). Breadsticks have appeared as a Signature in Series 4 (Collection 2), despite their declared status as a waste of time food.
10. Rochica: Pale, flat, and raw
9. Crystelle: Floppy, underdone, and limp
8. Maggie: Too small and rigid
7. George: They're limp, but his tzatziki's good.
6. Chigs: Underabked and irregular
5. Jürgen: Uneven and underbaked
4. Freya: Crispy, but some are better baked than others
3. Amanda: Too pale but otherwise good
2. Lizzie: Good shape and olive distribution
1. Giuseppe: He twisted them when he wasn't supposed to, but otherwise, they're A+ winners.
An Italian making ciabatta! Who'd have thought it! Giuseppe is taking this week in a walk. Jürgen may be having a bad week, but it's Rochica and Maggie who are probably in danger now that Amanda acquitted herself well on the Technical.
Showstopper Challenge
George's stunningly cute Koala Bread. #GBBO pic.twitter.com/B2zWqkfJZf

— British Bake Off (@BritishBakeOff) October 5, 2021
For the Bread showstopper, the bakers are to make a Themed Milk Bread Display. This is the show's first time with Milk Bread, a challenge leftover from Paul's discovery that Japan existed last season. (Though thankfully with at least 75% less clueless racism.) The Milk Bread display can be themed however they like, but creating something that would work in a bakery window is the idea.
Lizzie's Pig Banquet Milk Bread Display Showstopper. #GBBO pic.twitter.com/BhcKQrqmIe

— British Bake Off (@BritishBakeOff) October 5, 2021
George "The Very Hungry Koala" It looks like it belongs in Japanese Week's Kawaii cakes, but it's adorable, despite Paul sneering that it's simple. The bread is heavy, though.
Lizzie "Pig Banquet" Some of her breads are a bit dark, but Paul likes that because it makes the display look like it's been barbecued. Good texture too.
Chigs "Honey Milk Bread Picnic Basket" The basket is delightful though the flavor is weak.
Chigs' Honey Milk Bread Picnic Basket Showstopper. #GBBO pic.twitter.com/4hImw16riH

— British Bake Off (@BritishBakeOff) October 5, 2021
Maggie "Things You'd Find in a Rock Pool" One of the multiple octopi, Maggie's is the less good looking. Paul tries to be kind, calling it "abstract," but it's under proved and flavorless. He also grumbles it's not four-and-a-half hours worth of work, to which Maggie protests that it was for her.
Jürgen "The Baby" That is one creepy baby, and it doesn't help that Paul slices off a leg. But like everything else for him this week, it's under proved.
Crystelle "Bready' for Sunday Roast" It's cute, and the chicken looks a bit turtle-y, but otherwise, the flavor is excellent.
Giuseppe "Your Five-a-Day" It's a straightforward but handsome display, and the bread texture and flavor are spot-on.
Giuseppe's 'Your Five-a-Day' Milk Bread Display Showstopper. #GBBO pic.twitter.com/pxzYoQfzbc

— British Bake Off (@BritishBakeOff) October 5, 2021
Amanda "I Just FISH We Had More" The better octopus is much more effective looking, and her bread has a perfect texture, despite the one popped air bubble.
Rochica "Birdcage" After her breadstick debacle, she made a structure out of breadsticks. It was not a good choice. The cage looks like it's going to collapse. The flavor is good, but this is not four-and-a-half hours worth of work either.
Freya "Under the Sea Milk Bread Display" She centered a turtle instead of the octopus, but it's the best of the three seascapes.
There's no argument here, Giuseppe will be Star Baker, and it is the correct choice. As for the bottom, Maggie should go home (for a second week), and once again, her cute little old white lady status keeps her safe while Rochica is out.
---
By
for on October 9th, 2021
More to Love from Telly Visions