By
for on October 2nd, 2021
'The Great British Baking Show' Collection 9, Episode 2 Recap "Biscuit Week"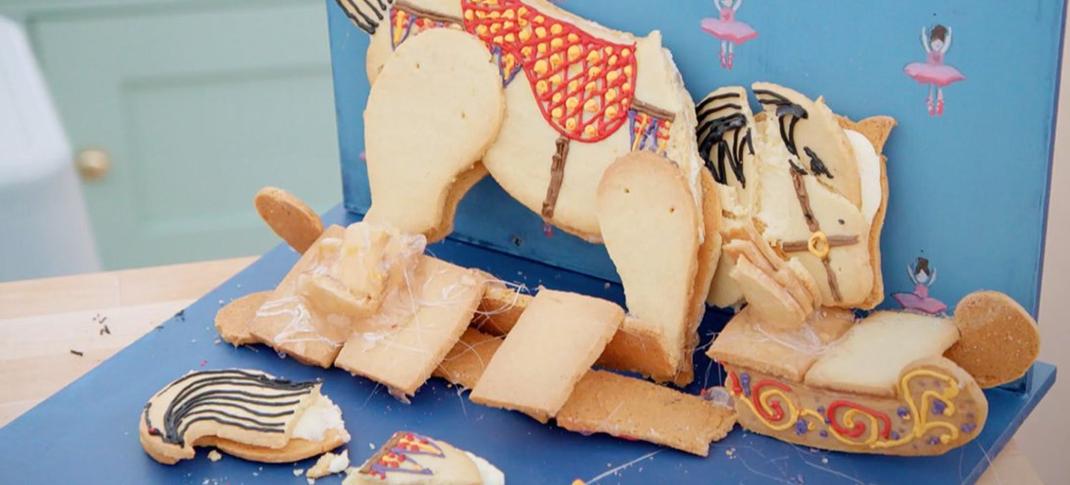 It's Biscuit Week in the tent, and c'mon now, let's be honest. I don't care how American you are. You're calling it Biscuit Week because "Cookie Week" just doesn't have the same ring to it. 
But before we dig into the dough, let's discuss the dirty secret of The Great British Baking Show. Like all reality competition series, this is not a program that survives solely due to its catchy theme or pleasant vibes. It's a show that's only as good as its contestants. Now, a very good contestant can run a show for years. (American Idol ran 15 seasons on Fox and revived for five more on ABC on the one-two punch of Kelly Clarkson and Carrie Underwood.) GBBO likewise managed to survive hopping networks and massive casting turnover at the top on the visages of Nancy Birtwhistle and Nadiya Hussain.
But since the move to Channel 4, casting has been uneven, and the competition hasn't been so fierce. Other than the threesome of Rahul, Kim-Joy, and Ruby in Series 9 (Collection 6), there haven't been a lot of faces or bakes that grabbed viewers. Peter's win last year was historical two ways (youngest, first Scots winner), but otherwise, the bubbled competition barely sparked. 
But this season? The game is on, despite movies in the practice tent. Between Freya, Jürgen, Crystelle, and Giuseppe, these first two weeks have been absolute bangers, and that's in spite of Noel's Bridgerton-esque sideburns and pandemic ponytail. Welcome back, GBBO. Brandy snap, anyone?
Signature Challenge
How tall is Giuseppe??? #GBBO pic.twitter.com/cH4UzOc7dV

— British Bake Off (@BritishBakeOff) September 28, 2021
Let's run down the show's first return to Brandy Snaps since the still-unaired-in-over-here Series 2. As always, the Signature is judged on a Pass/Fail metric.
Freya Brandy Snapuccinos (Pass): Gosh, they're pretty, but eight tablespoons of espresso are quite a lot. 
Amanda Open Sesame Brandy Snaps (Pass): They're too thin, but the flavor is delish.
Jairzinho Chocolate, Passion Fruit & Pineapple Brandy Snaps (Fail): They collapsed because he rushed, and there are too many flavors arguing with each other.
Rochica Coffee Brandy Snaps (Pass): They're uneven in size but perfect in flavor combo.
George Cypriot Brandy Snaps (Pass): They look an utter mess but are saved on their super-original flavor combination.
Crystelle Apple of My P-eye Brandy Snaps (Pass): They're right out of a pastry shop window, and the flavor is beautiful.
Lizzie Fast-Food Apple Pie Brandy Snaps (Pass): They're lumpy, not lacy, but the flavor is great.
Giuseppe Gianduja Snaps (Pass): The crunch can be heard on camera, even if the chocolate is overwhelmed by hazelnut.
Chigs Espresso Martini Brandy Snaps (Pass): The coffee flavor is weak, but otherwise, they're winners.
Maggie Blackcurrant Brandy Snaps (Fail): Small and pale and underbaked
Jürgen A Cup of Chai Brandy Snaps (Pass): Perfect crunch and lovely spice blend.
With no Hollywood Handshake for Jürgen, Matt Lucas takes up the cause by doing a secondary tasting after the judges finish. Matt admits it means nothing coming from him, but Jürgen sweetly tells him it means a lot. Now that's how you save the best for last.
Technical Challenge
Just call them Jammy Dodgers, Paul because 'Jammy Biscuits' implies that those biscuits have it good. #GBBO #GreatBritishBakeOff #TheGreatBritishBakeOff2021 #BakeOff pic.twitter.com/EanqUMkZ5k

— Sardaran Carol Ahmed (@SardaranCarol) September 28, 2021
Paul sets this week's Technical Challenge, one dozen uniform sandwiched jammy biscuits. The show has done sandwiched biscuits as a challenge (Series 8/Collection 5) and required jammy biscuits like fig rolls before (Series 10/Collection 7), but never in combination. However, they've turned up once or twice in individual Biscuit week showstoppers. Unlike some Technicals, everyone has had a sandwich cookie with jam in it, so at least this is no mystery for anyone. But as Paul notes, it's a warm day, and these are deceptively simple.
11. Rochica: Totally raw
10. Crystelle: The jam is a paste, and the icing sugar overwhelming
9. Jairzinho: These are too thin and hard
8. George: They got too warm and lost their shape
7. Chigs: Small but consistent
6. Lizzie: Too much icing sugar and underbaked
5. Maggie: The tops and bottom biscuits are different sizes
4. Amanda: Good color and definition even if a few tops are too small
3. Freya: Too much jam leaking out the side
2. Giuseppe: A bit thin but otherwise perfect
1. Jürgen: It looks like they were bought in a shop
Jürgen is already taking this week in a walk. But Giuseppe is nipping at his heels, calling him the Baking Terminator. (He'll be bake?) Freya is also rounding out a clear Top Three, as Crystelle's lack of jam-making skills cut her off at the knees, putting her at the wrong end of the Technical listings. As for the rest, Maggie may fret she's wobbling on the bottom, but Jairzinho and George are clearly the weakest links this week, and both of them didn't do well in Cake Week either.
Showstopper
Jürgen's 'Grandpa's Windmill' 3D Biscuit Showstopper. #GBBO pic.twitter.com/slZvUzNdQw

— British Bake Off (@BritishBakeOff) September 28, 2021
The Showstopper challenge this week is to make 3D replicas of childhood toys. Sculptures have been a regular feature of Biscuit Week ever since Series 3 (GBBO: The Beginnings), when they were saved for the Quarterfinal and required Gingerbread Structures. Series 4 (Collection 2) did Biscuit Towers, Series 5 (Collection 1) did 3D Biscuit Scenes, and Series 7 (Collection 4) did 3D Gingerbread Scenes. Since Series 9 (Collection 6), every Biscuit Week showstopper has been a 3D creation, from self-portraits to table settings. 
The 3D Toys have the added requirement of an "interactive" element, as in wired up working parts -- either moving parts, like wheels that turn or things that light up. Matt suggests wiring their structures for the internet, but I think creating ethernet cables from icing sugar is probably a bit much.
Freya's 'Winnie' 3D Biscuit Showstopper. #GBBO pic.twitter.com/pq6A7mYz4U

— British Bake Off (@BritishBakeOff) September 28, 2021
George "Paul & Prue Airlines" The motor works (if rather loudly), and the plane, though sloppy, holds together as it goes round and round. Can you ask for anything more? 
Rocha "Gingerbread Pinball Game" It's a beauty of a structure, but Prue breaks the ball shooter on the first go. Ah well. The judges still love it.
Giuseppe "Reversi Board Game" Neat as a pin, with the word "Reversi" on the side, so no one thinks it's a Go board. Paul calls it "properly engineered."
Chigs "Snooker Table" Paul fails to knock a ball into any of the pockets, but the table tastes great. 
Chigs' Snooker Table 3D Biscuit Showstopper. #GBBO pic.twitter.com/blh3qG2B2u

— British Bake Off (@BritishBakeOff) September 28, 2021
Lizzie "Paint a Truck" Prue paints away on the truck with the candy palette while Paul marvels at what a splendid cheat it is to have the judges decorate her biscuits themselves.
Jürgen "Grandpa's Windmill" Everyone else is playing checkers while this guy plays chess. It isn't a showstopper; it's a showstunner. The judges are so blown away they break out their German to praise it.
Crystelle "Vanity Playset" It's utterly beautiful, even if Paul can't wear the earrings. Prue loves the floor, while Paul admits it's super clever.
Giuseppe's Reversi Board Game 3D Biscuit Showstopper. #GBBO pic.twitter.com/80iVK5yqxA

— British Bake Off (@BritishBakeOff) September 28, 2021
Freya "Winnie" It's such a perfect rocking horse, painted to perfection, even if the structure makes a tough cookie for eating.
Amanda "Carousel Rocking Horse" Last week, it took careful cutting by Paul to bring down Amanda's work. This week, her horse didn't even make it to the table in one piece. Paul scolds her for not using gingerbread. Perhaps he should fear a biscuit horsehead in his bed. Matt kindly promises to call the Doctor and fly the TARDIS back a few hours to fix it.
Maggie "Beach Playset" It's far too basic, and the beach houses are too thick and child-like to hold a candle to the rest of the work around her.
Jairzinho "Tall Ship" Jairzinho blames stormy seas for his mast collapse, but this is one ship that's too rough to be ready for primetime.
No question who's taking it in a walk this week: Jürgen is Star Baker for the second time. As for the who is out, Amanda is correct; she failed the brief, as did Maggie, making them both automatic bottom dwellers. And perhaps it should have been Maggie's time to go on pure math, having failed the Signature and placed low in the Technical. But she's the cute old lady, and the production isn't ready to say goodby to her yet, so it's out with Jairzinho instead.
---
By
for on October 2nd, 2021
More to Love from Telly Visions