By
for on September 25th, 2021
'The Great British Baking Show' Collection 9, Episode 1 Recap: "Cake Week"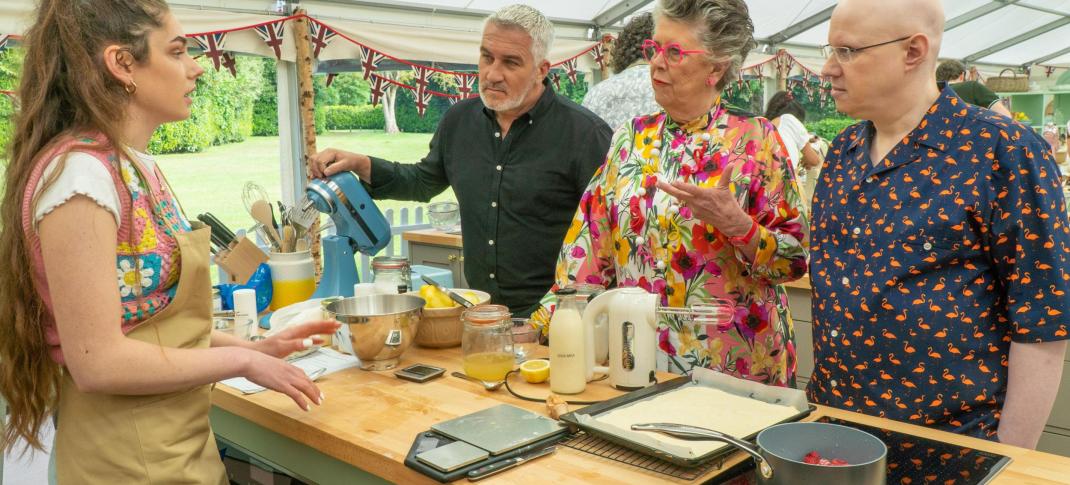 It's high summer in the U.K. The grass is green, the birds and chirping, and "Achy Breaky Heart" is playing. Welcome to The Great British...wait what now?
For those of us hoping the boy energy of last season would dissipate between seasons, sorry y'all. Witnessing Paul Hollywood, Noel Fielding, and Matt Lucas all dressed as a Halloween version of Miley Cyrus' father to a parody tune of the 1990s era hit was less than what anyone wanted. But it was a British humor opening — American Country songs (especially the cornnuts one-hit-wonder songs of that era) are really funny to our U.K. friends, not unlike some of us over here view Europop. But personally, I'm with the squirrel. 
Let's get on to the show. The bakers are back in the bubble this year, with many keeping their destination secret from friends, if not family. But with the premiere, everyone will know who went off holiday-making this past summer, and who went off to bake cakes.
And it is Cake Week, as is the long-standing tradition in the tent. Of all seasons, only Series 9 (aka Collection 6) has deviated from this norm. For the first challenge, the bakers were asked to make 12 uniform mini-rolls. The show has done rolls before as their inaugural bake, with Swiss Rolls in Series 5 (aka Collection 1). And apparently, it should have been a Black Forest mini roll challenge as multiple bakers are doing the same thing. (This is a hallmark of these Bubble Seasons, where the pantry leans a certain way, causing contestants to all come up with the same idea for Signatures.)
Signature Challenge
"They're a little bit drunk"
- Amanda #GBBO pic.twitter.com/GjsIAlSN94

— British Bake Off (@BritishBakeOff) September 21, 2021
Let's run down these early results. As always, the Signature is judged on a Pass/Fail metric.
Maggie Knit & Natter Mini Rolls (Pass): The swirl is good though the chocolate is rough and rich
Jairzeno Lime & Passionfruit Mini Rolls (Pass): The passion fruit is delicious, but the swirl is more of a fold
Amanda Cherry Soldier Mini Rolls (Fail): Her standing them on end is clever, but there's no swirl, and the flavor's weak.
Tom Black Forest Mini Rolls (Fail): They're maxi-rolls, and the flavor doesn't come through
Crystelle Chai & Chai Again Mini Rolls (Pass): They're super pretty and taste great, but the swirl is abstract
George Chocolate & Hazelnut Mini Rolls (Fail) It's a time management disaster pudding.
Rochica Colin Rolls (Pass): Stodgy but good looking
Jürgen Schwarzwald Mini Rolls (Pass): Even with the little chocolate trees having gusted over, they're still winners
Freya Vegan Lemon & Raspberry Mini Rolls (Pass): Both judges are impressed by the vegan-ness of it all.
Chigs Strawberries & Cream Mini Rolls (Pass): Prue is all about the strawberry flavor
Lizzie Zoo Mini Rolls (Fail): They're a collapsed messes
Giuseppe Easter Mini Rolls (Pass): They are neat as a pin, with classic swirl, delicate flavor.
Jürgen is the one to beat after that first round. His rolls were so good, Paul had him taste and judge his own work, and his assessment was declared spot on. Perhaps Matt should stop singing "The Flintstones" in German and try "We Are The Champions." Giuseppe also is given high marks, if not a handshake.
Technical Challenge
If you stare at this malt loaf for more than 15 seconds you start to see a Shetland Pony. #GBBO pic.twitter.com/RpA1GSTVaC

— British Bake Off (@BritishBakeOff) September 21, 2021
Onto the Technical Challenge, which this year begins with the Tea Time classic, Malt Loafs. The hell is a Malt Loaf you ask? Why it's a sweet bread loaf made with malt, silly! And though they usually have raisins, in this case, the contestants are given prunes. It was initially invented in the U.K. in the waning years of the Victorian era, the original patent for it dates back to 1886.
Prue says those under 35 won't have heard of it because it fell out of Tea Time favor at the top of the 21st century, but at least a few in the tent do know what they're attempting to achieve which is always a relief.
12. Amanda: Flour pockets and underbaked
11. Chigs: Raw and not very tasty
10. Giuseppe: The topping is right, but too much fruit.
9. Jairzeno: Too bready
8. Crystelle: Overbaked, too much fruit
7. Rochica: fruit is right but it's too bready
6. Jürgen: Decent but sticky
5. Tom: Pale and the flour failed to distribute
4. Lizzie: Correct height, wrong topping
3. George: Correct chewiness, great butter
2. Freya: Really pretty and fruit distribution is right
1. Maggie: Practically perfect in every way
Heading into the Showstopper, Amanda is in trouble, having failed the Signature and come 12th in the Technical. Tom and Lizzie also have a fail to their name without hitting the Top Three in the Technical to offset -- George at least reached third to balance things out. But otherwise, everyone else is holding their own.
Showstopper
Crystelle's 'Bouq-cake' of Flowers Anti-Gravity Showstopper Cake. #GBBO pic.twitter.com/lIlsAPVK6n

— British Bake Off (@BritishBakeOff) September 21, 2021
Listen, the Showstopper can't be that bad after the busted busts of last season, right? Not so fast, children. This season we get an Anti-Gravity Illusion Cake as our first full-day challenge, which explains why the bakers are not exactly responding enthusiastically to Matt's attempt at a rousing cheer.
These vertically sculpted cakes are supposed to give the illusion of defying gravity while also "represent a precious memory." Anyone who plays Idina Menzel while presenting their cake gets bonus points in my book.
Freya's 'Flower Potty' Anti-Gravity Showstopper Cake. #GBBO pic.twitter.com/OFrqBxqiWf

— British Bake Off (@BritishBakeOff) September 21, 2021
Chigs "Where it All Began" The suspended cup pouring the chocolate is already falling to bits before they walk it over, and it collapses entirely and hits the floor upon arrival. But the layers are good, and it's got perfect moisture and texture.
George "Greek Table" It's rushed, but at least his pot pouring chocolate stays put, even if it looks like it's made by a five-year-old using playdough. The flavors are spot on anyway.
Maggie "Ice Cream Cornet" She was so determined her cup pouring sprinkles wouldn't fail, she made the sprinkle drizzle too thick. The result resembles a thick stalk and the cup a flower bud. But the victoria sandwich is yummy.
Jairzeno "Kick the Can Cake" There's nothing suspended in the air for him because it collapsed in the making, and Jairzeno admits he's mortified. But Paul notes the flavor is there, even though it fails to meet the brief.
Giuseppe's 'Jack and The Beanstalk' Anti-Gravity Showstopper Cake. #GBBO pic.twitter.com/WxwxZquxPi

— British Bake Off (@BritishBakeOff) September 21, 2021
Amanda "Elderflower & Lemon Surf Explosion" One of the few not to try to suspend a heavy object, her wave cake is more sideways than anti-gravity. Paul knows she cheated and slyly cut away a piece that guarantees the cake's collapse upon her return to her station. Noel calls him out on it, but what's done is done.
Lizzie "Nana's Peaches & Cream" The cream jug is well suspended on a swirl of cream, but it's more reminiscent of the work of a toddler than a baker. Paul calls it simplistic but admits it's tasty, and she did fulfill the brief, despite the messiness.
Freya "Flower Potty" And now, an actual Showstopper, with a flowerpot perfectly suspected above beautifully formed flowers. Paul loves it and can't believe it's vegan. A beauty. This child is One To Watch.
Crystelle "Bouq-cake of Flowers" The second genuine beauty of the week, the bouquet of flowers sits on its point, hanging in the air the way bricks don't. The flavor is a stunner too. 
Jürgen's 'Night Time Reading' Anti-Gravity Showstopper Cake. #GBBO pic.twitter.com/42rFL35omD

— British Bake Off (@BritishBakeOff) September 21, 2021
Rochica "Apple Cake" It's an apple cake hanging from a tree branch like a globe on a lamppost. It's a bit simple, but it fulfills the brief perfectly.
Tom "Classically Spectacular Showstopper" The second to completely fail to suspend anything, Tom's bottom half of a cake looks painfully unfinished, and the flavor is way too much almond for a lemon cake.
Giuseppe "Jack and the Beanstalk" The other contestants were in awe of this, and rightly so. It's a beautiful fantasy castle on a cloud of a cake, and Prue's right that his choice to offset the cloud is why it looks so impressive. It's a little dry but a great kid's cake.
Jürgen "Night Time Reading" The lamp part of the cake is starting to see. It's a well-engineered marvel. The taste of the book cake is light and delicate. Paul calls him a potential flavor king of the season.
Star Baker this week is easy: Jürgen. He aced that Signature, did decent in the Technical, and engineered his way to the top in the Showstopper. Despite Amanda and George's worries, the two who are in trouble are Jairzeno and Tom, for failure to fulfill the brief, and of the two, Tom was in the worse position. He knows he's going home before they call it and loudly agrees with his exit before anyone can say "Awwwww." 
---
By
for on September 25th, 2021
More to Love from Telly Visions