By
for on September 30th, 2022
The Dough Also Rises on 'The Great British Baking Show's' Bread Week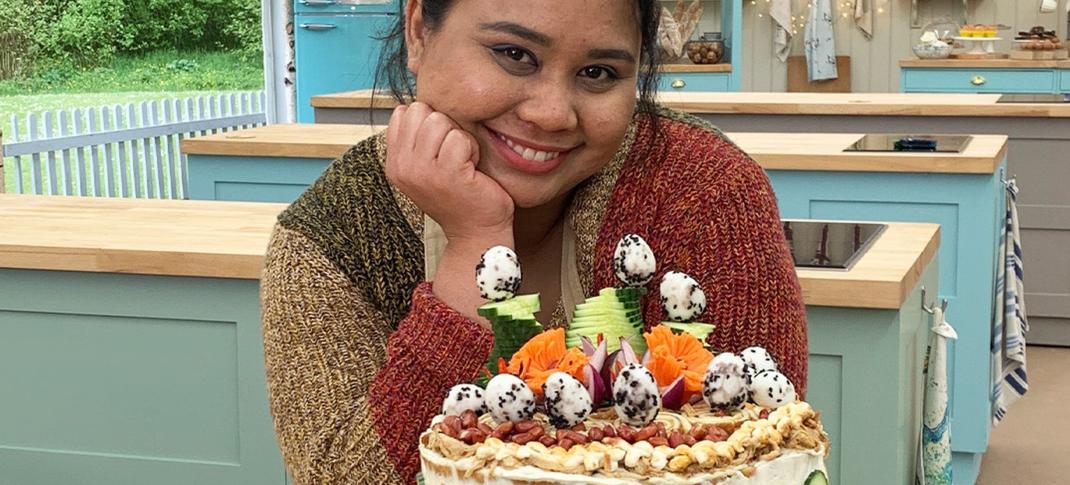 Since the pandemic began in 2020, The Great British Baking Show has struggled mightily to sally forth. As one of the few live competitions to find a way to record and broadcast during some of the worst periods via the "Bake Off Bubble," it was a beacon of comfort. However, as vaccinations and boosters rolled out, the show decided it was through the worst of it and could go from the unideal five-weeks-cloistered version filmed at the height of summer back to a ten-weekends-in-the-spring production format.
There's one problem: COVID is still out there, which means if anyone gets the slightest bit sick — even if they test negative — the series has to exercise an abundance of caution. Perhaps they hoped to get lucky, and everyone would stay healthy. But between traveling the tent and home again each weekend and the high stress of the competition, immune systems were going to get hit.
By Week 3, the results are already evident, as Bread Week goes on with only eight of the ten contestants. Abdul and Rebs reported in "under the weather" and stayed home. This is the second time in GBBO history this has happened; in Series 9 (Netflix Collection 6), Terry sat out Dessert Week and then returned. (In Series 5 (PBS/Netflix Season/Collection 1), Diana left due to health issues after Iain's dramatic elimination, but she didn't return.) However, having two sit out a week like this is a first.
For the Signature Challenge, the contestants have been asked to make two "sharing-sized" pizzas, which means something that's at least 12 inches (30 cm), instead of "personal" sized pies, 10 inches (25 cm) or smaller. Toppings are entirely up to them, but Paul will be judging the crust, no matter how many eyebrows rise over pineapple on pizza. As always, the Signature is evaluated on a Pass/Fail metric.
Syabira Malaysian Prawn Sambal Pizza (Pass): The judges are overwhelmed by the chilis, but the dough is what counts, and Paul loves it.
Janusz Full English Breakfast Pizza (Pass): The bottom is dark, but it has that lovely thin crunch to it 
Kevin Now Bring Us Some Figgy Pizza (Pass): The dough is slightly floppy towards the middle, but it's still good.
James It Does Belong! Ham, Mushroom & Pineapple Pizza (Pass): A little dry, but the dough is perfect.
Dawn Tex-Mex Pizza (Fail): Paul calls it surprisingly bland, the "Mexican" flavors and the dough.
Maxy Sweet Rosemary Lamb Pizza (Fail): Her base is too thick, too "American pizza" like.
Sandro Sweet & Spicy Pizza (Pass): Paul declares it pizzeria worthy.
Carole Pizza Exceptional (Fail): This is unfair because her pizza is delicious, but her crust is overwhelmed by toppings and collapses.
Sandro knows he was millimeters from a handshake and shakes his head, promising he'll get it next time. As for Dawn, she looks ill.
Paul set the Technical Challenge as he always does for Bread Week, but what he sets is kind of unfair. He asked for a dozen Pain aux Raisins, which are more like a dessert or a pastry. Paul argues that it's an enriched dough, and therefore counts, and Prue stops arguing. But between the lamination and the butter, it's almost like they were asked to make croissants. Let's see who has enriched their chances of Star Baker and who is rolled flat.
8. Carole: They're square and have too much icing
7. Kevin: Flat, small, and butterless.
6. Dawn: Completely irregular in size and flavor.
5. Syabira: They're a bit small, super under proved
4. Sandro: Underproved, but the flavors are good.
3. James: Their tails came untucked.
2. Maxy: The sizes aren't exact, but otherwise fine
1. Janusz: Very good, best of the batch.
As badly as Dawn is doing today, fans should probably not worry, it seems likely no one will go home with two people out. Moreover, she's getting valuable experience that both Abdul and Rebs are missing out on.
For the Showstopper, the contestants are to make Swedish smörgåstårta (It was fun trying to figure out the alt codes for all those accented letters.) A smörgåstårta translates to "sandwich cake," but it's not like a victoria sandwich. This is a bread cake made of savory layers, not sweet, with different fillings in between each layer and decorations made of bread and delicious savory toppings. Some of the contestants may not be able to pronounce smörgåstårta; however, let's see how they make them.
Janusz "Fish & Chip Shop Smörgåstårta" Conceptually this sounds like the foulest cake you're ever eaten, with curry icing, fish and chips, and mushy pea layers. Excerpt it's not. Paul calls it ingenious. Even Prue admits it's good.
Carole "Something Fishy Smörgåstårta" Paul calls it "Very Fanny Cradock," Prue says, as a woman of the 1960s, it's perfect looking. The bread is a little dry, but some of the flavors are lovely.
James "The Most Pandastic Smörgåstårta" It's not the most even cake, but the panda on top makes it work. The marbling is gorgeous, but Paul says the flavor is too one-dimensional.  
Kevin "I've Started So I'll Fin-ish Smörgåstårta" His little fisherman made of cucumbers is adorable, but his veggies wilted, and the bread is slightly overbaked.
Maxy "The Curvy Seafood Smörgåstårta" I'm here for the colorful and the curvy; this is one of the prettiest of the showstoppers. Prue notes it's messy, but the flavors blend well.
Syabira "Nasi Lemak Smörgåstårta" The combo of Thai and Swedish is remarkable. Paul is stunned at how good it is and how light she managed to get it. 
Sandro "Ultimate Smörgåstårta" It's a leaning tower of sloppy joe barbeque, and it takes like nothing but BBQ sauce.
Dawn "Chicken Souvlaki Smörgåstårta" It's simple but effective in design, and the bread is good. But the layers are too thick, and the flavors are mushy.
Unsurprisingly, Janusz lands Star Baker (Star Caker) for the second time, having done well across all three challenges. And even less surprisingly, despite the judges pretending there's a bottom three, no one is going home. Of course, there isn't; it would be unfair with both Abdul and Rebs not competing. This does mean (if both return) there will be a double elimination to balance it out in the coming weeks.
---
By
for on September 30th, 2022
More to Love from Telly Visions