By
for on September 23rd, 2022
'The Great British Baking Show' Collection 10, Episode 2 Recap: Biscuit Week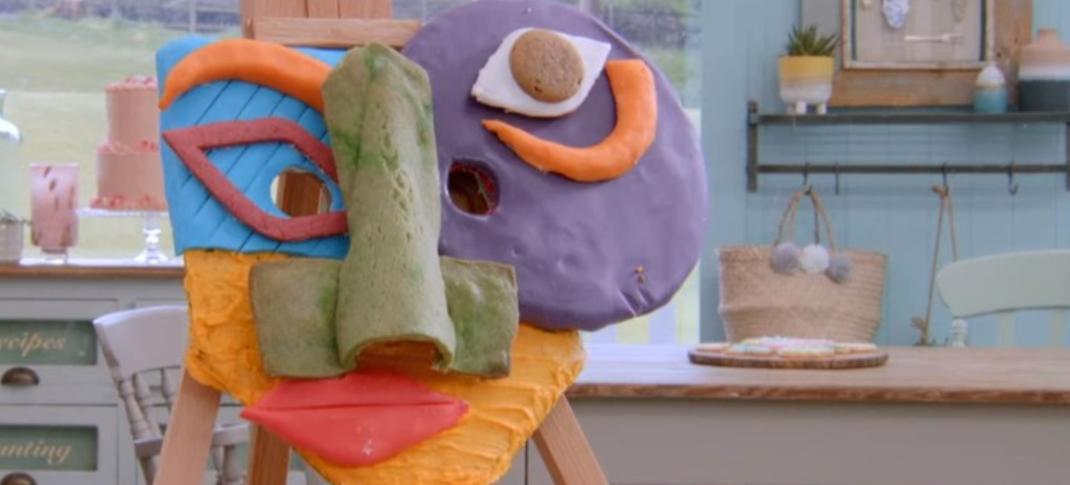 It's Biscuit Week in the tent on The Great British Baking Show because Cookie Week does not fly around these parts. That means it's time to change the song too. Everyone sing along with me: "B is for Biscuit, that's good enough for me/Oh, biscuit, biscuit, biscuit starts with B!" Biscuit week is one of the traditional Big Three the show kicks off with, only moving down the chain from the first three episodes once, way back in the very confusing BBC Season 3 which was PBS Season 5 but also Netflix's GBBO: The Beginnings Season 1. proof, in case we needed it that nobody involved in that debacle talked to each other. 
As for the "Cake vs. Biscuit" debate that opens this week's episode, even though it was an adorable puppy, the Cake vs. Biscuit issue is real in the U.K. Despite Brexit finalizing, the European Union tax system is still in effect, and there is a tax on biscuits that does not apply to cakes, causing Jaffa Cakes to claim cakehood despite obviously being chocolate covered biscuits. This issue went to the highest court in the land, which ruled that Jaffa Cakes could deny their biscuithood because their moisture content was greater than 12 percent.
The more you know everyone! Now let's get down to the sugar and flour and cookie up some biscuits for tea.
Signature Challenge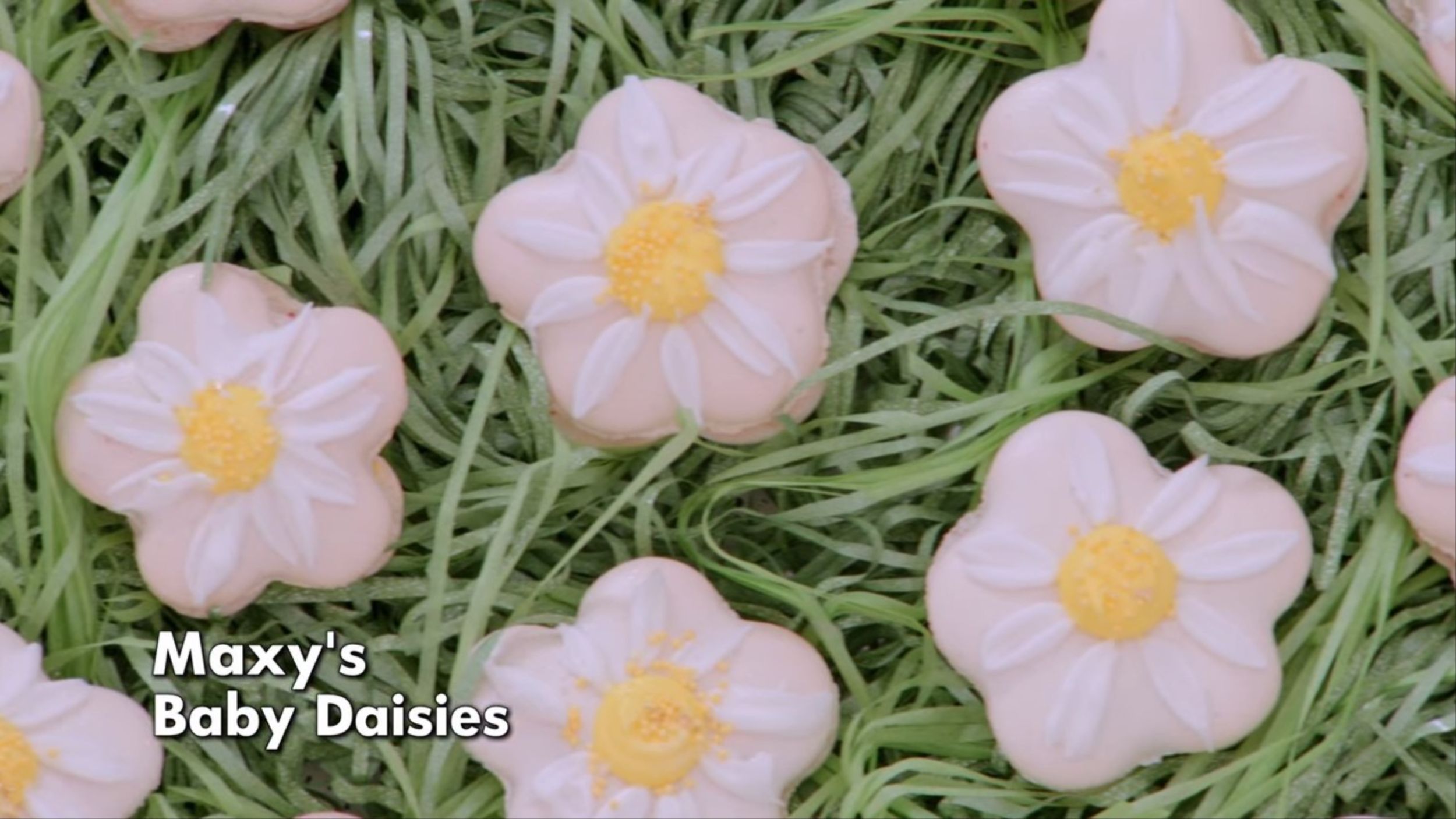 The Signature Challenge for this return to the biscuit world is a dozen and a half decorative macarons. They must be filled and be illusion bakes, aka they look like something they are not. So instead of looking like macarons, they need to look like pieces of fruit like strawberry-flavored strawberries, savory foods that are sweet when you eat them, or flowers made of flours. As always, the Signature is judged on a Pass/Fail metric.
Rebs Wee Branstons (Pass): The interior is messy, but the cat faces are cute.
Carole Just A Mouthful (Fail): She did burger biscuits, which are a bit flat in taste and appearance.
Sandro Cheat Day Treat (Pass): He also did Biscuit Burgers, which look and taste far better.
Janusz Miniature Melons (Pass): The skin is too dry, but he even flavored them like watermelons.
James Raccarons (Pass): They are recognizably raccoons, and the taste is lovely.
Dawn Toy Shop Yarns (Pass): They are adorable, taste perfect, and crunch correctly; they earn a Hollywood Handshake.
Abdul Fudgetastic Maca-Cones (Fail): They look more like hot air balloons, and the insides are melty.
Kevin Mint Choc Trip (Fail): He also did ice cream cones, and they didn't turn out much better, and the flavor's not great.
Maisam Cute Carrots (Fail): You can tell she barely finished. Her flavors are unbalanced.
Syabira Satay Macarons (Pass): They're gorgeous and taste fantastic.
Maxy Baby Daisies (Pass): They're super cute, delicious, and earn the second Hollywood Handshake of the day.
Two Handshakes in one Signature is always a good sign, even though there were several more failures than one might have wanted. That means several people are gunning to make the Technical Challenge a good one.
Technical Challenge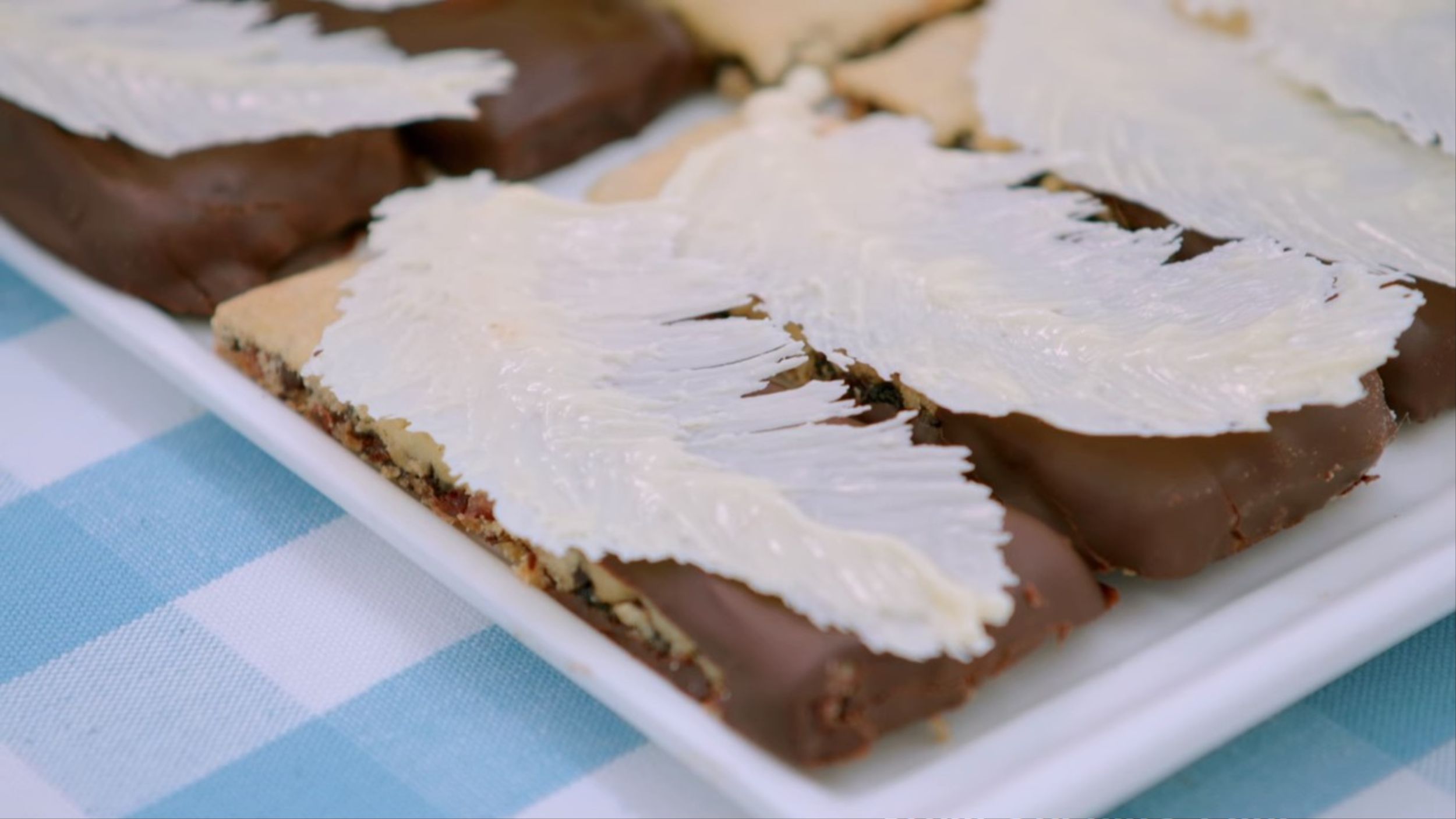 Prue sets this week's Technical Challenge, a dozen Garibaldi Biscuits. That bit about the "Squashed flies" is true; these are currant sandwich cookies, with little currants squashed and baked between two thin oblongs of biscuit dough with white feathering through the chocolate layer. Janusz has never heard of them, Maisam looks lost, Rebs has eaten them though not made them, and Sandro researched them last night as part of his panic-induced insomnia attack. Let's see whose biscuits fly and whose sink.
11. Abdul: He made icing feathers, and the cookie is a mess
10. Syabira: Bless her; her icing feathers are perfect.
9. Dawn: Wrong shape, chocolate everywhere.
8. Kevin: The wrong shape and too thick.
7. Masiam: Too thick all around.
6. Janusz: He made 24 and baked them together.
5. Maxy: Prue calls them rustic.
4. Carole: Tastes good but ugly.
3. Sandro: The chocolate is too thick.
2. James: Too soft and a bit crumbly.
1. Rebs: The feathering is excellent; however, the biscuit is soft.
I am dying over the two bakers who did not understand that feathering means dragging through the chocolate and not actual feathers. James feels guilty for not taking the time to stop and correct them., but they only had two hours, and he was terrified of getting distracted. As for Rebs, she won the technical, but it was more a default win than an outright one.
Showstopper Challenge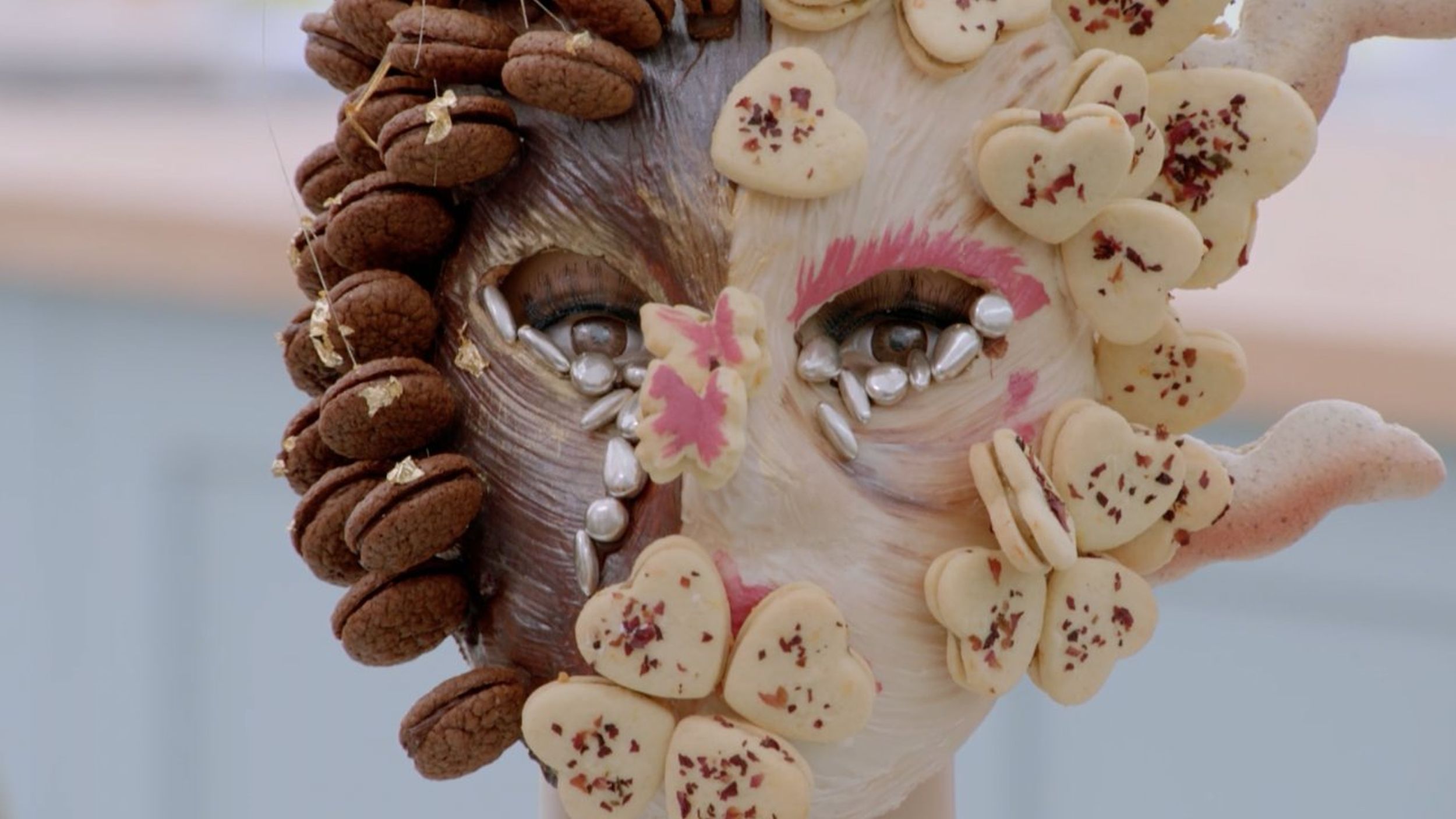 This week, the Showstopper Challenge is a 3D Biscuit Mask, a drama mask or masquerade mask, not a pandemic mask. Also, it has to be able to sit upright on a stand. Other than that, everything else is up to them, including what sort of biscuit they make and what flavors they use. Most go for gingerbread or sugar, which has the rigidity to handle it. Let's see who brings the drama and whose drama is all in the cookie crumbling.  
Syabira "Two Face, One Soul" Now that's a showstopper, with the Janus two-face design, the heart cookies, the tiny beadwork around the eyes, and the medusa hair. The judges are astonished. And it's delicious.
Sandro "Carnival Costume" His is very pretty but more "nailed to a board" than "freestanding." But it is wearable, and Paul tries it on. It's delicious too.
James "Menacing Mask" It's ugly, but it's supposed to be, so, I guess. The fortune cookies have horror movie messages. Thankfully the flavors are not horrible.
Kevin "Mythical Mask" Some biscuits are overbaked, but some are perfect, and overall the design is well executed.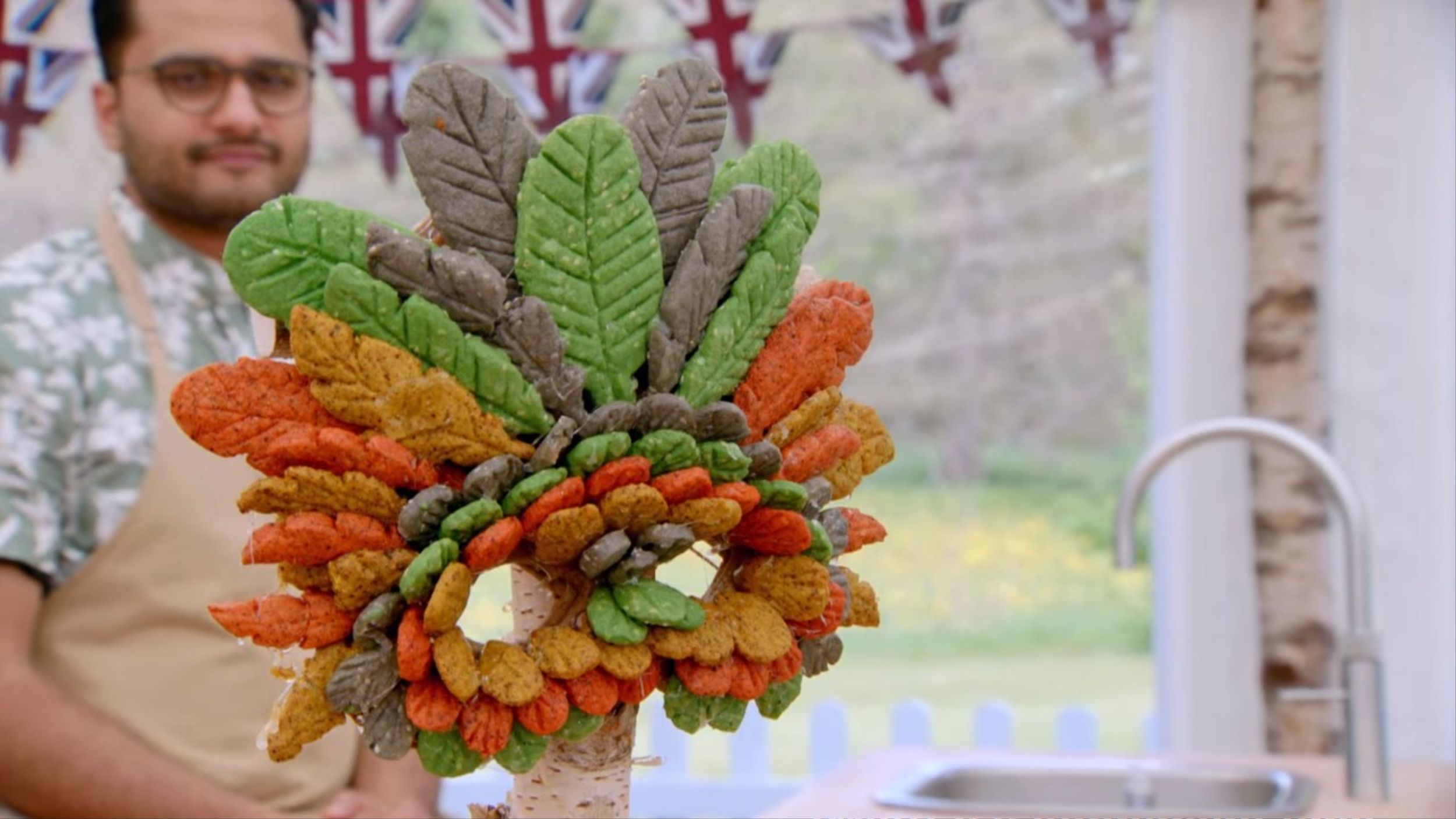 Abdul "Parro-Tastic Biscuits" Those feathers are gorgeous and delicate. Paul calls it a 3D mosaic; the flavors are stunning.
Maxy "Masquerade" it's a stunning mask, perfect for Mardi Gras, and the biscuits are tasty.
Dawn "Baroque-Punk Mask" The cogs and steampunk decor is excellent, but she didn't cut the eyeholes? Paul does it for her and discovers some of the flavors are weak.
Janusz "Cubist Mask" That is a goddamn work of art. The flavors are also punchy.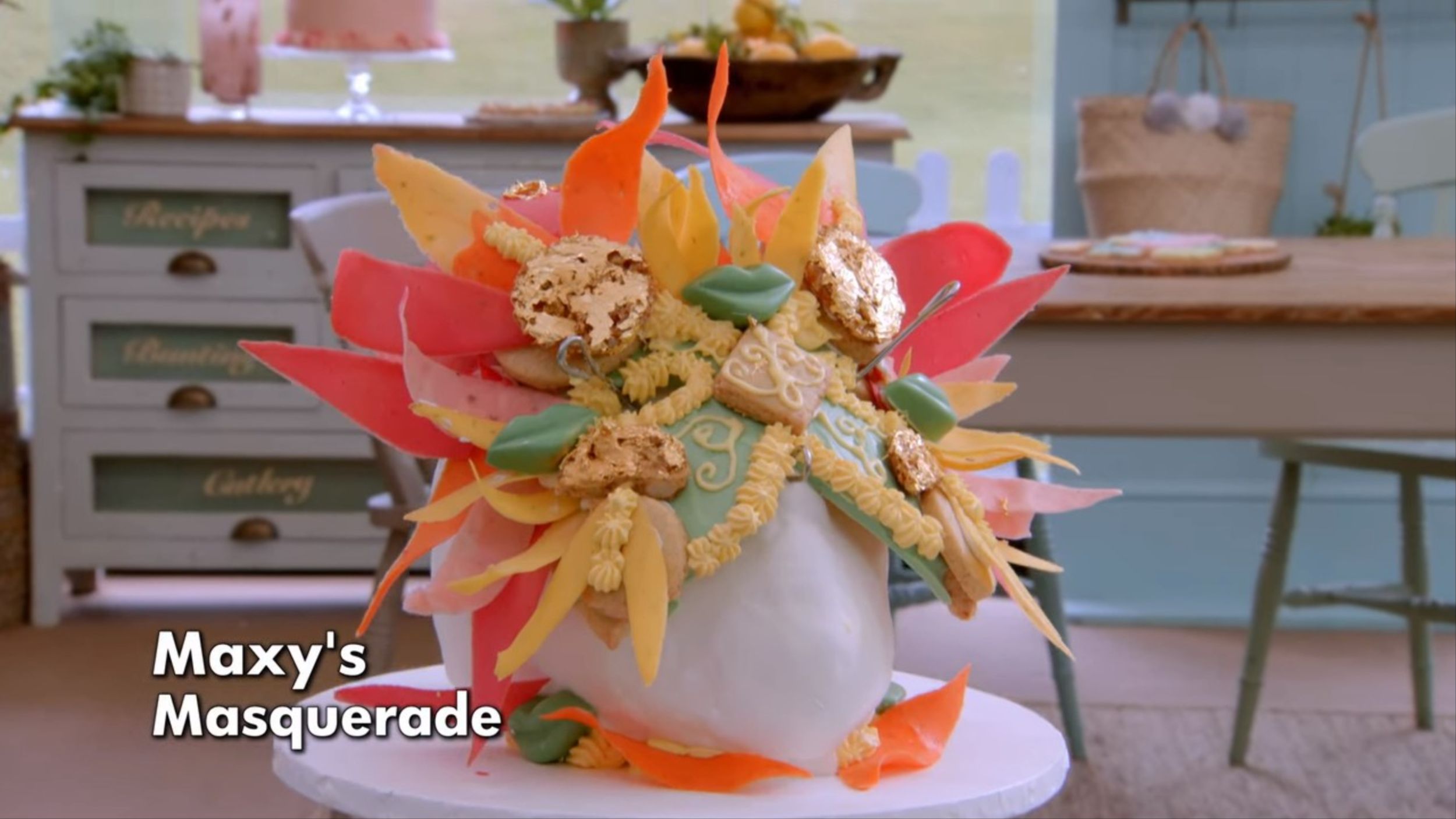 Carole "Macaron Masquerade" Her mask had too much lard and collapsed, though the detail still comes through. Paul calls it a shame.
Rebs "Floral Fascinator" It's the smallest of everyone's, and Paul is disappointed she didn't do more. It's also too spicy in the flavors.
Maisam "Venetian Mask" It's a thick gingerbread, and her design is simple, but Paul says it's effective. 
Star baker this week goes to one of our two handshake recipients, Maxy. As for who is leaving, you'd think it would be Carole, but Maisam is also super weak, and the judges choose to send her home before she has a complete failure, warning Carole that she's only got one more chance.
---
By
for on September 23rd, 2022
More to Love from Telly Visions