By
for on June 18th, 2017
Grantchester Season 3 Episode 1 Recap: Christmas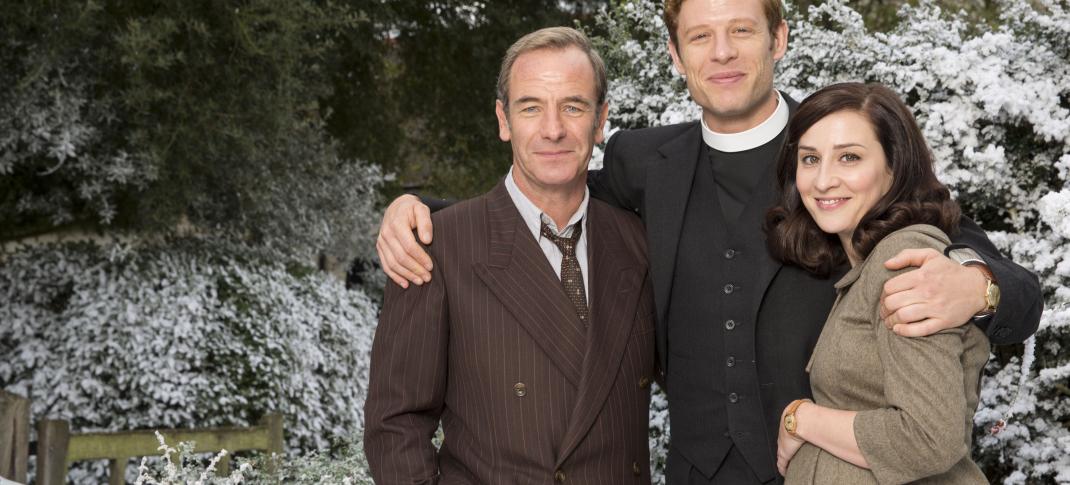 Popular mystery series Grantchester returns to Masterpiece at last, starting the long-awaited third season off with the series' first Christmas special, which orginally aired in between Seasons 2 and 3, in December of 2016.
Leonard: As Brecht tells us: "Art is not a mirror with which to reflect reality, but a hammer with which to shape it."
Before we dive into the premiere of Grantchester, we should pause for a moment and reflect on the concept of "the Christmas special". As most anglophiles know, despite the pro-Brexit rhetoric of immigrants coming into the country and changing their customs, the UK's monoculture, both cultural and religious, is far more deeply set than it is here in the US. The Christmas holiday (and Easter) cause the country to shut down in a way that just doesn't quite happen here. When it comes to entertainment, the US produces our share of Christmas themed movies. But our television programming for the holidays are more on the "it's a christmas tradition" side of things, rather than producing new work. One is much more likely to find the Rankin/Bass Rudolph claymation from 50+ years ago, or the 1983's A Christmas Story on endless loop, than see current network shows (say Agents of SHIELD, or Once Upon A Time) doing yearly Christmas-themed episodes designed to air over the 48 hour period of December 24th-26th. 
In the UK, it's the opposite. As far as the BBC and ITV are concerned, *everyone* celebrates Christmas. And more importantly, everyone celebrates by settling down around the fire and the telly to watch their current favorite programs, whose characters are having Christmas along with them. Some shows that aren't currently on the schedule will still have Christmas specials--ahem, Doctor Who--because the tradition is that important. From Strictly Come Dancing (who do things like dance numbers on a Christmas themed Hogwarts Great Hall set) to Downton Abbey, yearly Christmas specials are part of the required landscape, once a show reaches a certain level of popularity.
It speaks volumes, then, about how popular Granchester has become, that, post-Season 2, ITV announced it would do a Christmas special in December of 2016. But it also puts the show in a bit of a quandry. Christmas specials have to be uplifting in their character. They're the episode where Mary and Matthew get engaged, not the episode where Matthew dies in a car crash. And even if there are sad or dramatic things that happen in them (like Doctor Who's 2016 special "The Husbands of River Song"), we get quite a bit of madcap humor to offset the bittersweet ending. So what exactly is a show based on murders of the week (and babies out of wedlock, abortions gone wrong, and repressed gay characters) to do?
In the case of this week's episode, they start by handing the parish's children's navity play to Leonard, and his newfound love of Brechtian Theater. (As a former theater major, the resulting Brechtian Nativity was a howler.) Then there's the choice of making the murder of the week (or the season) one of the femme fatale who hooks up with the older man, giving us at least two trips to a period-appropriate burlesque show (and allowing Sidney to observe he felt as out of place as "a vicar in a strip club") before the mystery takes a turn to the serial killer side. The groom's death is an exact match to another one that occured on another wedding day eight years earlier. But what is the connection?
Keating: We should always do this drunk
Sidney: Don't we?
Then there's the bittersweet stuff. Amanda and Sidney are together--at least for the moment. But the baby she's carrying by her estranged husband literally sits between them. Perhaps Sidney would be so enlightened as not to care--but everyone else (and I mean everyone else) can't seem to stop reminding him. Mrs. Maguire worries about the shame it will bring on the parish should their relationship get out. And Sidney has his own doubts about what sort of partner he would be.
Things take a turn for the worse when Amanda listens to Sidney and tries to make admends with her father, Sir Edward, only to have him disown her when she won't return to her husband. Edward then follows it up by bullying her Aunt Cece into turning her Amanda into the streets, by threatening the employment of her son--on Christmas Eve, natch. Just as we think Amanda might freeze to death in the snow, Leonard and the faithful pup Dickens find her, and bring her home to the parish to give birth. Turns out, despite earlier protestations, Mrs. Maguire wouldn't turn out a pregnant single mother like Mary on Christmas Eve if she was in need on the doorstep. She'd help deliver the baby herself. (Leonard, on the other hand, would helplessly recite gospel passages and bring all the wrong towels, while Sidney listened to jazz and got drunk.)
Any worries about the baby disspate the moment it arrives, with Sidney happily rocking baby Grace asleep to his jazz records, while explaining the history of the musical genre. And though he and Amanda still can't be seen together, at least not yet, there's a sense of hope that these two crazy kids might just make it after all. Oh, and the mystery is solved as it turns out the the femme fatale did it--both times. (Spoiler alert: it's a hair color thing.)
All the families that were parted find themselves together on the holiday in a montage set to Sidney's Christmas Eve sermon on the importance of the season. As a stand alone, it's a feel good episode designed to make us feel happy for the love of Christmas. As a opening premiere episode, it sets up the rest of the season nicely, focusing on the importance of family, and how no one wants to be alone.
Next week, we'll Grantchester's original Season 3 premiere episode, which starts with the arrival of a dead crow delivery to Sidney's doorstep.
---
By
for on June 18th, 2017
More to Love from Telly Visions