By
for on June 14th, 2017
'Grantchester' Season 3 Arrives Christmas First on Masterpiece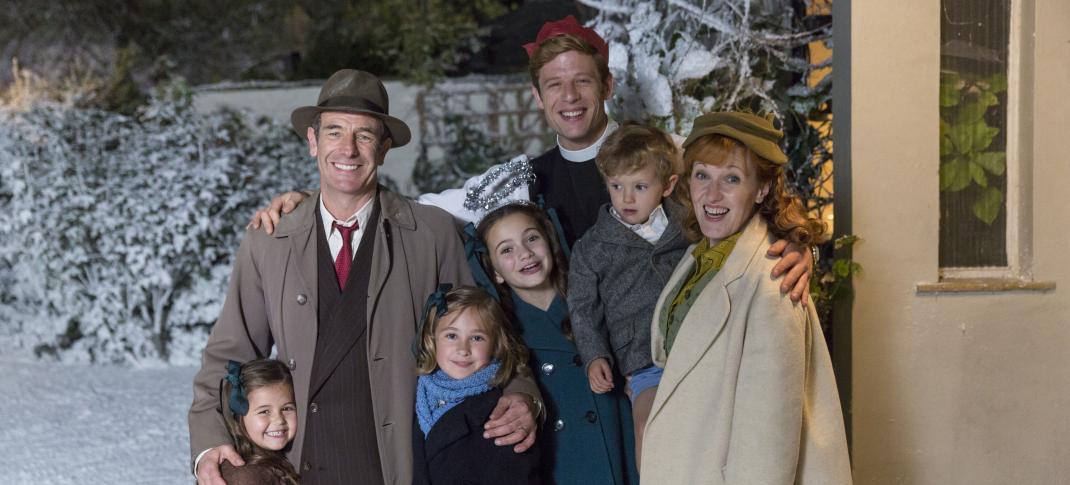 Grantchester, the period drama about crime solving Anglican priest Sidney Chambers and his partner Inspector Geordie Keating returns this weekend with Christmas in June.
Geordie: Sometimes, Sidney, I really do think that you must have God on your side.
Sidney: I certainly hope so. Another round, Inspector?
- Sidney Chambers and the Shadow of Death, pg 392
"What is Grantchester?" a friend of mine asked recently. Even as a PBS watcher, the mystery series had escaped her notice. But have no fear, those who have missed out on ITV's latest mystery series, based on the short stories by James Runcie. Grantchester returns this coming Sunday for it's third round of episodes, and now is the perfect time to pick it up.
For those unfamiliar with Runcie, he's actually a playwright and TV producer who has a couple of BAFTAs to his credit, along with a few novels. But it wasn't until his book Sidney Chambers and the Shadow of Death arrived in 2012, consisting of six short mysteries, that he became a household name. So far, there are seven books in what has become known as "The Granchester Mysteries", with Sidney Chambers and the Persistence of Love arriving just this year. (It's no accident that the titles of the myseries imitate the famous Harry Potter books. Runcie is a big fan, and was the filmmaker behind the 2007 documentary J.K. Rowling: A Year in the Life.)
The first season of Grantchester was taken directly from the Shadow of Death. Sidney Chambers (James Norton) was exactly as you expect--a surprisingly handsome young clergyman working in the town of Grantchester, whose life is a bit of a mess, and who solves the crimes of others, rather than his own problems. His partner in mystery solving is Inspector Geordie Keating (Robson Green), the older, more hardboiled and cynical professional detective to Chamber's more dreamy and forgiving priest. Chambers is caught in a bit of a love triangle when we meet him--his love for the church and his love for Amanda Kendall (Morven Christie), a socialite far above his class station. His other confidant is Leonard Finch (Al Weaver), a fellow clergyman, who is struggling with being a closeted gay curate in a time when homosexuality was seen as a disease. It's basically one part Agatha Christie-style muder of the week mystery, one part period romantic drama in the style of A Place to Call Home.
The second (and now third) seasons have veered away from the original books, but the characters remain faithful to the spirit of the enterprise. And the show's popularity has caught on in the UK to the point that last year, ITV commissioned a Christmas special, much like they used to do for Downton Abbey. (And which they are less able to do with the more historically bound Victoria.) We here in the US are used to PBS taking these Christmas specials as addendums to a show's season, and tacking them on as a finale episode. And that worked when the show in question aired in the fall, with the first episode over here not airing until January. Unfortunately, Grantchester's schedule is not so neat. Season 2 had already finished airing on PBS before the Christmas special was even announced last year, and the third season of the show aired in the UK this past April and May. With PBS running it as a summer show, they had no choice but to tack the Christmas special onto Season 3, but as the premiere.
But for those who are looking to just get into the program, starting the season wtih what was essentially a stand alone one-off works wonders. Everything that's happened in the first two seasons is quickly covered in exposition, and anyone who's looking for a cozy mystery during the school holiday will find one warm and inviting for them starting this weekend.
Grantchester Season 3 airs starting this Sunday at 9pm on your local PBS station.
---
By
for on June 14th, 2017
More to Love from Telly Visions