By
for on December 23rd, 2021
'Good Omens' Season 2 Will Bring Back Jon Hamm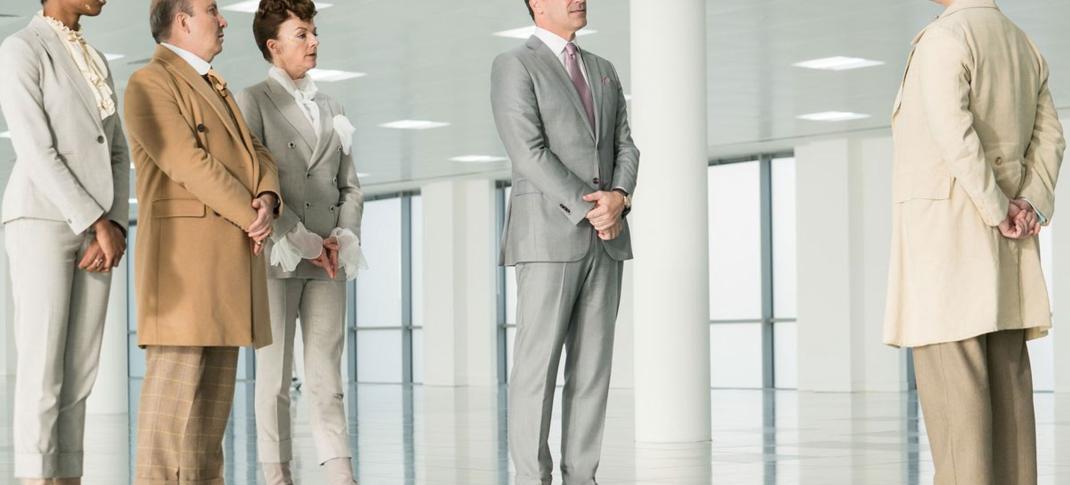 When Amazon Studios announced it had renewed Good Omens for a second season, fans were thrilled and a touch on the perplexed side. The first season used up all the material from the novel, and while Neil Gaiman's other series based on a single book, American Gods, managed to squeeze out three seasons before getting canned, Amazon had not planned to do the same. 
However, using up all the material in the first season never stopped a streaming service from renewing a show before. Sometimes it's a success like Orange Is The New Black, sometimes less so (looks at Big Little Lies Season 2). Sometimes the author will go so far as writing a sequel 35 years later to give the show more material. (It's Margaret Atwood!) As a parody of apocalyptic fiction (and prestige TV that is predicated on global catastrophes), Good Omens had made its point.
But it also has three secret weapons: Gaiman's direct involvement and lead actors David Tennant (Doctor Who) and Michael Sheen (The Queen) as Crowley and Aziraphale. The latter two have continued their double act since the first Good Omens season, teaming up for two seasons of the pandemic-inspired award-winning Hulu series Staged. And now it's adding a fourth: Jon Hamm (Mad Men) will return for Season 2, reprising his role of Archangel Gabriel. As Gaiman put it, "Good Omens 2 just would not be the same without the astonishing Jon Hamm as Gabriel, everyone's worst boss."

 
The current synopsis for Season 2 doesn't give fans any clues as to the plot. However, it does promise them all what they want: More of Crowley and Aziraphale's strange and wonderful love story. "Season 2 will explore storylines that go beyond the original book, including a closer look at the friendship between "fussy angel" Aziraphale and "fast-living demon" Crowley." Or as Gaiman said to Variety:
The story that Terry Pratchett and I created all those years ago continues to take us from London's Soho into Heaven and Hell. It's a delight for me to bring back characters we loved (or hated) and bring in new characters, from the shiniest top floors of Heaven to the dankest basements of Hell, to love (or to hate, or to love to hate or hate to love). All of them are part of the strange and unusually beloved family of Good Omens.
Hamm is not the only angel on his way back to Earth to manage a couple of incompetent employees. Doon Mackichan (Two Doors Down) will also be back as Angel Michael and Gloria Obianyo (Dune) as Uriel. And the angelic ranks are also filling out. New angels will debut in Season 2, including Saraqael, played by Liz Carr (The Witcher), and Muriel, played by Quelin Sepulveda (Havoc). on the other side of the Heaven/Hell divide, Shelley Conn (Bridgerton) will join the cast as a yet-unnamed "key character from Hell."
Douglas Mackinnon, director, and co-showrunner said of the cast: "I couldn't be happier that Jon has come back to do more Good Omens as the Archangel Gabriel, who is second in command in Heaven. He joins us nearly halfway through production when we have already welcomed to the Good Omens 2 family familiar faces in familiar roles, familiar faces in unfamiliar roles, and unfamiliar faces in unfamiliar roles. We also have an unfamiliar face in a familiar role." Ah yes, that makes everything so much clearer.
Good Omens Season 2 is expected to debut in 2022.
---
By
for on December 23rd, 2021