By
for on November 6th, 2023
Carrie Coon's Costume Corner: 'The Gilded Age's "Some Sort of Trick"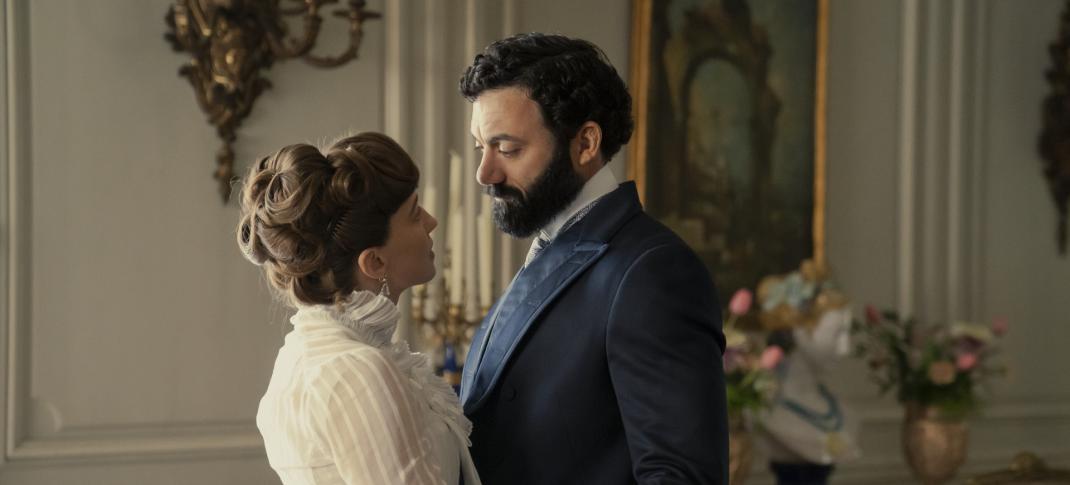 Our Gilded Age column covers exclusively Carrie Coon's costumes in her role as the beautiful and socially ambitious nouveau riche matron Bertha Russell. Not that the other costumes aren't fascinating and worthy of conversation, but Bertha's gowns are more adventurous, more exuberant, more statement-making, more everything. However, this week, Bertha wears just three ensembles, and while each has its merits, none is so notable that I've been thinking about it for days. All of which is to say: no Gown of the Week this week, but we do have The Suggestion of a Business Suit, Almost Casual Bertha, and Casino Royale Bertha.
We're on Newport for the appearances of all three gowns, and The Suggestion of a Business Suit appears earliest. Bertha, Wade, and Larry visit the widowed but youngish Mrs. Blaine (Laura Benanti, yet another Broadway star in a series packed to the rafters with triple threats – a massive fever dream of a dance number when???) to see about Larry redecorating her cottage. Bertha's gown is unmistakably not a suit, but also, it kind of is.
Hear me out: she's making a social call that's also a business proposition and needs to look somewhere between glamorous and serious. What's more serious in this series than a dress featuring a jacket lapel? 
The Suggestion of a Business Suit
This suit-ish gown is a sibling of her Newport dress from "You Don't Even Like Opera", in the same palette of bright, stark white and midnight blue. This time, the white fabric has a very fine rib, and its glowing sheen makes me think it's a silk weave with lots of body. In addition to having the guts to wear a dress that shows every bit of schmutz within a one-mile radius, Bertha has gone for another visually witty look.
This dress incorporates two bolts of midnight blue, arranged diagonally from the right shoulder to the left of her waist and then from the left waist to the right of her skirt's hem. The bolt on the bodice emerges from a lapel point just below and to the side of her neck (the dress's stand-up collar is the same shade of blue), and its mate on the skirt suggests a very wide trouser stripe. 
The skirt has a partial overskirt, a swoop of knife-sharp pleats in white, covering part of the blue bolt. The swoop makes it a little difficult to perceive that the little inverted triangles of blue at Bertha's wrists aren't just there for fun. When she has one arm down by her side, the flashes of blue at her wrists are extending the lines of the wider diagonal slashes on the bodice and skirt. It's a fun touch and a strong example of the thought and care that go into Bertha's gowns. In turn, this leads me to wonder what the deal is with the olive green accent on her bustle; I can't account for that at all, except as a possible off-handed visual allusion to her exuberant hat, which has a bit of green thanks to its peacock feathers (just two, very restrained). It's worth noting that Larry is paired with Bertha visually, dressed in an actual (blue!) suit with a white shirt. 
That uniform visual pairing threatens to collapse entirely when Larry returns home around breakfast time after spending the night with Mrs. Blaine. Naughty, naughty! Why, Larry isn't even wearing his jacket! He's no better than a brazen hussy, walking around in a (blue) waistcoat and shirtsleeves as he trails around the sillage of Mrs. Blaine's scandalously French perfume! The Almost Casual Bertha look is a lightweight, bright white confection in what I think is cotton voile. It's translucent (you can see her skin under it, which seems the tiniest bit daring for the 1880s, but this is an at-home look), with thin, opaque stripes down the sleeves.
The skirt is nearly frothy with ruffles, as are the cuffs, and the collar is knife-pleated. The collar and front of the bodice are a tiny bit of a let-down; the collar should be standing up all the way around to frame her face, but the fabric doesn't seem to be up to the task, so it's a bit floppy as it marches down into the vertical ruffles that flank opaque, flat bows. I can't quite see what's happening with the front of the bodice in the context of the gown as a whole, so maybe I'm missing a crucial detail that pulls it all together, but as it stands, there's an imprecision here that's a little off. 
 
What's not off is the chemistry between Bertha and George when the latter surprises her by arriving at Newport in plenty of time to change and escort her and Gladys to Ward McAllister's casino party that evening. After talking over Larry's inappropriate dalliance with Mrs. Blaine, they sneak off to make out in the conservatory adjacent to the drawing room. No extra credit for guessing the shade of George's business attire – it's our good friend midnight blue again, featuring two matte fabrics and one shiny one. A casual tone-on-tone look!
Casino Royale Bertha is in a super-pale dove gray silk, featuring an austerely plain bodice. The two notable elements of the bodice are its dramatic Basque waistline and a diagonal flourish of teal and blue fabric that calls back a bit to the bolder flashes of midnight blue on The Suggestion of a Business Suit. Mostly what it does is cut Carrie Coon's bust in half at a diagonal, which is a choice! The bodice leads into a full and swoopy skirt of the same pale dove silk as the bodice, featuring an allover abstract floral pattern in pale teal.
The puff sleeves are charming little bursts of silk & tulle in several shades of blue, teal, and pale dove, covering only the shoulder. They look almost like ribbon candy, and like ribbon candy, are almost certainly better enjoyed for their visual effect than for their flavor. It's a sleeveless dress, but most of Bertha's arms are covered by her white silk gloves, which come up above the elbow. 
The Casino Royale look is topped off by another very tall choker. This time, it's 3-5" of pearls above a three-strand pearl necklace, leading into a huge pearl-and-diamond drop pendant arranged to the left, echoing the teal-and-blue flourish at the bust. As a whole, the palette reminds me ever so slightly of the pale blue gown Claire Foy wears as Queen Elizabeth II in The Crown episode from Season 2 featuring Jackie and JFK's visit to England. 
---
By
for on November 6th, 2023
More to Love from Telly Visions