By
for on October 30th, 2023
Carrie Coon's Costume Corner: 'The Gilded Age's "You Don't Even Like Opera"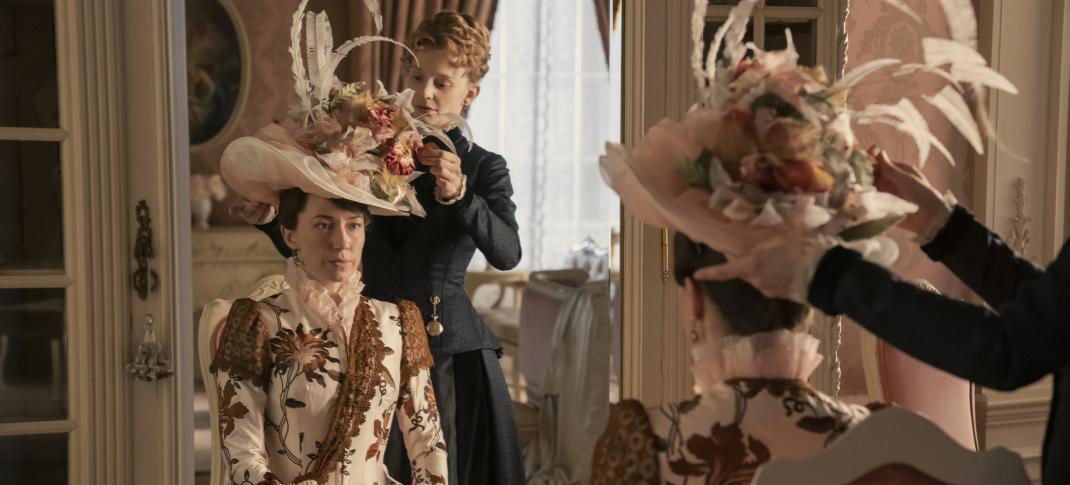 Welcome to the first edition of Carrie Coon's Costume Corner, where we honor and unpack the sumptuous and occasionally fantastical costume design of The Gilded Age, with a particular eye on the many gowns of Carrie's character, Bertha Russell. Costume designer Kasia Walicka-Maimone has returned for the second season, and if the season premiere's costuming is predictive, we are in for some true spectacles of design, fabric, and construction. I had the pleasure of interviewing Walicka-Maimone about her work on the first season for a Town & Country piece in 2022 and love her playfulness, thoughtfulness, witty use of fabric and form, and allusions to 19th-century art. 
The costuming in The Gilded Age is frequently more eloquent than its dialogue, and no character is more adept at communicating with her clothes than Bertha. Her deft, not-infrequently ruthless, ascension to Manhattan's highest social echelons despite being horribly gauche in the eyes of Society's current doyennes is the top draw of the series for me. I'm also a huge fan of Bertha's surprisingly egalitarian relationship with her husband, railroad robber baron and noted Wife Guy George Russell (played by Morgan Spector, and no relation to the dashing Formula 1 driver who is also named George Russell).
Bertha's plot in the season opener, "You Don't Even Like Opera", revolves around her quest for a prestigious box seating assignment at the Academy of Music's forthcoming opera season. Her first application was turned down, and what follows is her assiduous efforts to play by Mrs. Astor's (Donna Murphy) excruciatingly genteel and arcane rules, followed by her decision to take matters into her own hands by announcing that she is supporting the newer (and therefore by definition, less desirable) Metropolitan Opera. Having already wined and dined Manhattan's new and established wealth at a lavish dinner party, Bertha cheerfully welcomes her guests back into her mansion's reception hall, now transformed into a magical bower, where the famous diva Christina Neilsen performs an aria from the most anticipated productions of the year. Seeing so many of the people who wanted the Russells permanently blackballed from the Academy of Music swept away by the power of Neilsen's voice — and, by extension, by Bertha's skilled maneuvering — made me punch the air in triumph. All of which brings us to this episode's Gown of The Week!
I'll be designating one ensemble as the Gown of the Week when there's a clear standout, uno vestito di tutti vestiti that rises above all of Bertha's impressive costumes. Our Gown of the Week is the sixth and final of Bertha's gowns in the episode. I'm calling this one Dinner Party Queen Bitch, which is a sincere and profound compliment. 
From what I can see, Bertha's golden dress is made of shantung silk with a matching lace overlay on the bodice, and features a low, wide square neckline, fitted sleeves and elbow-length silk gloves, and an almost sculptural flourish of black fabric (I believe it's taffeta) at the left side of her neckline. It stretches around her shoulder, suggesting the casual luxury of a fur stole slipping down one's back. Though most shots featuring the gown's details are from the torso up, I did spy more of the sculptural appliqué on the skirt. I can only assume that this high-contrast feature is for drama and to keep everyone guessing. I certainly am. The bustle is the very picture of maximalism, and we haven't even talked about her accessories yet. 
Bertha is pulling out all the stops with visual reminders that she is the future of Manhattan Society. In case the golden dress was too subtle for some, she's also wearing a tiara, accompanied by drop earrings, and a 2-3" diamond choker featuring a large drop pendant – all diamonds, naturally. Her parure announces instantly that Bertha's time is here and now, no matter what Mrs. Astor (also wearing a golden gown with diamond accessories, because she did not merely get the memo, she wrote it) has to say about it. This! Age! Is! Gilded!!! 
I'm including two very Honorable Mentions this week, Demure Bertha and a delightful Familiar Face from last season. 
Demure Bertha appears at a tête-á-tête tea time with Mrs. Astor. She just looks so pretty in this one, which was definitely by design, as her cream silk charmeuse gown is an "I'm disarming you, but you don't know that yet, and won't know it until it's too late" dress. The slight, narrow v-neck, combined with restrained pearl jewelry and three-quarter sleeves fitted to just below the elbow, combine for an almost conservative effect. The one hint of Bertha's modernity—a strong one, but tempered by its softness and femininity—is the vertical placement down the bodice of deep, dark pink peonies in full bloom. Bertha seems to have an affinity for chinoiserie this season; a large floral-and-vine motif of the same ilk was notable in her Easter dress, too.
The Familiar Face is the return of one of my favorite costumes from season one, a bright white and midnight blue confection so crisp it threatens to cut you before transforming into a billowy marshmallow of a bustle. 
The graphic boldness of the vertical blue chevrons seem to clash with what look like horizontal blue chevrons to one side of the skirt, but as Bertha moves across the lawn of another impressive Newport cottage, the seeming horizontal chevrons are revealed as a clever bit of trompe l'oeil, created by a ruffle that is white on one side and blue on the other. It's a witty nod to nautical pursuits, and the vertical chevrons on the bodice remind us that Bertha knows what design elements show her tiny waist to its best advantage.
---
By
for on October 30th, 2023
More to Love from Telly Visions