By
for on April 1st, 2015
This Giant Chocolate Benedict Cumberbatch is an Actual Thing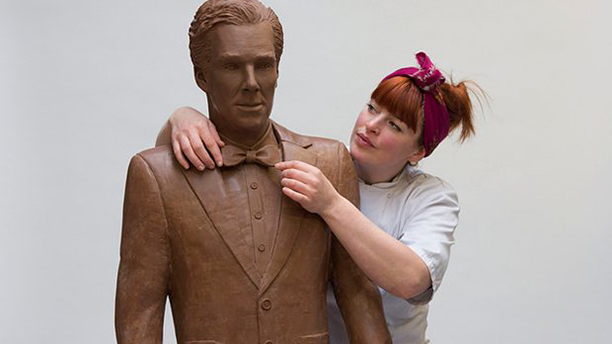 Springtime - when everyone's thoughts turn to warmer weather and a proliferation of Easter candy, most notably in the shape of rabbits, eggs and your favorite actor. Okay, so I made that last bit up - except for how I didn't, really. Thanks to some enterprising chocolatiers and the launch of a new Drama channel on British on-demand service UKTV Play, we now know what everyone's favorite It British Actor of the moment - Benedict Cumberbatch - might look like if he were comprised entirely of chocolate. About 40,000 grams (or ~500 bars) of Belgian chocolate, to be exact. 
"Benedict Chocobatch", as the creation is affectionately referred to by the eight-person team that put it together, came to be because the Sherlock star was voted the dishiest TV drama actor in Britain by a survey of over 2,000 women. Cumberbatch faced strong competition from Doctor Who star David Tennant, who came in second, followed by Luther's Idris Elba and Aidan Turner, star of the new Poldark remake. 
The chocolate Cumberbatch took over 250 hours to create, is hollow and weighs about 80 pounds. It's likeness was assembled using the actor's measurements and footage from his many red carpet appearsnces (of which there have been no shortage this year). In some ways, I almost think the expression is better than Cumberbatch's actual Madame Tussaud's waxwork figure! 
Here's a look behind the scenes at how the "Chocobatch" came to life:
[This video is no longer available.]
The chocolate masterpiece will be appearing in Stratford, London, at the Westfield shopping center on Friday, April 3. So, who's going to be actually brave enough to eat this confectionary marvel? (I think I'd feel too guilty about it. What - it's pretty!)
---
By
for on April 1st, 2015