By
for on January 8th, 2015
Get Your First Look at 'Death in Paradise' Series 4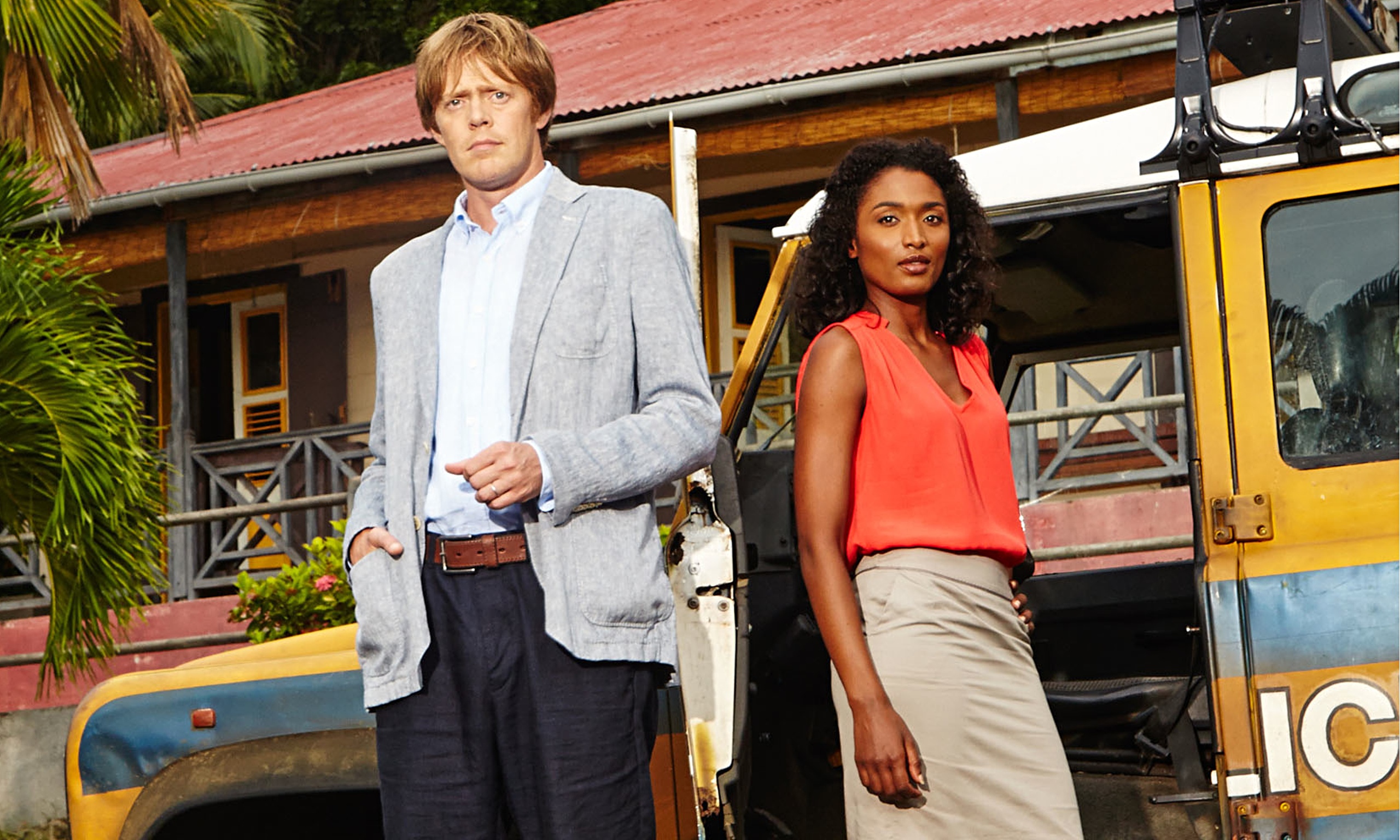 Mystery series Death in Paradise was faced with an unenviable task at the beginning of its third season – how do you reinvent a show whose premise is based on a rather grumpy detective sent to investigate murder in a tropical paradise when the actor who plays said detective has decided to leave the show?
As Season 3 began, that's exactly what happened. Despite the show's popularity, star Ben Miller, who played DI Richard Poole, decided he wanted to try other things, and was subsequently written out of the show. He was replaced by Kris Marshall, an actor whom many Americans had probably only known as Colin from popular Christmas rom-com Love Actually until that point. (He's the guy that travels to Wisconsin in hopes of finding an American girlfriend.)
Happily, Marshall found great success playing DI Humphrey Goodman – a somewhat bumbling but oddly charming character that is nevertheless quite different from Miller's original detective - and is back for another go round solving crimes on the tropical island of Saint Marie. Regulars Sara Martins, Danny John-Jules and Don Warrington are also returning, though sadly, Gary Carr will not be. (Worry not, though; Fidel is just getting a job with another police force, not turning up dead or anything. So, that's something. Maybe we'll see him again someday.)
Series 4 is set to debut on UK televisions this week (beginning January 8) and will be comprised of eight new episodes. The season's opening episode takes a supernatural turn when plantation owner and businessman, Elias Thomson, is brutally murdered during a group séance at his home. With the door to the room firmly closed, everyone in the room is a suspect, but how did the murderer go unnoticed when all participants – including Elias' children, Daniel and Lucy – were holding hands throughout the séance?
Watch the Series 4 trailer below: 
This season will also boast a raft of interesting guest stars including Downton Abbey's Amy Nutall, Call the Midwife's Leo Starr, Broadchurch's Will Mellor and many more.
While the lucky ducks in the UK are getting to watch the new Death in Paradise this week, we're not going to be too far behind them, as it happens. (Whew.) The fourth season of the mystery series will be available to public televisions in the US later this Spring, so keep an eye on your local listings around April or so.
Are you looking forward to more Death in Paradise? 
---
By
for on January 8th, 2015