By
for on March 4th, 2022
Gary Oldman is a Misfit Spy in Trailer for Apple TV+'s Darkly Comedic 'Slow Horses'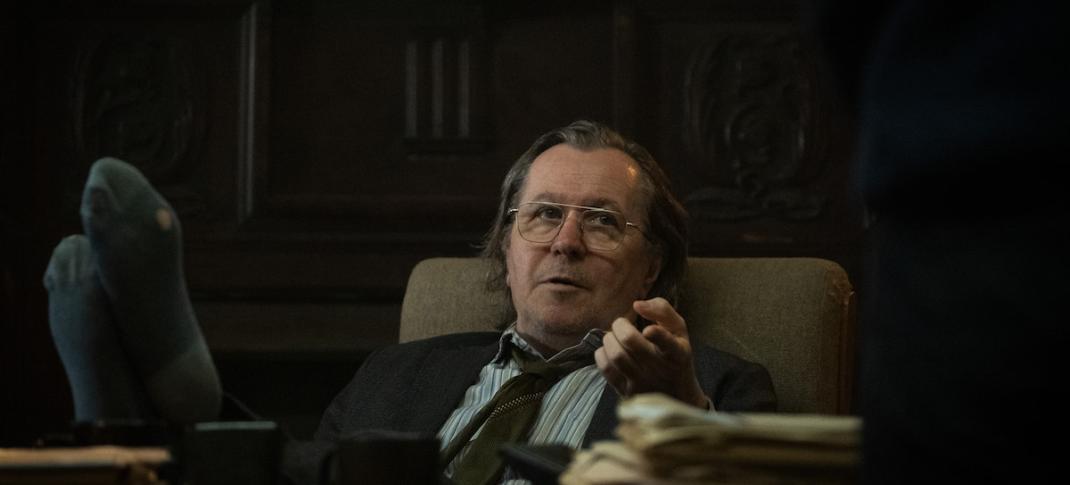 Academy Award winner Gary Oldman is back in the spy game again for Apple TV+ in the upcoming series Slow Horses. But, unlike his previous turns in prestige films like Tinker Tailor Soldier Spy, this time he's playing very much against type, as the unwilling leader of a group of sad-sack misfits who are basically the worst spies in the U.K. The six-episode series is based on author Mick Herron's book of the same name and boasts the sort of entertainingly sly, dark humor we don't often get to see in this genre space, dominated as it tends to be by serious dramas and Bond knockoffs.
Slow Horses follows the story of the irascible Jackson Lamb (Oldman), the irritable head of a ragtag subset of British intelligence agents, who've all been reassigned to Slough House, a department that essentially exists to serve as the dumping ground of MI-5. Here is where the dregs of the organization end up, those who've all been removed from the field for a variety of career-ending mistakes and essentially put out to pasture to do paperwork for the rest of their time in the service. Desperate to find their way back into the field, these misfits are willing to do anything to impress their boss---whether it's a good idea or not.
The series' stacked ensemble cast includes Academy Award nominee Kristin Scott Thomas (Rebecca) as Lamb's boss Diana Taverner, while  Jack Lowden (The Long Song), Olivia Cooke (Vanity Fair), and Rosalind Eleazar (Harlots) play his inept charges River Cartwright, Sid Baker, and Louisa Guy. Other notable faces include Academy Award nominee Jonathan Pryce (The Crown), as well as Freddie Fox (The Murders at White House Farm), and Chris Reilly (Devils).
The trailer, which features lots of dark humor and several laugh-out-loud moments, is below. 
Apple TV+ is rapidly turning into a streaming service of serious interest to Anglophiles, with shows like Ted Lasso, Trying, and Suspicion out now and other titles like period drama The Essex Serpent in development.
The first two episodes of Slow Horses will premiere on Apple TV+ on April 1, followed by weekly releases on Fridays. Herron's Slough House series of novels spans eight books, but there's no word on whether the streamer plans to make this an ongoing or a strictly limited series.
---
By
for on March 4th, 2022
More to Love from Telly Visions