By
for on February 21st, 2020
The Full Trailer for Julian Fellowes' 'Belgravia' Promises Secrets and Family Intrique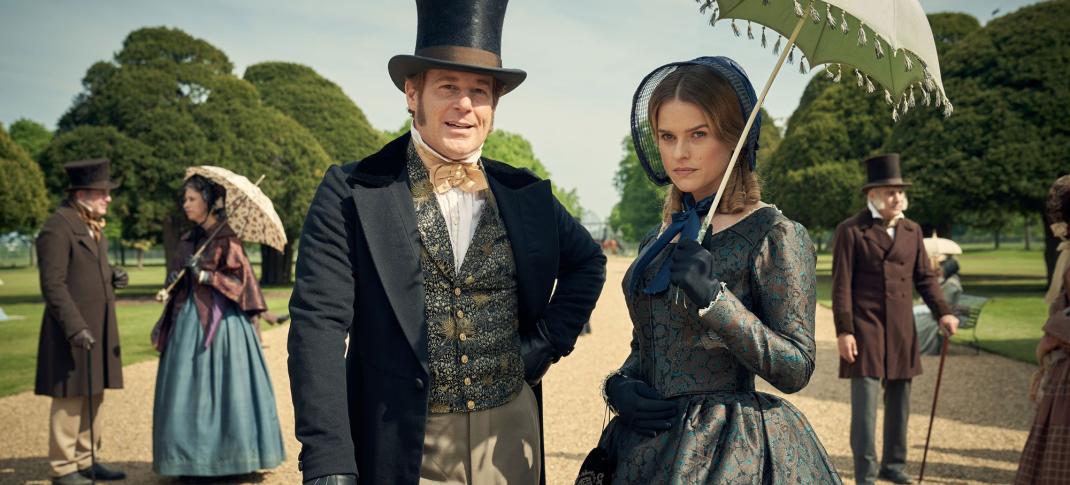 The full trailer for Julian Fellowes' long-awaited period drama follow-up to Downton Abbey is here, and if this nearly three minute clip is anything to go by, Belgravia is going to give us lots to talk about this spring. 
The six-part limited series is based on a book of the same name, which Fellowes himself wrote, and is brought to us by the same production team that gave us Downton,  and the two do feel relatively similar to one another, even if this series is probably more like its snooty older cousin. Technically, the two series are not connected to one another, but they are both are written by Fellowes and the production teams both include Gareth Neame, Nigel Marchant, and Liz Trubridge. 
The story of Belgravia begins in 1815, on the eve of the Battle of Waterloo, at a fancy party thrown by the Duchess of Richmond in honor of the Duke of Wellington. During this high society event, the daughter of a prominent new money merchant family catches the eye of the heir of one of the richest and most prominent families in England. And their subsequent meeting will set in motion a chain of events and consequences that will be felt through multiple families for decades to come. Sounds scandalous, yeah?
Twenty-five years later, it's 1840 in London, and the nouveau riche of the industrial era are beginning to mix within the social circles of the aristocracy, creating all manner of friction as they rub shoulders with those who rather firmly consider themselves their betters. Set in the newly chic area of London called Belgravia (which is still considered one of the most affluent neighborhoods of the city today), the drama will revolve around a number of explosive family secrets, at least one of which appears to be an illegitmate child, who may be the only surviving member of one of those illustrious old money scions. 
Premium network Epix released a full trailer for the upcoming series that's sure to peak every Anglophile's interest in the show. It's almost three minutes of new footage, and looks fantastic - full of great costumes, longing glances and plenty of unspoken tension lurking beneath almost every line. To Epix's credit, this clip also does a great job of summarizing what appears to be a fairly complex plot, and introducing most of the main characters. 
Watch for yourselves below: 
Belgravia will premiere on Epix beginning Sunday, April 12 at 9pm. The ensemble cast includes such notable British drama heavy hitters as Dame Harriet Walter, Tamsin Grieg, Philip Glenister, Alice Eve, Tom Wilkinson, James Fleet and more. 
"At the heart of the story, you have a couple who have a secret they've agreed to keep," Greig told Entertainment Weekly in a recent interview about what fans should expect from the show. "The wife has agreed to never speak about it, to honor her husband. Twenty-six years pass, and she comes into contact by incredible coincidence with the woman who is her counterpart within this secret but who does not know the secret. She told her husband she'd never speak about this, but she sees in this woman — to whom she should have no access and has already exposed her own vulnerabilities — and she recognizes a fellow sufferer. She cannot bear to live knowing that someone else is suffering knowing she can do something about it."
Translation: Drama. Partiularly when the "other party" within the secret is played by an actress like Walter. Fireworks are sure to ensue! 
 Epix also sent along this beautiful new key art for the show, which features all the major characters and a great new tagline. 
Are you excited for Fellowes to return to the small screen? Will you watch Belgravia? Should I recap it? Let's discuss in the comments. 
---
By
for on February 21st, 2020
More to Love from Telly Visions