By
for on August 17th, 2012
The Friday News Roundup: Now That The Olympics Are Over Edition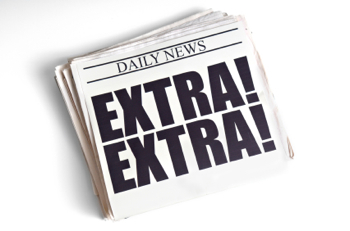 Happy Friday, Telly Visions readers! Welcome back to the Friday News Roundup – we took last week off from this feature, because, let's face it, there were approximately six things happening that weren't the London Olympics. But, now that the Games are done, and we've all suddenly got a lot more time on our hands, let's dig through some of the latest bits of information from around the world of British TV and entertainment.
Click through for plenty of interesting bits and bobs on Doctor Who, Downton Abbey, Parade's End, Merlin, Elementary, Being Human, Sherlock, Luther, Accused and more!
Check out a bunch of new photos of Benedict Cumberbatch, Rebecca Hall and Adelaid Clemens in Parade's End. Did you know Cumberbatch actually wore a fat suit for this particular role?
This is hilarious: 10 Questions for CBS About Sherlock Holmes adaptation Elementary.
The cast of Merlin discusses their hopes for the potential movie trilogy based on the show.
Luther creator Neil Cross is considering making a spin-off based on Ruth Wilson's Alice Moran.
Doctor Who fans: Best wedding cake topper ever? And this Who fan used the show as motivaton: after going on a diet, he saved all the money he usually spent on junk food and used it to build a lifesize TARDIS.
Here are a few behind-the-scenes photos from the filming of the Doctor Who Christmas special.
Former Tenth Doctor David Tennant says that he'd "always be able to come back" to Doctor Who. Seriously wish he'd just announce that he's doing the 50th anniversary already.
Sherlock co-creator Mark Gatiss is set to write a biopic about the origin of Doctor Who for the landmark series' 50th anniversary next year, called An Adventure in Space and Time.
Gordan Ramsey is doing yet another TV series, for some unfathomable reason. This time, it's Hotel Hell, which makes total sense since he's a chef and all.
New trailer for CBS's Sherlock Holmes adaptation Elementary!
D is for Downton Abbey: the popular costume drama will get a send up on beloved children's series Sesame Street this fall.
Joanna Frogatt talks about her Emmy nomination and Anna and Bates future in Downton Abbey Series 3.
UK broadcaster BSkyB to launch a 24-hour James Bond channel called Sky Movies 007,  dedicated to screening all 22 films on repeat throughout October to celebrate the spy's 50th anniversary.
Sherlock makes it into the "If You Watch It Backward" movie meme.
ITV has ordered a sequel to last year's supernatural family drama Marchlands, called Lightfields.
Because maybe I'm not quite ready to bid farewell to the London Games yet: Sir Patrick Stewart, Simon Pegg and Olympic gold medalist Ryan Lochte make a funny Dickensian Olympics video. (It IS quite cool.)
A really interesting Benedict Cumberbatch interview (ostensibly, about Parade's End) with the Telegraph magazine . Worth a read!
The Architecture of Memory: Cool read in Smithsonian Magazine about Sherlock and his mind palace.
More interesting Holmes news: Apparently Sherlock Holmes fans were the original "groupies".
Doctor Who's Arthur Darvill does Dr. Faustus.
Phil Davis – recently of Whitechapel and Sherlock – will join the cast of Being Human's fifth series.
Can Sherlock pull off an Emmy upset against HBO's Game Change?
Check out another new image of Shirley MacLaine in full Downton Abbey regalia, courtesy of ITV. That coat is something else!
Why British TV is being hindered by panel shows – an interesting read for fans of British comedy!
Here's the BBC trailer for the return of Accused, featuring Sean Bean doing a very credible turn as a transvestite.  
From the shallow end of my internet wanderings this week, a very lovely Radio Times photo gallery of Benedict Cumberbatch.
Speaking of Cumberbatch, apparently he was not a big fan of Downton Abbey's second series. He also appears to have inadvertently stumbled into some sort of class debate, by complaining that he is frequently typecast in "posh" roles. Gotta love the English press!
Happily, Downton Abbey creator Julian Fellowes is not as dramatic in his response to Cumberbatch's comments.
Doctor Who companion Karen Gillan is set to appear in Charlie Brooker's police parody A Touch of Cloth. Here's the trailer, if you need to investigate further.
Torchwood's John Barrowman has joined the cast of new CW superhero series Arrow.
Doctor Who's Matt Smith weighs in on whether the Doctor or Sherlock's Sherlock Holmes would win in a fight.
More on Smith: take this with a huge grain of salt because the original source appears to be The Sun, but it's possible that Smith has committed to stick around for Series 8 of Doctor Who.
The Hollywood Reporter weighs in on BBC America's first original series Copper. Here's an extended first look at the new drama.
Doctor Who Series 7 scoop: episode titles and the name of the new companion revealed! And, a spoiler-free review of the premiere, Asylum of the Daleks.
Interesting internet rumor of the week: Is Young Sherlock Holmes getting a reboot?
Also, interesting: The New York Times Company has named Mark Thompson, departing director general of the BBC, as its new president and chief executive.
HBO has ordered a pilot for an American adaptation of BBC Four medical comedy Getting On.
 Upstairs Downstairs star Keely Hawes to lead the cast of a BBC remake of Alfred Hitchcock classic The Lady Vanishes.
ABC is apparently thinking about remaking British situation comedy Spy.
Stop calling Sherlock a sociopath, says one psychologist.
This is cute: Anglotopia weighs in with 8 Lessons I Learned From Watching Every Episode of Doc Martin.
Upsetting Royal news: The Duke of Edinburgh is back in the hospital. Get well soon, Prince Phillip!
Former Damages actor Craig Bierko is doing a guest role on CBS' Sherlock Holmes series Elementary.
Apparently the stars of Downton Abbey have been ordered to burn or otherwise dispose of their scripts after memorizing lines, so as to avoid storyline leaks.
Sad news for us Americans who want iPlayer to come to the States: the global iPlayer app appears to have hit a wall in our market.
Top Gear star Jeremy Clarkson apparently had another uncomfortable/awkward Twitter rant after he took some abuse on the social network when he announced the death of his dog, which involved denouncing Britain as full of "inherent nastiness".
---
By
for on August 17th, 2012