By
for on July 27th, 2012
The Friday News Roundup: London Games Edition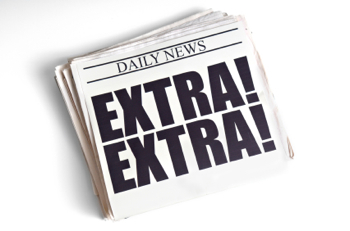 Happy Friday, Telly Visions readers! After a couple weeks off, the News Roundup is back, appropriately on a big day for both the UK and Anglophiles everywhere, as the 2012 London Summer Olympic Games get under way. Even if you're not much of a sports enthusiast, it should be a great two weeks to appreciate some of the many things that make London – and British culture, generally – great.
For the time being, get yourself in the mood by catching up on things from around the world of British entertainment. Click through for tidbits on Doctor Who, Sherlock, The Only Way is Essex, Misfits, Merlin, Downton Abbey and lots more, including a special little Olympics tidbit from the kickoff of this afternoon's BBC coverage.
Watch Sherlock star Benedict Cumberbatch doing the opening intro for the BBC's Olympics coverage this afternoon. It's kind of awesome.
Former Doctor Who companion Billie Piper has pulled out of BBC comedy Tom and Jenny because she wants to spend more time with her young children.
ITV has bought the rights to a new period drama series, which is being hyped as the next Downton Abbey. Called The Making of a Lady, the drama will be based on The Making of a Marchioness by beloved author of The Secret Garden, Frances Hodgson Burnett.
The Spice Girls may be reuniting for the Closing Ceremony of the London Olympics.
Benedict Cumberbatch to give a Sherlock Masterclass at the Edinburge Television Festival, along with Steven Moffat and Mark Gatiss.
This is kind of adorable: How Benedict Cumberbatch makes geek so cool.
Hillary Swank and Brenda Blethyn are set to star in a Richard Curtis film for BBC One called Mary and Martha.
Random Doctor Who tidbit: star Matt Smith has been banned from playing football (soccer, to the Americans) during series filming.
A possible Doctor Who docudrama may be in the works as part of the show's 50th anniversary celebrations.
In even more Who-related news, Matt Smith says he'd love it if James Corden would return for another guest episode.
Check out some pictures and video from the opening of the Doctor Who Experience in Cardiff.
Tom Hiddleston, most recently seen in The Hollow Crown and megahit The Avengers, was voted Man of 2012 during the Anglophenia Fan Favorites poll. The women's version of the tournament is going on now.
Legendary actor Peter O'Toole has apparently decided to retire from the acting profession.
Fifty shades of Sherlock Holmes? Classic literary works – including those by Sir Arthur Conan Doyle, Jane Austin and more – are getting "adult" re-workings in this series of racy remakes.
Awesome: the BBC is launching a Jane Austen Facebook game. (Yes, I will totally play it!)
Catch up on details about Series 5 of Merlin from the cast's Comic Con panel (that I missed, grrr).
USA Network is planning an American version/remake of popular BBC reality-sort-of-documentary series The Choir and is actually going to use Gareth Malone as the host
Doctor Who's Karen Gillan to star in horror film Oculus. It starts filming in Alabama this autumn.
This is an excellent interview with Peter Jackson, Martin Freeman and Sir Ian McKellen about The Hobbit, that also manages to drop the tidbit that Sherlock Series 3 will be filming January-April of next year.
The company behind Downton Abbey is planning a lavish Dracula series for Sky Living and NBC, to star The Tudors' Jonathan Rhys Meyers.
Interesting read on whether American audiences who loved Downton Abbey will warm to upcoming period series Call the Midwife.
How did Sherlock Holmes pave the way for 50 Shades of Grey? Interesting video from the PBS Idea Channel – I don't quite agree with it, as I think there are a lot of reasons behind the financial success of 50 Shades that have nothing to do with its status as a former Twilight fanfic – but it's worth a watch, nevertheless
Love this – Downton Abbey's Julian Fellowes on telling period stories about modern issues.  
A good Q&A with Downton Abbey executive producer Gareth Neame.
Get a first look at the new cast members of Misfits Series Four.
Police drama Line of Duty has been renewed for a second series by the BBC.
Absolutely Fabulous stars Jennifer Saunders and Joanna Lumley carry the Olympic Torch and are awesome.
What's the greatest British car ever built?
This BBC Two drama trailer gives you a look at tiny, tiny snippets of Parade's End with Benedict Cumberbatch, Top of the Lake with Elisabeth Moss, the second series of The Hour and more.
Interesting read from Smithsonian Magazine on where the popular image of Sherlock Holmes – deerstalker and all – came from.  Another great piece explores the history of the 221b Baker Street address. Both worth a look!
Charlie Brooker's Black Mirror is getting a second series. Huzzah!
Star Joanna Page says that Gavin & Stacey is unlikely to return.
Amazing: This week, Doctor Who becomes the first British TV show to be featured on the cover of Entertainment Weekly.
Sad news: Former Who companion Mary Tamm (the original Romana) passed away this week at the age of 62.
HBO bosses had to be convinced to cast Benedict Cumberbatch in the upcoming BBC Two/HBO adaptation of Ford Madox Ford's Parade's End.
I feel like we knew this already, but Steven Moffat has (re?) confirmed that Alex Kingston is back as River Song for Doctor Who Series 7.
Not sure that would be a huge loss (even though I embarrassingly enjoy this show), but The Only Way is Essex cast is threatening a walkout over pay and schedule issues. In other TOWIE news, Georgina Dorsett has been axed from the new series because she is "too boring." Hee.
The Guardian lists six great British mini-series to watch.
Hulu will have sole American rights to stream the next series of The Thick of It; will also air the comedy uncensored. (BBC America will air it at a later to-be-determined date.)
 Joanna Lumley says that she's willing to do an Absolutely Fabulous movie, but that ultimately it's up to Jennifer Saunders if they beloved comedy will return in any form.
---
By
for on July 27th, 2012