By
for on August 3rd, 2012
The Friday News Roundup: How is it August Already Edition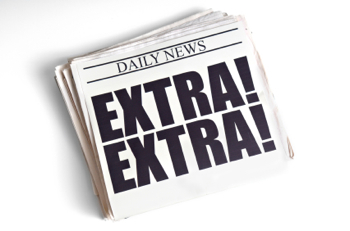 Happy Friday, Telly Visions readers! Welcome to August (how???) and the official beginning of the end of summer. Obviously the big news of the day is the Summer Olympics currently going on in London, and how basically everyone in the world is going to be obsessed with them for at least the next week. So, you know, hopefully the News Roundup will at least provide something else for you to read while you try to avoid seeing swimming spoilers for later tonight.
So, have a look at some highlights from around the world of British entertainment, including Doctor Who, Parade's End, Rev, Downton Abbey, Spies of Warsaw, The Hour, The Secret of Crickley Hall and more.
Fourth Doctor Tom Baker writes a heartfelt tribute to late Doctor Who companion Mary Tamm. It's really lovely.
New interviews with writer Sir Tom Stoppard and stars Benedict Cumberbatch, Rebecca Hall and Adelaide Clemons for Parade's End.  
Another good Cumberbatch interview about Parade's End was also in the Sun this morning.
Get a first look at upcoming BBC horror adaptation – perfect for Halloween – The Secret of Crickley Hall. This trailer is creepy, so, yeah, I'm basically in.
Cillian Murphy to star in Peaky Blinders, Steven Knight's six-part period drama for BBC Two.
Ninth Doctor Christopher Eccleston now says he has "more to do" on Doctor Who. Given that he has always been very outspoken about not really wanting to do a return, this has to mean good things for the 50th anniversary, right?
In other Eccleston-related news, the former Doctor Who star has just been cast as the villain Malekith the Accursed in Thor: The Dark World.
BBC America is set to co-produce new period drama The Musketeers with BBC One.
This video of Boris Johnson, Mayor of London, stuck on a zipwire during an Olympics celebration, is never going to get old.
Excellent BBC Two comedy Rev has been renewed for a third series, but it won't be broadcast until 2014. Sad face.
Great piece in Smithonsian Magazine's blog series on Sherlock Holmes: A Modern Sherlock and the Technology of Deduction.
Downton Abbey's Mr. Carson, a.ka. Jim Carter, talks about the missteps in Series 2 and how they're being corrected for Series 3.
Julian Fellowes hints at a fourth series for Downton Abbey and shares a few spoilers about Series 3.
Speaking of Fellowes, he's also apparently dropped out of the proposed Slumdog Millionaire musical.
Steven Moffat nixes all that talk about the supposed Doctor Who big-screen movie.
Want a huge spoiler for Doctor Who Series 7? Click here. It's um…interesting, for sure. If it's true.
David Tennant tops Entertainment Weekly's "Favorite Doctor" Doctor Who poll.
More Tennant goodness: The former Tenth Doctor talks Doctor Who and his new drama Spies of Warsaw with G4.
You know you want to read a shot-by-shot breakdown of the new Doctor Who trailer.
Sir David Attenborough and Icelandic musician Bjork are joining forces for a documentary on the nature and evolution of music.
A few details on Series 2 of The Hour have emerged, thanks to the Television Critics Association's Summer Press Tour.
I don't even know what to do with this, but Fringe star Lance Reddick says that Downton Abbey's popularity has something to do with his former series The Wire. Allrighty, then.
Downton Abbey: Still inspiring the fashion world.
Check out a recap of the news on CBS Sherlock Holmes adaptation Elementary from the Television Critics Association Summer Press Tour.  Another fairly good Elementary piece from Presss Tour can be found here, and has some great quotes from writer Rob Doherty.
Another bit of Elementary news – showrunner Rob Doherty has declared any Holmes/Watson sexual tension off the table.
Sherlock star Benedict Cumberbatch weighs in on CBS's Elementary. (Ignore the total link bait-y headline; it's a good piece.)
Downton Abbey newcomer Shirley MacLaine "hated" her period costumes for the show.
Robert Llewellyn has made a short new clip as Kryten about the upcoming new Red Dwarf series.
Preview the new spoof police drama from Charlie Brooker (they guy who did Black Mirror) – it's called A Touch of Cloth.
Well, shows you what I know – I just read last week that the lovely comedy Gavin and Stacey looked unlikely to return ever, and now here comes star James Corden this week saying that a new series is under way.
Don't know that I agree with this at but an interesting read nevertheless: Why Doctor Who Can Cross Time and Space But Can Never Be a Woman.
An interview with Lady Fiona Carnarvon, whose Highclere Castle serves as the fictional Downton Abbey.
---
By
for on August 3rd, 2012