By
for on February 3rd, 2012
The Friday News Roundup: Balmy February Edition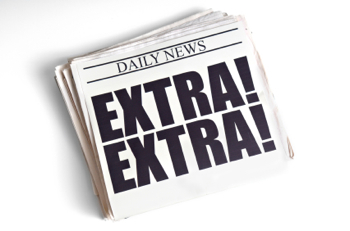 Happy first Friday of February everyone! And apologies to any of you who might be reading from areas of the country that are buried under snow right now, but we've had a positively balmy week here in the DC area and I think it may be scrambling my brain. So, additional apologies for the fact that this week's roundup may actually be even more scatttershot than normal.
Anyway, click through for all the news that's fit to print (er... type?) from the world of British entertainment, including Upstairs Downstairs, Downton Abbey, Doctor Who, Call the Midwife, Absolutely Fabulous, The Only Way is Essex and a whole lot more.
The Telegraph questions whether Upstairs Downstairs is attempting to copy Downton Abbey. (Warning: Upcoming Series 2 spoilers in this piece!)
Jean Marsh returns to work on the set of Upstairs Downstairs, under strict doctor's orders.
Absolutely stunning 360-degree view of London from the top of The Shard. You can rotate and zoom and it will basically just make you want to move immediately.
The Guardian is running a special Culture 2012 blog to highlight the impact of the upcoming London Olympics on culture in the country. Looks interesting! 
Interesting read on the supposed "cult of Downton Abbey" in America.
10 Facts About Downton Abbey's real life castle.
This is awesome: Compare the Downton Abbey stars' on-screen personas with their offscreen selves. 
Classic BBC sitcom Only Fools and Horses is getting an American remake at the hands of ABC. It will be penned by Scrubs writers Steven Cragg and Brian Bradley.
Sir David Jason, who is famous for playing Del Boy in the original Only Fools and Horses, says that an American remake of the classic comedy won't work.
Gillian Anderson is confirmed to star in the new BBC Two drama series The Fall.
Speculation about whether Sherlock's Lara Pulver might appear on Doctor Who at some point.
In more Who news, Alex Kingston talks about whether River Song will return. And Eleventh Doctor Matt Smith has been talking again about how he won't be a Time Lord forever and who should be the next Doctor.
It looks like we're going to have to live with the constant barrage of when is Matt Smith leaving Doctor Who speculation the entirety of this hiatus. It's everywhere.
Nice profile of comedian Miranda Hart and the success of Call the Midwife.
Get a sneak peek at the second Absolutely Fabulous 20th anniversary special, airing in America on February 12.
If you're into rugby, you can once again catch some of the 6 Nations Championship on BBC America this year.
More on the new cast of The Only Way is Essex. (I'm so sorry I'm kind of addicted to this show. Really I am.)
Hugh Grant is apparently still taking part in the travesty next Bridget Jones film, titled Bridget Jones's Baby.
Watch the opening scene from Harry Potter star Daniel Radcliffe's new film, The Woman in Black.
Nicola McLean says that taking part in Celebrity Big Brother was the "worst decision of [her] life."
Britain's Got Talent phenomenon Susan Boyle has apparently been booked to sing for the Queen during her Diamond Jubilee celebrations.
I am unclear as to why this was really necessary – but apparently there's now a stage version of Oscar-winning Best Picture The King's Speech.
Important Royals News: William and Kate, er, I mean the Duke and Duchess of Cambridge have adopted a puppy! And it's super cute!
---
By
for on February 3rd, 2012