By
for on October 28th, 2023
AFI Film Festival Debuts Instant Classic 'Freud's Last Session'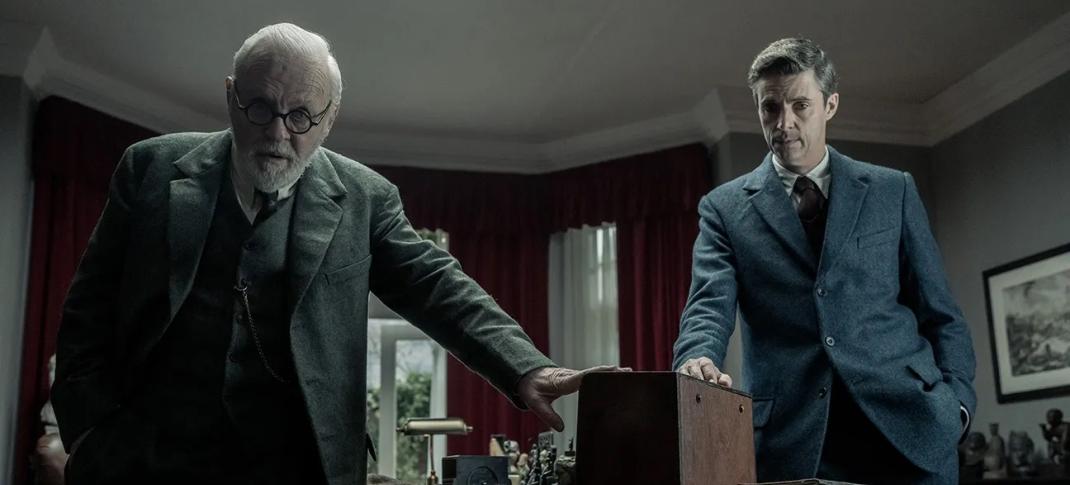 Anthony Hopkins is making a play for the Oscars this year in One Life, where he plays real-life "British Schindler" Sir Nicholas Winton, who saved the lives of 669 Jewish children during World War II. It's perfect Oscar bait — real-life hero, biopic, period piece, tear-jerker, war drama. But current events have a way of accidentally derailing even the most foolproof schemes, and it's always good to have a backup plan. Lucky for Hopkins, he has a second, far less controversial Best Actor performance in his back pocket in the historical fiction two-hander Freud's Last Session.
The film is essentially a filmed version of the 2009 stage play of the same name by Mark St. Germain (Becoming Dr. Ruth). St. Germain's play is adapted from Armand Nicholi's 2002 novel The Question of God: C.S. Lewis and Sigmund Freud Debate God, Love, Sex, and the Meaning of Life. I feel compelled to note this is the second adaptation; PBS' WGBH did a four-part series in 2004 where Peter Eyre (The Remains of the Day) and Simon Jones (The Gilded Age) starred as Sigmund Freud and C.S. Lewis. That one is sadly lost to history and the collapse of the DVD market. Freud's Last Session, on the other hand, should not be.
Hopkins plays the titular doctor and co-stars alongside Matthew Goode (Downton Abbey), who plays the famous creator of Narnia, C.S. Lewis. There are a few token appearances outside of their discussions in Freud's office, including a bonus Stephen Campbell Moore (The Confessions of Frannie Langton) going ham as Lord of the Rings author JRR Tolkien. But most of the film focuses on the conversations between these two great minds as they debate the meaning of life, the universe, and everything.
To be clear, these meetings did not happen; Nicholi was a clinical professor of psychiatry at Harvard Medical School, and his book was based on his earlier lectures from the 1960s, themselves a thought exercise of what such meetings would have been like. The stage play erases some of that contest, and the movie, which St. Germain adapted from his own stage play, more of it, mostly out of necessity. These conversations are set in the days right after Germany's invasion of Poland that began World War II, as Britain and France's declaration of war made things seem hopeless once more, and end with Freud's real-life physician-assisted suicide on September 23, 1939.
But just because the conversations themselves didn't actually happen between these real-life events doesn't detract from the actual idea of them, nor the philosophy they contain. Moreover, some of the discussions, which in 2009 felt a world away after the election of Barack Obama, are far more immediate now in the face of rising nationalism around the globe, war in Europe, and our own government struggling to function. Freud and Lewis would still be having these arguments if they were alive today, and it packs a punch.
Of course, most of that is due to Hopkins and Goode. Hopkins already had a triumph of this nature just before the pandemic hit with Jonathan Pryce (The Crown) and The Two Popes, another historical fiction drama of imagined conversations of philosophical ideas, this time between (then) living popes Benedict (Hopkins) and Francis (Pryce). But that's expected when you get two old legends, point the camera at them, and say, "Go." It's not an insult to Goode to say it's a pleasant surprise to see him match Hopkins beat for beat. It merely seals his future knighthood.
Freud's Last Session will continue to play in small theaters in Los Angeles post-AFI, with a limited opening to follow. It will go into wide release (or at least as wide as any Sony Pictures Classic film gets) on Friday, December 22, 2023.
---
By
for on October 28th, 2023
More to Love from Telly Visions