By
for on October 1st, 2020
'Flesh & Blood' Promises to Be a Different Kind of Mystery Series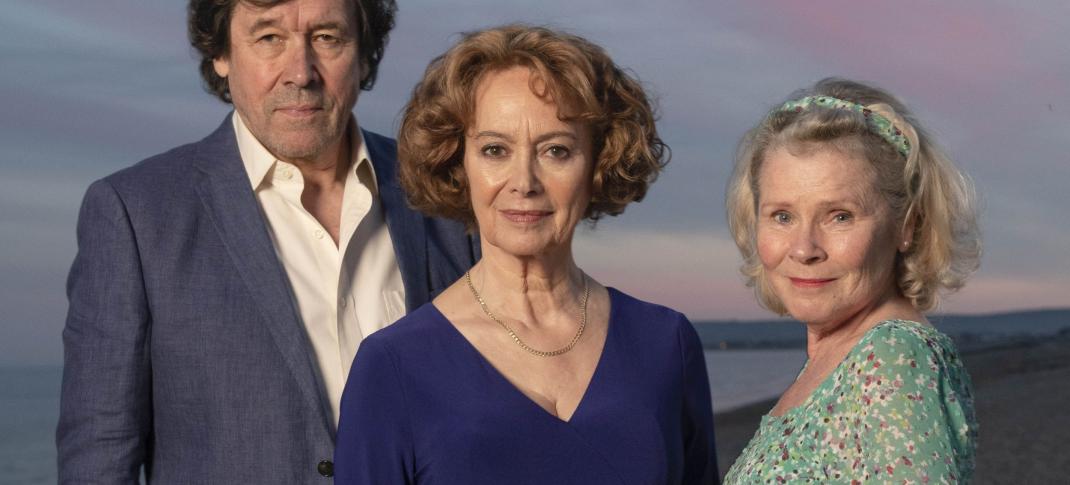 After the police procedural of Van Der Valk, Masterpiece's Mystery series moves to a very different sort of thriller for October. Flesh & Blood is a four-part miniseries, a stand-alone thriller that is as much about the interior family drama as it is the exterior violence visited on them. The series first aired in the U.K. back in February of 2020 to rave reviews from the British press. Masterpiece is hoping an American audience will be just as receptive.
The series certainly has the cast to draw in even the most casual viewer. Imelda Staunton (The Crown) headlines the series, as the next-door neighbor Mary. She acts as the narrator, filling in the detective attempting to rebuild the crime scene with all the gossip from next door. And do they ever have some drama. Vivian (Francesca Annis) has found herself a new love late in life after her husband of several decades finally passes away after a quietly unhappy marriage. Vivian always did her best to keep her children from knowing how bad things were. But that kindness has now backfired as she attempts her first steps towards new independence. All three of her kids, Helen (Claudie Blakley), Jake (Russell Tovey), and Natalie (Lydia Leonard), are emotionally unready to see her move on with her boyfriend, Mark (Stephen Rea).
But as the kids grow suspicious of Mark, it seems that each of them could have gone off the deep end over their mother's relationship. Or at least, that's what D.I. Doug Lineham (David Bamber) suspects as he and Mary delve into just how messy their lives are.
Check out the official preview:
Here's the series' official synopsis:
As Vivien nears her 70th birthday, the siblings' suspicions are heightened when retired GP Mark sweeps their mother off her feet, shifting her priorities away from her children. The happiness of her 45-year marriage to their father, Terry, is called into question, which sends a seismic shock through the lives of the siblings. Years of secrets, lies, rivalries, and betrayals come to the surface and threaten to blow apart everything they've held dear. With their large family home overlooking the Sussex coast, their inheritance, and the happy memories of their childhood all suddenly threatened by the arrival of Mark, the siblings attempt to find out more about him. But will their long-buried grudges and complicated personal lives allow them to pull together? Then there's Mary, played by Staunton, who has lived next door to Vivien for 40 years. Despite not being family, Mary appears unhealthily attached to Vivien and her family's unfolding drama.
But who is it that winds up dead? The series has wisely kept even the victim hidden, leaving viewers to assume whether Vivian is the one to die, or perhaps Stephen? Moreover, the tone also is a bit misleading, as more than one U.K. review refers to this as a "darkly comic thriller." It suggests that, even though this is being sold as the next installment in Masterpiece's longstanding mysteries, it's the type of program that's versatile enough for fans of all British TV to enjoy.
Flesh & Blood premieres on Sunday, Oct. 4, at 9 p.m. E.T. on most PBS stations. As always, check your local listings. 
---
By
for on October 1st, 2020