By
for on November 13th, 2015
Flashback Friday: 'Keeping Up Appearances'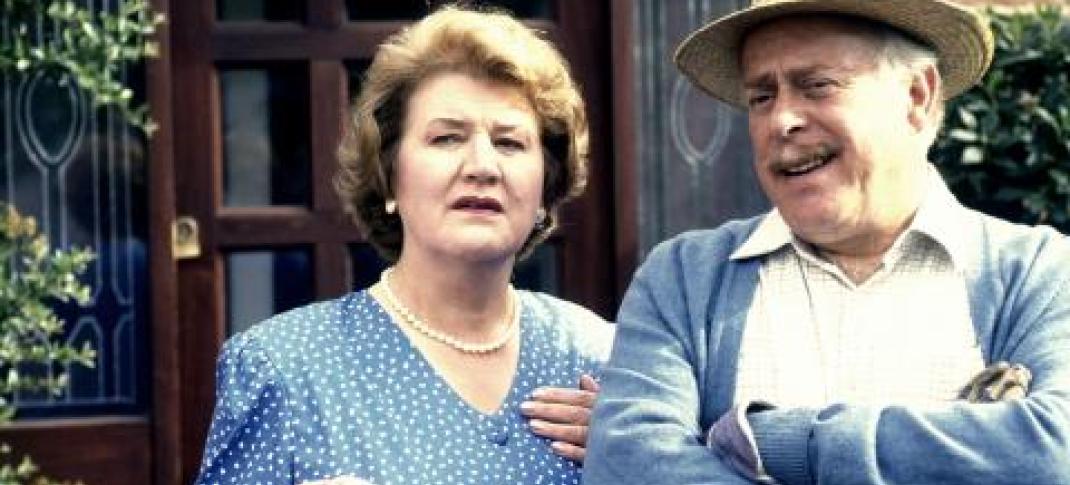 Two weeks and twenty-five years ago, Keeping Up Appearances debuted on the BBC. Created by acclaimed comedy writer Roy Clarke (Last of the Summer Wine and Open All Hours were also his) and directed by Harold Snoad, this fan favorite ran for five series with a total of forty-four episodes.  In many PBS viewers' minds, Keeping Up Appearances epitomizes the term "Britcom" and it's still regularly shown in re-runs in the UK and the US.
Of course you can't mention this series without acknowledging that Keeping Up Appearances introduced us to one of the most memorable (and English) of comedy characters – Hyacinth Bucket. Portrayed to a tee by actress Patricia Routledge, Mrs. Bucket (who insists on being called Bouquet) is a social-climbing snob from much humbler beginnings. Hyacinth seeks to impress people with her encyclopedic grasp of social etiquette, her son Sheridan's questionable educational pursuits and her impeccable hostessing skills which include her legendary candlelight suppers.
Alas her family and neighbors must endure her obsession with class and social standing, particularly her long-suffering husband Richard (Clive Swift). Hyacinth's neighbors, Elizabeth (Josephine Tewson) and her recently divorced brother Emmet (David Griffin) are routinely commanded to be guests at the Bucket house. These invitations ted to set Elizabeth into fits of shaking and drive Emmet to hiding away in his own home.
Hyacinth's sisters Rose (Mary Millar) and Daisy (Judy Cornwell) as well as Daisy's bone idle husband Onslow (Geoffrey Hughes) are blissfully unaware of their elder sibling's embarrassment to be seen with them. Nonetheless, deep down Hyacinth must love them because she comes to the rescue whenever needed. Nine times out of ten this usually involves their senile Daddy (George Webb) who always seems to be getting into some sort of trouble.
So in honor of a quarter century of Hyacinth and the chaos she leaves in her aspirational wake, here are a few clips of "that Bucket woman" doing what she does best…
Hyacinth telling Richard how to drive:
Hyacinth dealing with those persistent Chinese takeaway customers:
Hyacinth unnerving her neighbor Elizabeth with her Royal Doulton (the ones with the hand-painted periwinkles):
Hyacinth trying to avoid acknowledging her relatives to others:
And finally, Hyacinth pretending to be more sophisticated and worldly than she actually is:
What are your favorite moments or characters from Keeping Up Appearances? Do you feel the series has held up after twenty-five years? Share your memories in the comments section below
---
By
for on November 13th, 2015