By
for on November 20th, 2015
Flashback Friday: 'Cold Feet' Is Set to Make a Comeback in 2016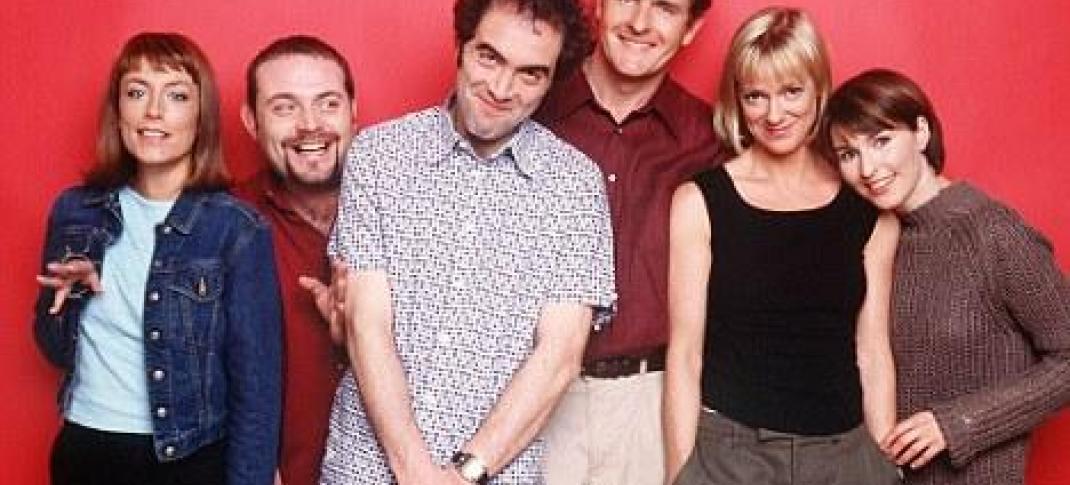 It was rumored back in August of this year that the late 90's relationship dramedy Cold Feet might be coming back for a new series. Today ITV made it official! The show will go into production at the beginning of next year in Manchester and the eight part series is tentatively scheduled to be broadcast near the end of 2016.
For those of you not familiar with Cold Feet, it debuted seventeen years ago this week. It ran for five series and won a number of comedy and drama awards including the 2002 BAFTA for best drama series.
The show centered around three thirty-something couples and examined the joys and frustrations inherent in the different stages of their romantic relationships.  We witness the joys of events like marriage, the birth of children and reconciliations as well as the sorrows and hurt caused by illness, miscarriages, infidelities, separations and even death.
At this time, please allow me to introduce (or reacquaint) you with the Cold Feet cast…
Adam and Rachel: 
Adam Williams (James Nesbitt) and Rachel Bradley (Helen Baxendale) met in a fortuitous grocery store parking lot fender bender. Their chemistry was immediate and irresistible and, for a while, they were insanely happy. That is until serial monogamist Adam started to feel he'd fallen too fast and called off the relationship; however, he eventually made a risky grand gesture that won back his lady love.
The rest of the series follows Adam and Rachel through the ups and downs of their union and, believe me, there are plenty of both for this couple. Secrets from the past, abortion, and cancer are just a few of the challenges this pair must face.
Jenny and Pete: 
We meet Pete (John Thomson) and Jenny Gifford (Fay Ripley) as they are awaiting the birth of their first child. Pete is Adam's best mate and while initially Jenny isn't too keen on their friendship, she ends up accepting and even fancying Adam for a short time.
In fact, once the stress and strain of a new baby takes over the Giffords' life, their marriage descends into a spiral of disinterest, distrust and adultery. Despite the disintegration of their relationship, Pete and Jenny always seem drawn back together in one way or another.
David and Karen:
David (Robert Bathurst) and Karen Marsden (Hermione Norris) already have one young son when we are first introduced to the most settled and posh of the Cold Feet couples. Karen and Rachel are colleagues from their work together in publishing and this brings the final pair into the circle of six friends.
Karen has the exhausting and sometimes unfulfilling task of being a stay-at-home mother and David has a high pressure job as management consultant (whatever that is). Their marriage suffers as well from communication issues, alcohol addiction and both spouses engage in multiple dalliances. 
In reviewing what I've just written, Cold Feet may come across as a bit of a downer. In spite of the drama, it really does have plenty of funny, even surreal, moments full of love and friendship and people just trying to work out a plan for their future.
When the show returns next year, the characters will be fifty-somethings. Will they finally have their lives figured out? I doubt it. But I am looking forward to reunion of the original cast (minus one whose character died tragically in series five) to see how they, like me, are coping with the issues of mid-life.
If you'd like to try out (or rewatch) Cold Feet for yourself, you can find Series 1-3 on Hulu or the complete five series run on Acorn TV. Keep your eyes peeled for guest appearances by the likes of Hugh Dancy, Richard Armitage, Ben Miles, Lennie James and Game of Thrones' Ian McElhinney.
Also please share your thoughts about the Cold Feet reboot or any other show which comes back after a long hiatus. Do they normally work or should a once successful show just leave well enough alone?
---
By
for on November 20th, 2015
More to Love from Telly Visions