By
for on May 2nd, 2023
Alicia Vikander Looks Regal as Katherine Parr In 'Firebrand'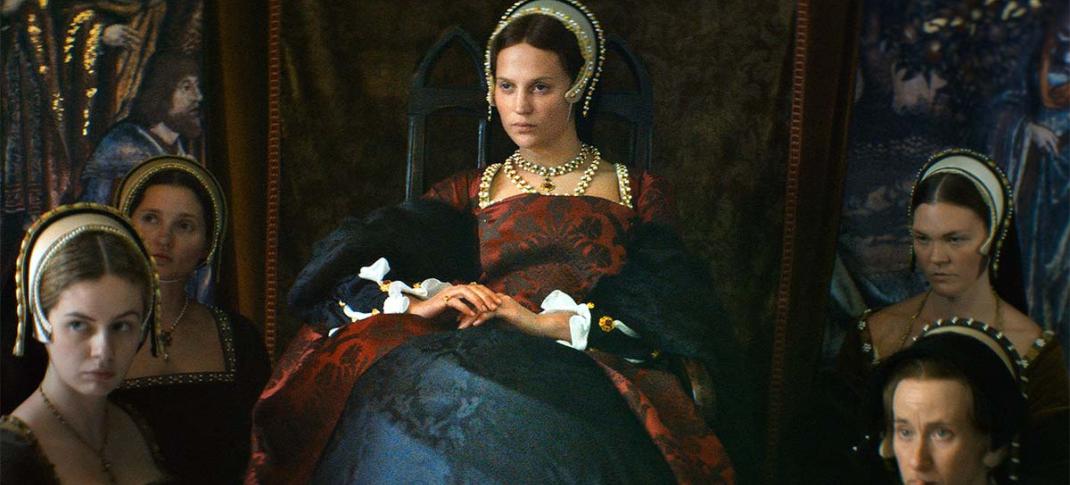 Divorced, beheaded, died. Divorced, beheaded, survived. Such runs the infamous rhyme detailing the fates of the six women married to England's King Henry VIII. But, overall, our pop culture only focuses on a handful of them. We're still fascinated by the fall of his second wife, Anne Boleyn, who pushed boundaries and triumphed from beyond the grave when her daughter became one of her country's greatest rulers. Catherine of Aragon has also been having something of a moment lately as we evaluate the woman beyond the staid, religious figure history often most likes to remember her as. 
But, for whatever reason, Henry's final wife, Katherine Parr, is often given short shrift in our collective cultural consciousness, seemingly only remarkable because she outlived a monstrous man. Hopefully, however, that will change with the arrival of the upcoming historical film Firebrand. A deserved reckoning, if only because the real Katherine was a genuinely remarkable woman.
Childless, and already twice-widowed at 31, she was still 23 years her husband's junior when she and Henry wed. Almost certainly, she had no interest in marrying the elderly and, at this point, ailing king, but it's not like she would have been given the option to refuse. A radical and deeply devout Protestant, she was also vivacious, intelligent, and an accomplished scholar in her own right. (She was the first woman to publish under her own name in the English language in England.) She was instrumental in passing the Succession Act, which restored the Princesses Mary and Elizabeth to their rights — and eventual thrones — and was named the younger girl's guardian following Henry's death. 
"I could not be more excited to be bringing the undiscovered story of Katherine Parr to the screen, a ferociously brilliant woman who I am inspired by deeply and has been largely invisible, or certainly under-represented in English history, Brazilian director Karim Ainouz said in a statement. "Much is known about Henry VIII's tyrannical reign and those who perished and suffered at his hands, but my focus here is on a woman who not only managed to survive but also, to thrive."
Based on Elizabeth Fremantle's bestselling historical novel The Queen's Gambit, Firebrand is described as a "psychological thriller" that explores how Katherine survived her husband's court and strategized to keep her head during a time when so many others around her were losing theirs. (The real Katherine was nearly arrested for treason, but ultimately reconciled with Henry before the Palace could carry out the order to take her to the Tower.) "Henry's a butcher," producer Gabrielle Tana told Deadline. "It was a rotten marriage. There's usually pomp and circumstance [in royal couplings] but that's not really what was there. It was much more visceral, and that's what we're getting to the heart of."
Images of Jude Law's King Henry VIII are reportedly being kept under wraps until the movie has screened in competition at the Cannes Film Festival, but the first look at Vikander's Katherine promises a lush and regal production, showing the queen alongside several ladies of her bed-chamber, including Ruby Bentall (Poldark), Bryony Hannah (Call The Midwife) and Maia Jemmett. 
The official synopsis for the film reads as follows. 
In blood-soaked Tudor England, Katherine Parr, the sixth and last wife of King Henry VIII, is named Regent while tyrant Henry is fighting overseas. Katherine has done everything she can to push for a new future based on her radical Protestant beliefs. When an increasingly ailing and paranoid King returns, he turns his fury on the radicals, charging Katherine's childhood friend with treason and burns her at the stake. Horrified and grieving, but forced to deny it, Katherine finds herself fighting for her own survival. Conspiracy reverberates through the palace. Everyone holds their breath – for the queen to slip up, for Henry to take her head like wives before. With the hope for a future free of tyranny at risk, will Katherine submit to the inevitable for the sake of King and country?"
Alongside Vikander and Law, the film's ensemble cast includes Sam Riley (Maleficent) and Eddie Marsan (Ridley Road) as noble-born brothers Thomas and Edward Seymour, Simon Russell Beale (Vanity Fair) as Bishop Stephen Gardiner, Patsy Ferran (Jamestown) as Princess Mary Tudor, and Erin Doherty (The Crown) as Protestant martyr Anne Askew, who was burned as a heretic in 1546. 
Firebrand doesn't have a theatrical release date yet, but the film is rumored to premiere at the Palais des Festivals in May 2023.
---
By
for on May 2nd, 2023
More to Love from Telly Visions