By
for on May 10th, 2022
'Firebrand' Aims to Reimagine the Story of Henry VIII's Final Wife
Although England's King Henry VIII famously had six wives, mainstream pop culture has not been equally interested in all these women's stories. Modern audiences remain generally fascinated by the downfall of second wife Anne Boleyn, a woman who pushed boundaries and triumphed from beyond the grave when her daughter went on to become one of her country's greatest monarchs. (See also: Wolf Hall, Anne Boleyn, and The Tudors.) Premium cable network Starz found a hit in The Spanish Princess, which focused on the early life of first wife Catherine of Aragon before she became the staid, religious figure history likes to remember from her later years. And even though Jane Seymour's story remains woefully underexplored by popular media, it's awfully tough to forget the wife who finally gave Henry a son. 
When they're mentioned at all, Henry's later wives generally exist as footnotes: Anne of Cleves is remembered almost solely for being the one Henry didn't think was as pretty as her portrait, while Katherine Howard's claim to historical fame lies in her youth and promiscuity. By the time we get to Katherine Parr, Henry's final wife, she seems remarkable only in that she managed to survive him.
But the upcoming historical film Firebrand aims to change all that. Based on Elizabeth Fremantle's bestselling historical novel Queen's Gambit, the film follows Katherine's marriage to Henry and how she fell foul of her husband's courtiers. Producer Gabrielle Tana first announced the project with four-time Oscar nominee — and beloved Dawson's Creek alum — Michelle Williams in the role of Katherine. However, she has since been replaced by Tomb Raider star Alicia Vikander, who was most recently seen in the dual roles of Essel and The Lady opposite Dev Patel in A24's ambitious The Green Knight. 
Vikander joins a positively all-star cast that includes Jude Law (The Third Day) as King Henry. Sam Riley (Maleficent) and Eddie Marsan (Ridley Road) will portray noble-born brothers Thomas and Edward Seymour. Simon Russell Beale (Vanity Fair) plays Bishop Stephen Gardiner, Patsy Ferran (Jamestown) is Princess Mary Tudor, and Erin Doherty (The Crown) portrays Protestant martyr Anne Askew, burned as a heretic in 1546. Katherine's ladies will be played by Ruby Bentall (Poldark), Briony Hannah (Call the Midwife), and newcomer Maia Jemmett.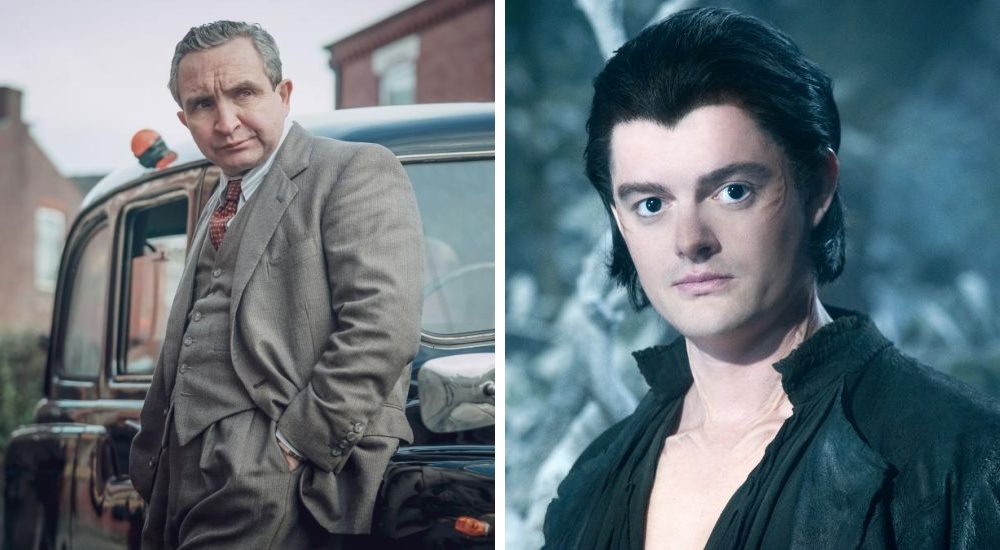 Filming on Firebrand is currently underway in the Derbyshire region of the Peak District. The film is the first English language release from Brazilian director Karim Ainouz (The Invisible Life of Eurydice Gusmao), who describes the project as a "reimagining of a period film." 
"I could not be more excited to be bringing the undiscovered story of Katherine Parr to the screen, a ferociously brilliant woman who I am inspired by deeply and has been largely invisible, or certainly under-represented in English history. Much is known about Henry VIII's tyrannical reign and those who perished and suffered at his hands, but my focus here is on a woman who not only managed to survive but also, to thrive."
Parr was twenty-three years her husband's junior when she became Queen of England, a devout and sometimes outspoken Protestant whose religion repeatedly made her a target by those seeking to influence the king. She wrote two books of devotions, becoming the first woman to publish under her own name in the English language in England. And she was instrumental in the passing of the Succession Act, which restored the Princesses Mary and Elizabeth to their rights—and eventual thrones—and was named the younger girl's guardian following Henry's death. 
Despite all this, she was nearly arrested for treason. She ultimately reconciled with Henry before the Palace could carry out the order. Sadly, Katherine only outlived Henry by roughly a year and a half, dying in childbirth after marrying her fourth husband, Thomas Seymour, whom she had been in love with for many years. Seymour would eventually end up being executed after committing multiple acts of treason.
Firebrand does not yet have a release date in the U.K. or the U.S. but will probably hit theaters in 2023.
---
By
for on May 10th, 2022