By
for on July 31st, 2018
Filming is Under Way on 'Endeavour' Season 6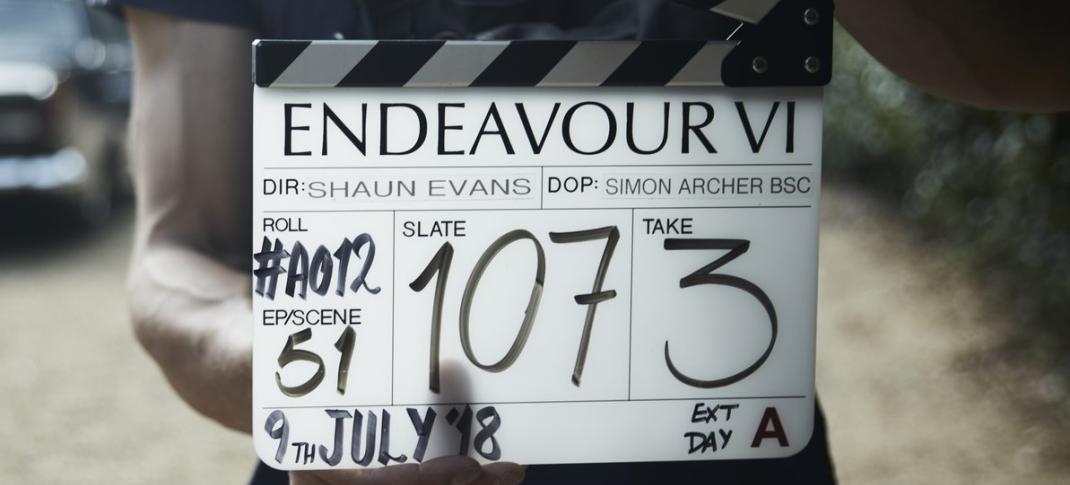 The fifth season of Endeavour just finished airing in America, but there's no reason to despair. Filming on Season 6 is already under way.
The mystery series was officially renewed for a sixth season back in March, while Season 5 was airing in the U.K. The show has continued to be a massive ratings hit across the pond, with the numbers for Season 5's first four episodes clocking in at its highest in three years.
Shaun Evans and Roger Allam are both returning as Endeavour Morse and Fred Thursday, but there's no official word as yet on whether Season 6 will once again run six episodes, or return to the four-mystery format of previous seasons.
To celebrate the Season 5 finale, PBS' Masterpiece shared two new filming photos from Season 6 production. Now they don't tell us anything about the next season either, but they do reveal one crucial spoiler. Endeavour has a dramatic new moustache. Yes, really. (I…don't think I'm a fan, but I'll be interested to hear what you all think.)
The #EndeavourPBS Season 5 finale airs this Sunday on MASTERPIECE but the cast and crew (and Director Shaun Evans!) are already hard at work on the next season! pic.twitter.com/RUUYnb1qAF

— Masterpiece PBS (@masterpiecepbs) July 25, 2018
In a press release announcing the commencement of filming, ITV gave us our first new details on what we can expect from Season 6 as Endeavour and company deal with the emotional fallout from the fifth season finale.
Following the dissolution of Oxford City Police and the merging with Thames Valley Constabulary at the end of the last series, the latest instalment is set in 1969 and picks up with the team dispersed as they find their feet in their various new roles. However, despite their separation, the tragic murder of DC George Fancy still hangs over them both collectively and individually, with the case remaining unresolved.

 With their new positions also come new colleagues and responsibilities. Thursday must adjust to working with new boss DI Ronnie Box played by Simon Harrison (Fearless) and junior DS Alan Jago played by Richard Riddell (Bodyguard). Meanwhile, Joan has settled back in Oxford and is training to work in social services under the mentor of new manager Viv Wall played by Alison Newman (EastEnders).
Endeavour Season 6 is currently slated to broadcast in 2019. (And, if past success is anything to go by, it's likely to follow a similar pattern to Season 5, with an early spring transmission in the U.K. followed by a summer run in the U.S.)
Are you looking forward to more Endeavour? What was your favorite thing about Season 5? 
---
By
for on July 31st, 2018
More to Love from Telly Visions