By
for on August 5th, 2020
Everything To Know About 'Endeavour' Before Season 7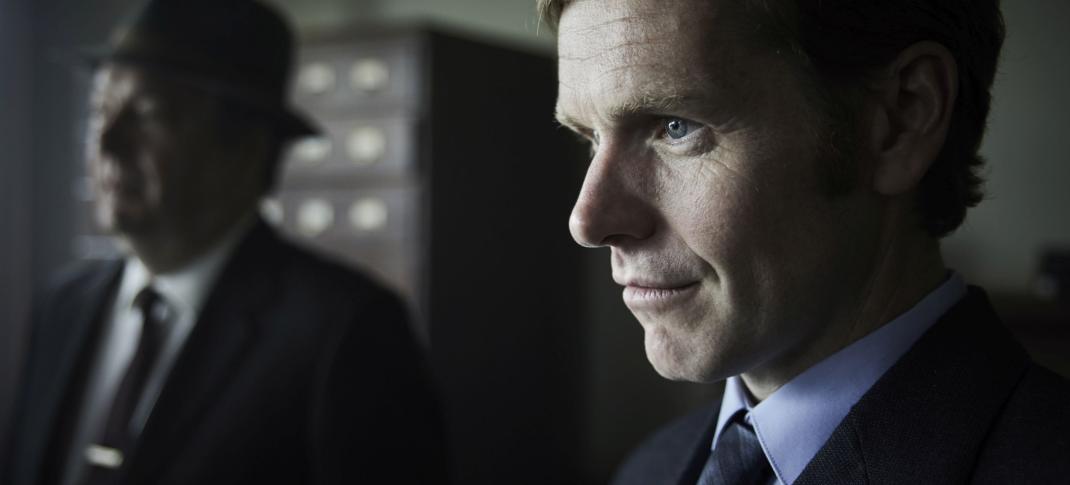 Endeavour returns to PBS this August for its seventh season. The 1960s-set Inspector Morse prequel series, which began in 2012, has now been on the air so long, it's become the 1970s-set Morse prequel. Season 7 will also probably feel surprisingly short after last year's banner year of six episodes, the most extended season any of the shows set in the Morse-universe (the Morsiverse?) have run. (The original Morse ran five installments for a couple of seasons in the early 90s, but Lewis has never run for longer than four at a time.)
Fans will be pleased to know the core cast is back once more. Season 7 stars Shaun Evans as Inspector Endeavour Morse and Roger Allam as his DCI Fred Thursday. Also back for the new season: Anton Lesser as Superintendent Reginald Bright, Sean Rigby as DS Jim Strange, and James Bradshaw as Dr. Max DeBryn, now all settled in their Castle Gate station at Thames Valley Police. Caroline O'Neill is also back as Fred's long-suffering wife, Winifred, but fans may be disappointed to learn that his daughter Joanie, Morse's will-they-or-won't-they love interest has finally moved on, Sarah Vickers will not be in this season.
It was not all that clear who would be back as Season 6 progressed. One of the reasons Endeavour's Season 6 ran so many installments was the need to fit in a massive narrative shift. When Endeavour first premiered in 2012, it did so with a 1962 setting, deliberately placing the show in a time before the Thames Valley Constabulary (where both Morse and Lewis were set) existed. But having run through the 1960s, the series found itself having to move the cast back to Thames Valley, founded in 1969.
But rather than pack up and move everyone, the series went for a far more realistic scenario. Morse's inability to play politics at the office meant without the protection of Bright and Thursday; he was busted down to beat cop. Not that Thursday or Bright fared much better. Bright found himself put out to pasture, with little to do than make educational films for primary school children about crossing the street. It was a seemingly ignoble end to an illustrious career. Thursday found himself the junior officer to Ronnie Box (Simon Harrison), a crooked DCI from another district whose wheel greasing got him the upper position.
Only Strange and DeBryn landed on their feet. Confined to the world of autopsies as the Home Office Pathologist, DeBryn couldn't do much. But Strange (who Morse fans know eventually becomes the Thames Valley Superintendent), began using those skills to pull strings behind the scenes. He got Morse hired at Thames despite Box's objections, pulled Bright in to work as his eyes and ears, and along with Morse, pushed Thursday to say no to being on the take. When Box's shady dealings came to light at the end of last season, everyone was in the right position to land back where they belonged, now in the new office.
Morse also solved a few murders throughout Season 6, with episodes that nodded to Prince Charles' investiture, the moon landing, the "Swinging Sixties" finally rolling out of London and into Oxford, and the growing immigrant population in the area during this era. He also grew a mustache, but blessedly, that does not seem to have been a permanent affectation.
Season 7 will finally push the show into the 1970s, starting with Morse on holiday in Venice. But it's not all overseas fun. This year's three-episode installment looks to have a much stronger season arc than usual, with a serial killer on the loose. Endeavour usually has some sort of arc that loosely ties the season together, but this year's murders of the week may be one larger case instead of many little ones.
How will Morse and Thursday fare their first full year at Thames Valley? Fans will get to see when Endeavour Season 7 premieres Sunday, Aug. 9, at 9 p.m. ET on Masterpiece Mystery. As always, check your local listings.
---
By
for on August 5th, 2020
More to Love from Telly Visions