By
for on October 15th, 2022
Emily Blunt Is Out For Revenge in 'The English' Trailer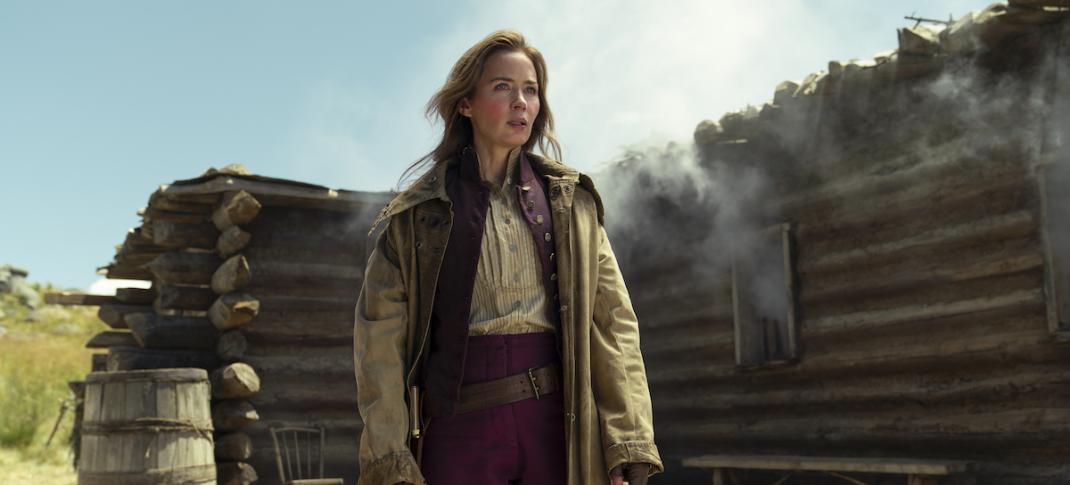 Female-fronted revenge tales are few and far between in the genre space, particularly in the world of Westerns, where it can often feel as though women are only present to serve as brothel workers or damsels in need of rescue from various baddies. (Look, there is a reason the stereotypes in Westworld are what they are.) 
New Prime Video drama The English is doing its best to change that trend, following the story of English aristocrat Lady Cornelia Locke (Emily Blunt), who journeys to the American Wild West seeking revenge on the man she believes to be responsible for the death of her son. She enlists the help of a Pawnee ex-calvary scout named Eli Whipp (Chaske Spencer) to track him down, only to find out that he's on a similar mission of his own. 
As the two cross a dangerous and unforgiving landscape littered with blood and dead bodies, Cornelia trades the proper English dresses for more traditional Western wear. She discovers that she might have more in common with her new guide than she ever suspected.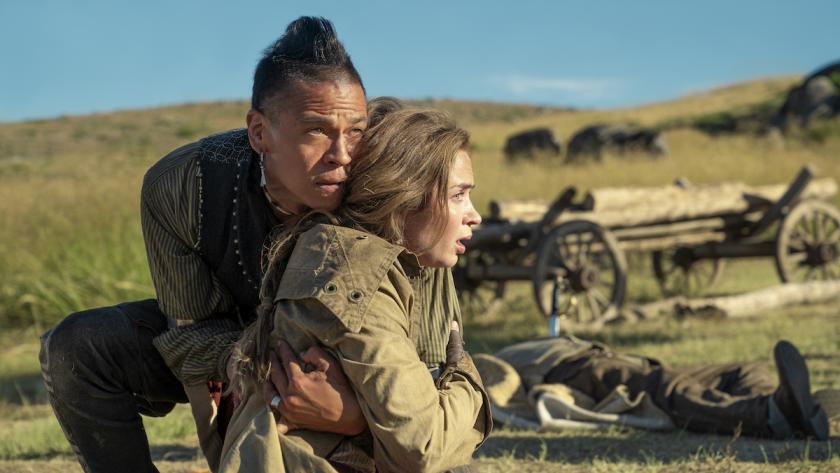 The pair's journey will take them to Hoxem, Wyoming, where local sheriff  Robert Marshall (Stephen Rhea) and a young widow named Martha Myers (Valerie Pachner) are investigating a series of horrifying cold case murders, and where it seems as though all their stories will collide.
"There's something about this country," Blunt's Cordelia intones over increasingly bloody scenes of violence. "I wonder if there's horror in us all.
The six-episode limited series is written by Hugo Black (The Honourable Woman) and aims to explore themes of identity and revenge while telling a story of race, power, and love. 
Here's how the official synopsis describes the show. 
An epic chase Western, The English takes the core themes of identity and revenge to tell a uniquely compelling parable on race, power, and love. An aristocratic Englishwoman, Lady Cornelia Locke (Blunt), and a Pawnee ex-cavalry scout, Eli Whipp (Spencer), come together in 1890 mid-America to cross a violent landscape built on dreams and blood.

Both of them have a clear sense of their destiny, but neither is aware that it is rooted in a shared past. They must face increasingly terrifying obstacles that will test them to their limits, physically and psychologically. But as each obstacle is overcome, it draws them closer to their ultimate destination—the new town of Hoxem, Wyoming. It is here, after an investigation by the local sheriff Robert Marshall (Stephen Rea, The Shadow Line) and young widow Martha Myers (Valerie Pachner, A Hidden Life) into a series of bizarre and macabre unsolved murders, that the full extent of their intertwined history will be truly understood, and they will come face-to-face with the future they must live.
The series' ensemble cast also includes Rafe Spall (The Salisbury Poisonings), Tom Hughes (Victoria), Toby Jones (Marvellous), and Ciarán Hinds (Kin).
The English had its world premiere at the BFI London Film Festival, premiere on Prime Video on Friday, November 11, the day after its U.K. premiere on BBC Two. 
---
By
for on October 15th, 2022