By
for on October 18th, 2017
'Endeavour' Season 5 to Run Six Episodes, Casts 'Poldark' Actor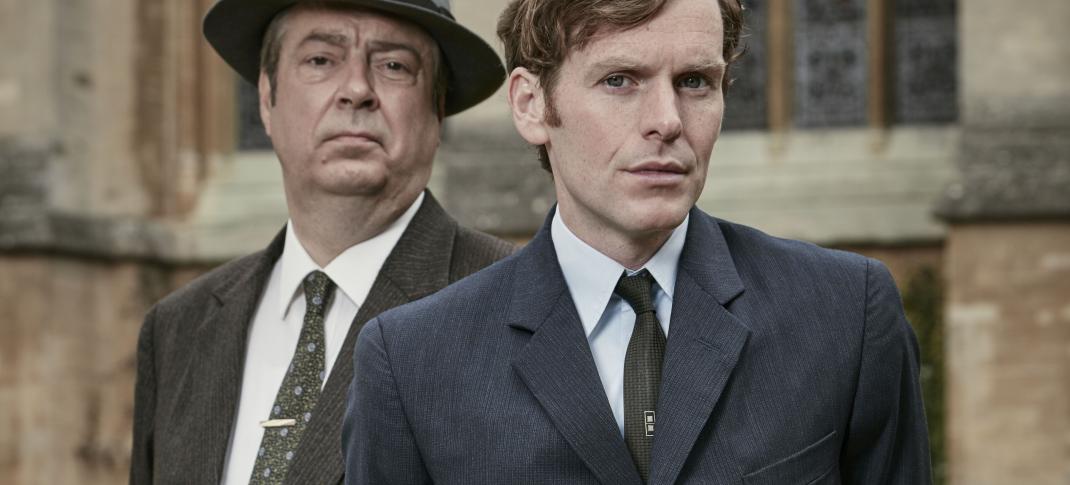 There'll be more Morse in 2018, as the popular prequel series Endeavour gets an episode order increase from four to six episodes. But that's only the beginning of the good news as 1968 rolls in.
DI Fred Thursday: One day I'll send you out for a routine inquiry and it'll turn out to be just that. But I won't hold my breath. You'd find something suspicious in a saint's sock drawer.
It may have taken until the end of August for Season 4 of the Inspector Morse prequel, starring Shaun Evans, to arrive on our shores, but over in the UK, ITV was already forging ahead with filming Endeavour Season 5 before summer was out. With original spin-off Lewis now completed after nine seasons, keeping Morse-related series on the air seems like a a priority for the BBC's main rival. 
As expected, Evans will be returning as the now-Detective Sergeant Morse, along with the always fantastic Roger Allam as Detective Chief Inspector Fred Thursday. But the big news is that ITV has upped the order of "feature film length episodes" from the standard four of the first four seasons to six for the coming year.
Endeavour producer Tom Mullens is over the moon about the upped episode count.
We're delighted that Endeavour will return next year with an extended run of films. It gives Russell Lewis an even bigger canvas to work with, and he has some striking stories to tell about 1968, a time of revolution in the wider world, and in the personal life of Endeavour Morse. It's an honour to have Shaun Evans, Roger Allam and the rest of the team back on board for this new run.
Also, the series will apparently be adding to its already impressive stable of actors. The show already boasts such names in the secondary roles as Anton Lesser (best known for Game Of Thrones) as the Chief Superintendent of the station, Reginald Bright; Sean Rigby (Isabella) as Sergeant Strange (who will one day be Chief Superintendent); plus Dakota Blue Richards (Skins) as WPC Trewlove, James Bradshaw (Primeval) as Dr. Max DeBryn, and Caroline O'Neil (Last Tango In Halifax) as Win Thursday.
The show also has Abigail Thaw, daughter of original Morse actor John Thaw, as reporter, and friend to Endeavour, Dorothea Frazil. This coming season will add Detective Constable George Fancy, played by Lewis Peek, an actor whom PBS fans will recognize as Ted Carkeek from the current Poldark reboot.
The year 1968 was a big one in the real history of the Oxford City Police, where Morse is currently stationed. Originally commissioned in 1869, the "Oxford Police Act" chartered it to police the city for a term of "99 years and three months." Faced with the upcoming choice to renew, or reorder things, it was decided in the Police Act of 1964 that they would reorder. 
As you can guess, the new series will cover a period that includes April of 1968 when that charter ran out and the Oxford Police was amalgamated into a much larger force, one that included the Berkshire, Buckinghamshire and Oxfordshire County Constabularies, along with the Reading Borough Police. T
ogether they formed a new force which was first known as the Thames Valley Constabulary. But the early 1980s the name had been changed to the Thames Valley Police, which longtime Morse fans will recognize as the name of the division where Morse worked in the original series.
That kind of massive shift in bureaucracy would provide plenty of drama for one season, even before you start adding in the weekly murders, not to mention Morse's own emotional and drinking issues, and the ever-present complication of Joan Thursday.
Here's the synopsis for the coming season:
Dark clouds are gathering at home and abroad as, after almost 100 years, the long history of Oxford City Police comes to an end. A terrible storm is set to blow through the professional and personal lives of newly promoted Detective Sergeant Endeavour Morse and Oxford's Finest, leaving devastation in its wake.
There's no premiere date set yet for the ITV airing of Endeavour, but with Series 1 and 2 airing in March/April and Series 3 and 4 premiering in January, there should be some news on that front soon. PBS will most likely continue to keep it as a summer series, airing the show in the US sometime between June and August, as it has done since Endeavour debuted in 2012.
Until then, Endeavour Season 4 is available via streaming on your local PBS station website.
---
By
for on October 18th, 2017