By
for on February 19th, 2023
Empress Elisabeth Drama 'Corsage' to Stream on AMC+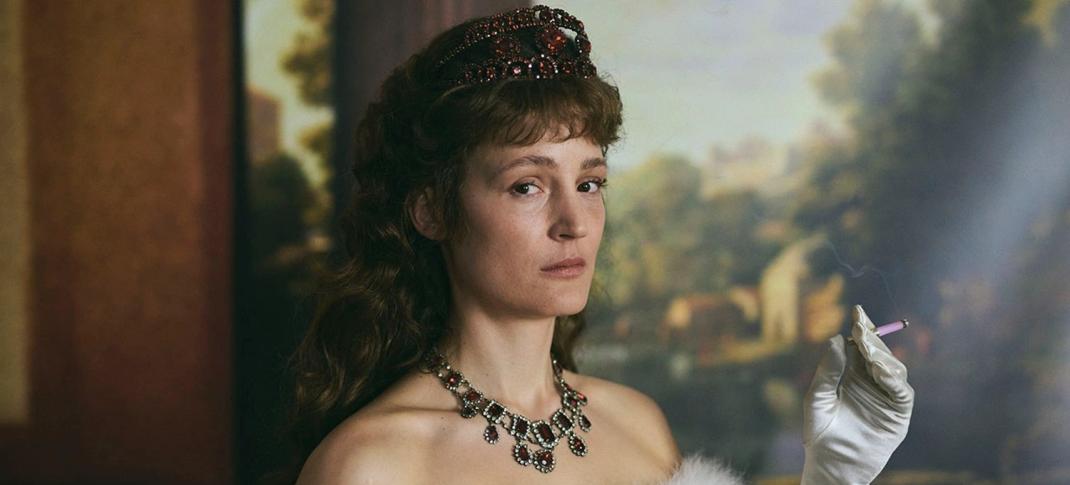 When most people think of period dramas, they think of England, whether it be the Tudors era, the Regency period, Victorian times, the Roaring 20s, or World War II. But in recent years, that has become less standard. While most mainstream hits still stick to London and the U.K. Royal family, shows like Vienna Blood, The Serpent Queen, and Hotel Portofino remind us that there are other eras and countries to visit. Recently, several have focused on Empress Elisabeth of Austria, known as Sisi. The latest film depicting her life, Corsage, is coming to the U.S. streaming in March on AMC+.
There have been multiple projects in the last few years covering the life of Empress Elisabeth. The most popular currently is Netflix's The Empress, which was recently greenlit for a second season. Netflix's series focuses on Elisabeth's younger years in the 1850s and her unlikely romance with Emperor Franz Joseph, who threw over her sister to marry for love. There's also Sisi, which recently arrived on PBS Passport via Walter's Choice, a six-parter that begins with her wedding, but then goes on to cover her life through her assassination in 1898.
Now Corsage arrives, set in 1877, on the occasion of the Empress' 40th birthday. Her looks are fading, her power is declining, and Sisi is having none of it, rebelling against all of the pomp and circumstance that has defined her life in hopes of leaving a legacy behind. Actor Vicky Krieps (Phantom Thread) stars as the aging Empress. Her performance was hailed during the movie's initial premiere at Cannes, winning her Best Performance at the festival and several more Best Actress trophies since.
Here's the film's official synopsis:
Corsage chronicles a critical period in the life of Empress Elisabeth of Austria. It starts in 1877 when Elisabeth – renowned for her beauty – is celebrating her 40th birthday. We see her insisting that her corset is laced ever tighter and restricting what she eats to make that so. It is a metaphor for how she is constrained by the expectations of society – limited to merely ceremonial duties, despite her intelligence, lust for life, and rebellious spirit.
Krieps is joined by Florian Teichtmeister (Vienna Blood) as her husband, Emperor Franz Joseph I of Austria, along with Katharina Lorenz (Der Zauberwürfel), Jeanne Werner (The Forger), Alma Hasun (Woman In Gold), Colin Morgan (Belfast), and Manuel Rubey (Die Glücksspieler). Other cast members include Finnegan Oldfield (Gone for Good), Aaron Friesz (Maria Theresa), Lilly Marie Tschörtner (SOKO), Alice Prosser (Wischen ist Macht), and newcomer Rosa Hajjaj. The film was written and directed by Marie Kreutzer (The Ground Beneath My Feet), and picked up from the Cannes market by IFC Films after its debut, and debuted in U.S. theaters in December 2022.
Corsage will stream on AMC+ and IFC beginning Friday, March 10, 2023.
---
By
for on February 19th, 2023
More to Love from Telly Visions