By
for on July 10th, 2014
'Downton Abbey', 'Sherlock' Lead British Invasion as 2014 Emmy Nominations Are Announced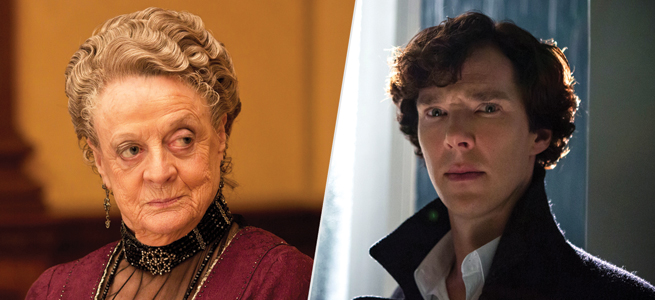 The 66th Primetime Emmy Award nominations were announced this morning (July 10) so I thought it a good time to take an inventory of how some of our favorite actors from the UK fared with the Television Academy. If you're curious - the answer is - quite well, and in a few unexpected categories to boot! Let's take a look. 
 If you'd like to see the complete list of nominees, regardless of their nationality, click here.
Obviously, in the US we recognize the brilliance of classically trained British actors.  However it is also clear that, as a whole, the American public still doesn't really "get" British humor (or humour). Out of twenty British-related acting and series nominations, only one was in a comedy category – Ricky Gervais for Outstanding Lead Actor in a Comedy (Derek). 
[This video is no longer available.]
While the Emmys didn't take much notice of the famous British wit, when it comes to drama, they are held in high regard and none more so than the king of period drama, Downton Abbey. This now perennial favorite has garnered numerous nominations in the drama category including Dame Maggie Smith and Joanne Froggatt, both for Outstanding Supporting Actress; Jim Carter for Outstanding Supporting Actor; Michelle Dockery for Outstanding Lead Actress; and the show itself for Outstanding Drama Series.
Even American actor Paul Giamatti (whom I respect immensely, by the way) got a nod for his guest role as Cora's brother, Harold Levinson. In my opinion, he's a quite superior character to Shirley MacLaine's affected Martha. 
[This video is no longer available.]
The strongest category for actors of the British persuasion this year is the Lead Actor in a TV Miniseries or Movie group.  The nominees include Benedict Cumberbatch for Sherlock: His Last Vow, Idris Elba for Luther, Martin Freeman for Fargo and Chiwetel Ejiofor for Dancing on the Edge. If, like me, you weren't familiar with Ejiofor's performance in Dancing on the Edge, he plays jazz band leader, Louie Lester, whose group becomes a sensation with 1930s aristocrats in London. 
[This video is no longer available.]
You also may have noticed that Cumberbatch is facing off against his Sherlock co-star Martin Freeman in the Lead Actor category, who portrays a very different character in Fargo (and a Yank no less!):
[This video is no longer available.]
In spite of that friendly little competition, Freeman has a second chance to bring home an Emmy for his supporting role in Sherlock. His countryman Alfred Molina is also nominated in this category for his appearance in HBO miniseries The Normal Heart. 
I assume some of you may be wondering about HBO's phenomenally successful Game of Thrones. Lacy and I chatted about GOT's status, in terms of which country can claim it as its own.  A large proportion of the actors are from the UK and some of the series is shot in Northern Ireland. However, it is an HBO production which is American and I would hazard a guess that the crew of thousands is quite an international bunch. Therefore, we'll call Game of Thrones a hybrid and be done with it.
Nonetheless, two British women have been nominated for their contributions to this blockbuster hit; Lena Headey as Outstanding Supporting Actress in a Drama and Dame Diana Rigg for her guest performance as Olenna Tyrell.
[This video is no longer available.]
Other female Brit nominees of note are Helena Bonham Carter for her portrayal of Elizabeth Taylor in the TV movie, Burton and Taylor, and Minnie Driver for her performance in a Lifetime Channel Movie – you heard me – called Return to Zero. 
[This video is no longer available.]
The Primetime Emmy Awards ceremony will air on Monday, August 25 at 8 pm on NBC.
So what do you reckon? Will Luther or The White Queen win for best TV miniseries? Will Sherlock: His Last Vow (the final episode of series 3) beat out the competition for outstanding TV movie? Tell us who you favor to win in any category and we'll have a nice long chat about it in the comments section!
---
By
for on July 10th, 2014
More to Love from Telly Visions