By
for on May 8th, 2022
'Doctor Who's 14th Doctor Announced As Ncuti Gatwa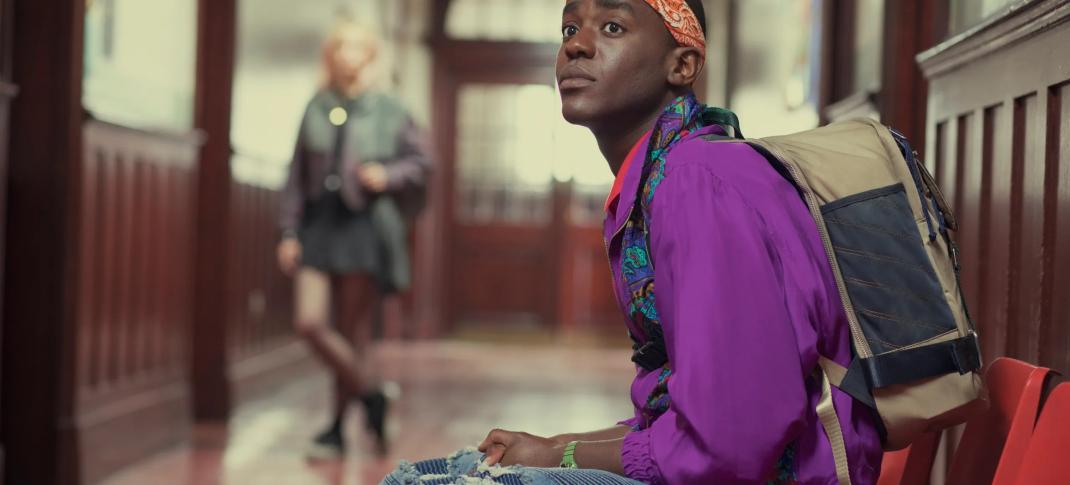 After the BBC turned new Doctor Who casting announcements into media circuses in the past decade, Bad Wolf is making its new tenure felt right away. On Sunday, May 8, with little fanfare and no prior warning, the BBC Twitter account revealed showrunner Russell T. Davies chose Sex Education's Ncuti Gawta to play the Fourteenth Doctor. The 29-year-old is the first Black actor to star in the series and the third-youngest actor to play the Timelord. Only Matt Smith's Eleventh Doctor (age 26) and Peter Davies' Fifth Doctor (cast on his 29th birthday) were younger when they landed the role.
Born Mizero Ncuti Gatwa, the actor initially hails from Nyarugenge, Kigali, Rwanda, but moved to Scotland as a child and was raised in Edinburgh and Dunfermline and trained at the Royal Conservatoire of Scotland in Glasgow. Fans of Horrible Histories may remember him from 2019's Horrible Histories: The Movie, where he played Timidius. But most Americans (and Netflix viewers) know him best as Eric Effiong from Sex Education, where he co-stars as the gay BFF of Asa Butterfield's insecure Otis. Eric is open about his identity at school but privately struggles to be accepted at home by his religious Ghanaian-Nigerian family.
Gatwa won a BAFTA Scotland Award for Best Actor in Television and has been nominated for three BAFTA Television Awards for Best Male Comedy Performance for his turn on Sex Education. The British comedy is popular with Gen Z and boasts Gillian Anderson and Jason Isaacs among those who appear in the adult cast. However, it is not a mainstream hit in either the U.K. or the U.S. Landing the role of the Fourteenth Doctor and set to succeed Jodie Whittaker this coming fall during the BBC's Centennial Doctor Who special is a whole new level of fame.
The future is here! Ncuti Gatwa is the Doctor. #DoctorWho pic.twitter.com/eIidVFAx7u

— BBC (@BBC) May 8, 2022
As part of the BBC's surprise announcement, Gatwa said he was honored to be taking on the role. "There aren't quite the words to describe how I'm feeling. A mix of deeply honored, beyond excited, and of course a little bit scared," he said. "This role and show mean so much to so many around the world, including myself, and each one of my incredibly talented predecessors has handled that unique responsibility and privilege with the utmost care. I will endeavor my utmost to do the same."
Russell T Davies is almost as iconic as the Doctor himself and being able to work with him is a dream come true. His writing is dynamic, exciting, incredibly intelligent and fizzing with danger. An actor's metaphorical playground. The entire team has been so welcoming and truly give their hearts to the show. And so as much as it's daunting, I'm aware I'm joining a really supportive family. Unlike the Doctor, I may only have one heart but I am giving it all to this show.
This marks the first time since the early days of Davies' Doctor Who reboot that the new Doctor announcement didn't involve a BBC special or well-hyped teaser. Both Peter Capaldi's Twelfth Doctor and Whittaker's Thirteenth announcements were prefaced with days of lead-up, enormous speculation, betting odds, and anxiety over leaks and spoilers. Even Smith's Eleventh Doctor was revealed via TV on the short-lived spinoff companion show Doctor Who Confidential. The last time a Doctor was announced via surprise press release was David Tennant, whose takeover of the role from Christopher Eccleston came during the show's inaugural return season. 
That bodes well for Gatwa. Like Tennant, the actor is already on his way to an established and well-decorated career before being cast. (Tennant was best known in the states for playing Barty Crouch in the Harry Potter films at the time of his taking over the Tenth Doctor role.) This is also another win from the Sex Education casting department; Bridgerton's Simone Ashley is also an alum of the comedy series.
Whittaker's final turn as the Doctor does not have an exact premiere date but is expected to air sometime in October 2022. No date has been set as yet for Gatwa's first episode. However, if Bad Wolf agrees to continue with the now-well-established BBC yearly holiday special (a staple since Davies rebooted the show in 2006), fans can probably expect to see his first starring turn before the year is out. 
---
By
for on May 8th, 2022
More to Love from Telly Visions