By
for on January 1st, 2020
'Doctor Who' Season 12, Episode 1 Recap: "Spyfall, Part 1"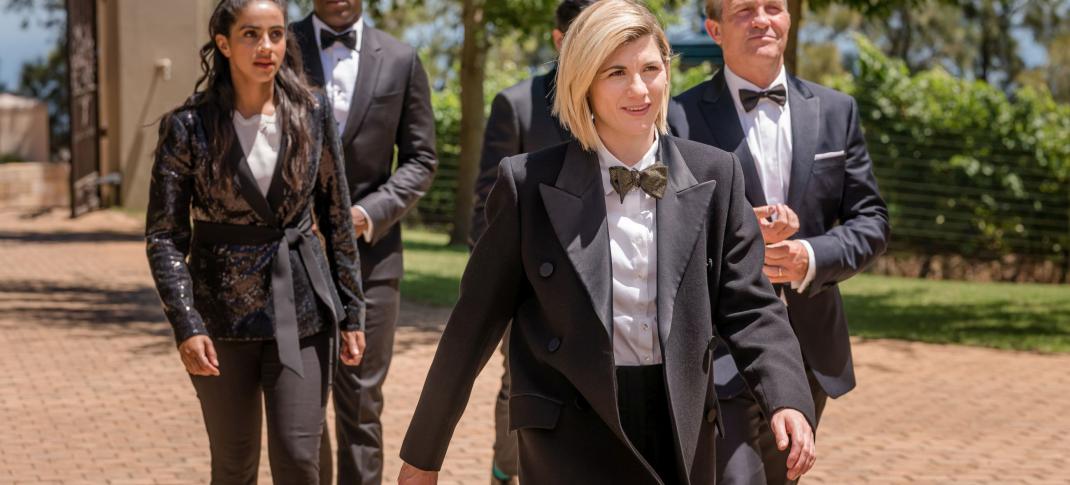 It's big-budget time for the Doctor Who. The cold open of the Season 12 premiere spanned South Africa to Moscow, but the most important place in the world is Sheffield, where Ryan, Yaz, and Graham are all home for the moment, trying to play off their long absences. But it won't be long before they're off again, just not the way they planned. Men in suits and unmarked black cars show up to take all three of them away. They're not from the Doctor though, as she's being picked up as well, by a car that is soon taken over by mysterious murderous forces. Worst uber ever, indeed.
C: Anesthetic darts, laser shoe gun, infrared ID duplicator, camembert hacker, lock breakers, rocket launcher cufflinks, retinal id decoder, and tongue immobilizer chewing gum. What more do you want? 
For those who didn't pick up on the block lettering, the locations, or the title, this is Doctor Who does James Bond. They've been picked up and brought to London by "C" (Stephen Fry). A fitting year for it, as this April will see the 25th Bond film in the franchise, No Time To Die, hits theaters. It's not the first time the franchise had gone the way of Bond. One could argue the entire Third Doctor period when the Doctor was stuck working for UNIT with fancy cars and outrageous gadgets, was an attempt by Doctor Who to jump on the Secret Agent Man bandwagon.
But since the Fourth Doctor left Earth, the show has stayed away from secret agent work. In case you're asking the question I'm asking, the last New Year's Day Special revealed UNIT was shut down due to austerity and budget cuts, which is why we're dealing with MI-6 here instead of the Lethbridge-Stewarts. (Torchwood's long been defunded, ever since John Barrowman left for the Arrowverse and American TV monies.) Spies from around the world are being attacked, but this isn't just a case of spy v spy because what happening to these spies is beyond any human technology. They're erased from the inside, their DNA overwritten and wipes, leaving only a shell.
These agents were chasing leads on Daniel Barton (Sir Lenny Henry), the founder of VOR, a worldwide search engine that's also gots its fingers in every scientific and social media VC startup you can list. It's also "more powerful" than most governments, which is to say, it's the go-to-company for tech outsourcing from government security to military servers. Barton also was once an MI-6 agent. C thinks he's become a double or triple agent, but that's all he gets to say before being conveniently shot, and alien creatures start coming out of the walls.
The group splits up, with Ryan and Yaz heading out to San Francisco, while the Doctor and Graham head out to see one of the last people C sacked, who should have been in the UNIT program, O (Sacha Dhawan). He's retreated to the wilds of Australia, but he seems to be quite technology efficient, as when the aliens, now oddly shaped humanoids of light, follow the TARDIS to his house, he manages to remove all but one. (Sadly, that one is about as forthcoming as a being of light would be.) Meanwhile, at VOR, Ryan and Yaz pose as journalists and get into interview Barton, who seems to be the real deal,until the DNA scan Yaz sneaks reads Barton as only 93% human. Ryan's camera usefully scanned and recreated Barton's passes, so they can at least spend the night snooping and downloading before their second session at his house the next day.
Unfortunately, Barton turns up to visit with our creatures of light, which he sees as answering to him. But they don't tell him Yaz and Ryan are hiding in the room and wait until he leaves to attack, capturing Yaz. The good news is Yaz isn't dead, just somewhere green and creepy. (Which I suppose could be a little like being dead, but I wouldn't know personally.) But she's only there for a moment. The beings of light swarm her while the one in the Doctor's cage starts glowing like it's going to self-destruct. When it does, Yaz is left inside. Thank heavens for that, anyway.
With alien infiltration found in Barton's systems, and what seems like a spy network of these off-world creatures across the grid, it's time to confront Barton to see if he's the Spymaster. Did I mention the second interview session at Barton's house is going to be during his black tie birthday party event? Now the team's back together, they all go, O too, dressed to the nines in tuxedos. Cue the Bond music, the gambling, and the quote of the episode: "The name's Doctor. The Doctor." There's a face to face showdown with Barton, a car chase, the team riding motorcycles, an airplane chase, the works.
But it's one big red herring that suddenly takes a major turn when a small detail about O's background stops adding up. The Doctor and her companions are trapped on an airplane with no pilot, a bomb, and a man who isn't who he claimed to be. Turns out the Spymaster they're looking for isn't the spy at all. 
Just The Master.
Welcome back, Doctor Who. We missed you.
---
By
for on January 1st, 2020
More to Love from Telly Visions