By
for on October 8th, 2018
'Doctor Who' Season 11, Episode 1 Recap: The Woman Who Fell To Earth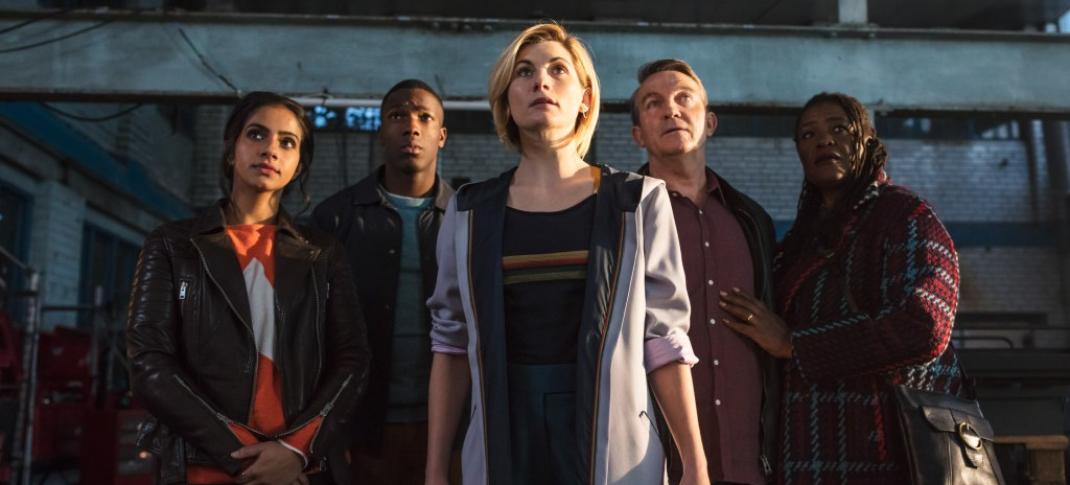 ​Jodie Whittaker nails her arrival as the new Doctor in Doctor Who's "The Woman Who Fell To Earth."
The Doctor: Sorry, half an hour ago I was a white-haired Scotsman.
Doctor Who's lead character has undergone thirteen regenerations over the course of 53 years, almost all of which have taken place on camera. When a new Doctor arrives, the fandom has a set of expectations that must be met. Regeneration must seem painful to undergo, and yet the Doctor must valiantly struggle through it. The timing must be terrible, causing the Doctor to need to save the world while trying to get used to having new limbs. But all in all, the Doctor must never lose the Time Lord sense of curiosity and wonder, while needing to save the day.
On all these points, Jodie Whittaker's first outing in the role was an unqualified success. From her arrival falling through the ceiling of the last car of the local train to Sheffield, to throwing off regeneration napping, to doing her own wielding as she puts together a new sonic screwdriver made of various bits and pieces and a whole lot of spoons. This was a Doctor who is more than capable of taking the lead inside the TARDIS.
Just one problem: No TARDIS. She lost it. Not that there was much time for solving where the Blue Box has wandered off to. Whittaker drops into the back of that train just in time to save former bus driver (and now pensioner) Graham (Bradley Walsh), his wife of three years, Grace (Sharon D. Clarke), a nurse, along with Karl (Jonny Dixon).
Along with Graham and Grace, the Doctor also picks up Ryan (Tosin Cole), Grace's grandson, who suffers from dyspraxia. He found his own alien something or other just before the train incident. He's got Yasmin (Mandip Gill) in tow, his former schoolmate, now a trainee cop, who got sent to look at his weird alien item since none of the real coppers wanted to be bothered, and wound up going with him to help save his Nan from a crashing train.
The Doctor: Swiss army sonic. Now with added Sheffield steel.
Said train is crashing due to an odd alien creature that crashed into it. It turns out not to be a creature, but a bit of biotech called a Gathering Coil, come to pick out an easy victim for the alien hunter with the improbable name of Tim Shaw, a creepy baddie who wears the teeth of his kills in his face. Tim Shaw's role as leader of his people is at stake with this hunt, and he's cheating his way to a win. The Doctor has to stop him from killing anyone else and send him back home without his chosen victim, Karl, a meek, self-doubting sort, who doesn't want anything to do with the alien lady who just saved his life. 
Ryan seems to be the primary companion. He's the first to achieve alien awareness and acceptance, the first to accept the Doctor as in charge, and the first to follow her line of thinking, and start asking all the right questions. Yaz, to her credit, makes an attempt at taking control as the woman in uniform, but the Doctor runs her over before taking back control of the situation, as any Doctor would have. Before long, Yaz's cop uniform has disappeared, and she is in full follower mode, teaming up with Ryan to follow the Doctor's plan.
Graham, on the other hand, is the last to accept the Doctor, the first to be closed minded about aliens, and the one to wonder why everyone is running towards the danger, when obviously they should run the other way. This is deliberate, since Grace not only accepts the Doctor as quickly as her grandson but revels in being in the thick of danger, saving the world, or at least the construction worker team directly in harm's way.
Knowing Ryan and Graham are the companions this year, some might have hoped Grace would take the "stay at home" figure tying them back to Earth, but by the halfway mark, it's obvious she is the best choice for a new Companion to the Doctor. Her nurse, as it were. That marked Grace for that all-too-often-used trope of the woman who dies so those around her can grow. It also puts her in the much more rarefied category of Companions Who Shoulda Been, like Astrid (Kylie Minogue) or Reinette, Madame de Pompadour, the kind of people the Doctor means to ask "All of time and space, where would you want to go?" only to have them not last long enough to answer.
The Doctor: Really craving a fried egg sandwich.
But Grace's passing was the only bum note in an otherwise solid first outing for the Doctor. At least they had the smarts to give her a full-on funeral, which the Doctor attends, before Ryan, Graham, and Yaz help her put together a crazy contraption to track down her missing TARDIS and send her out of their lives.
Except, as is common with the Doctor, the contraption doesn't quite work as planned. The episode ends with all four of them somewhere out there in the middle of space, no TARDIS to be seen. Oopsie.
Next week, it's a classic "Companion's First Alien World Adventure" episode, in "The Ghost Monument."
---
By
for on October 8th, 2018