By
for on December 8th, 2021
The 'Doctor Who' New Years Special for 2022 Brings Back The Daleks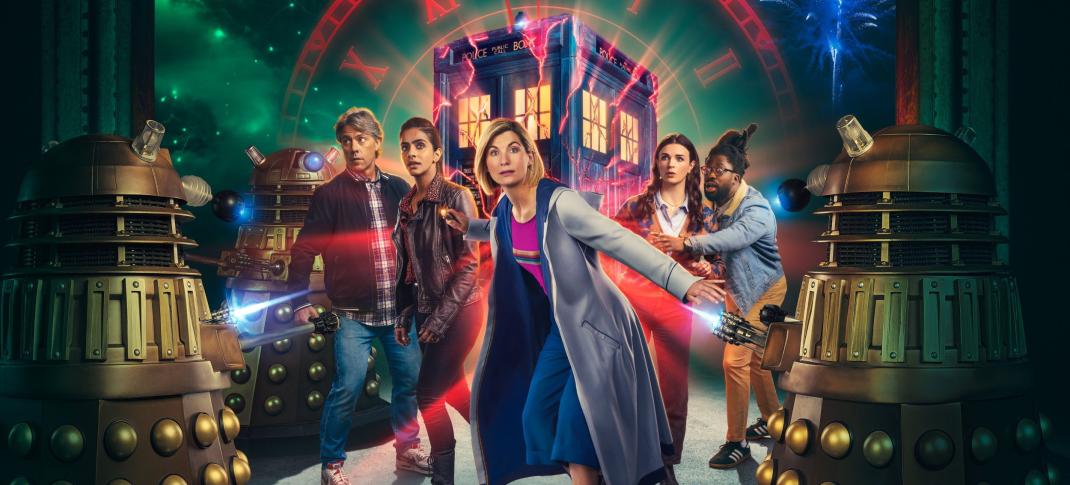 Doctor Who: Flux is over, but that doesn't mean Doctor Who is done with the Thirteenth Doctor just yet. There will be no full season in 2022, but there will be a series of specials as the show gears up to cast a replacement lead and transfer from showrunner Chris Chibnall to Russell T. Davies. (There's also a more major behind-the-scenes shift, as the entire production moves house from BBC control to Bad Wolf and Sony Television, but hopefully, that transfer of power will remain invisible to fans with the show continuing to air on BBC One and BBC America.)
But before all that comes into play in 2023, 2022 will have a few visits from the Thirteenth Doctor (Jodie Whittaker), along with companions Yaz (Mandip Gill) and Dan (John Bishop). And their first adventure will arrive in time to bookend the holiday season with its usual New Year's Day festive special, kicking off the year with a whole lot of running and the tolling of the Dalek voices calling "Exterminate." Like the New Year's Day 2019 episode, this will once again herald a return of everyone's favorite plunger-and-kitchen-whisk attired pepper pots, as Dan gets to learn all about the famous aliens and their stubborn ways.
The teaser for the New Year's Day special aired at the end of the Flux finale, giving fans their first look at the return of the Doctor's long-standing enemy and a few of the guest stars who will be featured in this holiday special.
The New Year's Day adventure will be titled "Eve of the Daleks," and the synopsis is as follows:
The episode features Sarah, who owns and runs ELF storage, while Nick is a customer who visits every year on New Year's Eve. This year, they will have to join the Doctor, Yaz, and Dan, in their fight against the Daleks. They are trapped in ELF storage and get stuck in a time loop from which there is seemingly no escape – but the Doctor always finds a way... doesn't she?
The guest stars joining Whittaker, Gill, and Bishop for this episode include Aisling Bea (This Way Up), Adjani Salmon (Dreaming Whilst Black), and Pauline McLynn (Last Night In Soho). Bea plays Sarah, the owner of ELF storage, while Salmon plays her love interest, Nick. McLynn's role has not been disclosed. 
Just in case you were wondering how we know that Sarah and Nick are a couple of the week, Chibnall's commentary on the special confirmed it: "We all need a little romance in our lives around New Year. Less so, Daleks. But Aisling Bea and Adjani Salmon's characters will have to deal with both in a New Year's Eve from hell. Together with Jodie Whittaker's Doctor, it'll hopefully prove the perfect New Year's Day tonic."
Doctor Who's New Year's Day special, "Eve of the Daleks," marks the beginning of Whittaker's last year in the role as the first of three specials scheduled to arrive in 2022. It will premiere on New Year's Day, Jan. 1, 2022, on BBC One at 6:25 p.m. BT and BBC America at 8 p.m. ET.
---
By
for on December 8th, 2021