By
for on July 26th, 2019
'Doctor Who' May Air Episodes In 2019 After All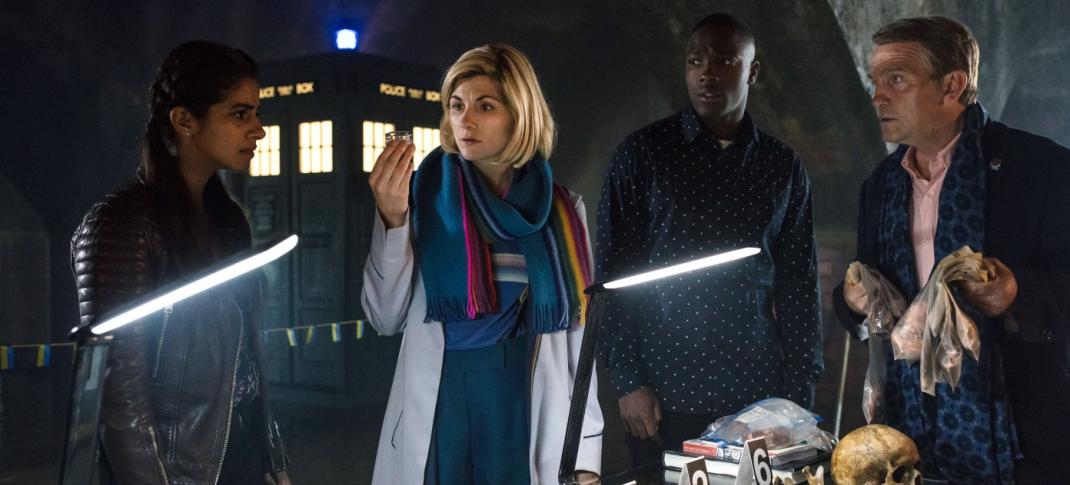 Despite initial reports that Doctor Who would not return to our televisions until 2020, rumors are starting to suggest otherwise. Here's what we know about Season 12.
When Doctor Who aired New Year's Day special, "Resolution," on January 1, 2019, it was, according to all reports, the only episode fans would see this year. The 13th Doctor Jodie Whittaker and her companions, Graham O'Brien (Bradley Walsh), Ryan Sinclair (Tosin Cole), and Yasmin Khan (Mandip Gill) are all signed to return for Season 12. But filming schedules and so forth would delay the next until after the new year, putting a probable 12 to16 months between seasons, depending on the final premiere date.
But as filming for the new season kicks into high gear, reports are suggesting that the declared delay until 2020 might have been a mite hasty.
So far the new season has done a filming block on location in Cape Town, South Africa. It also has shown up in the U.K. in Cardiff, Swansea,  Tenerife, and Gloucester, as well as what looked to be a set dressed to look like Paris during World War II.
But it's the monsters who have been confirmed to return on the Thirteenth Doctor's watch that has fans properly excited. The Judoon were spotted on set in both Cardiff and Gloucester. These "interplanetary thugs" were a New Who creation, first seen during the Tennant years, but who then largely disappeared during Smith and Capaldi's time in the TARDIS. More recently, The Mirror announced the Cybermen will also appear in Season 12, marking a return for the long-running Doctor Who antagonists, who along with the Daleks, are some of the Doctor's oldest foes.
Series 12 is on its way and will be returning to BBC One in early 2020. https://t.co/Kd1cS98j9U #DoctorWho pic.twitter.com/ysEOP6MlRu

— Doctor Who Official (@bbcdoctorwho) December 9, 2018
But in announcing the season's coming theme of environmentalism, BBC insiders also accidentally revealed that 2019 would almost certainly see another holiday special before the year is out.
According to Cultbox, Sesaon 12 is concerned about the coming destruction of the Earth.
Last season, the theme was empowerment for women, mirroring what was happening elsewhere in the world. This time there will be an effort to get behind the message that what we're doing is killing our planet. Kids are really involved in these environmental issues so it's a perfect fit for Doctor Who.
And then:
Jodie Whittaker's second series is due on BBC1 early next year, following her second festive special.
Now, to be clear, this "Festive Special" does not necessarily mean a Christmas installment. The New Year's Day Special didn't pull in the usual Christmas numbers, due to a less captive audience and a less solid tradition. But showrunner Chris Chibnall may continue not to run Doctor Who on Christmas. If so, that could mean that the next episode fans will see will technically  still be in 2020, specifically January 1, 2020, with a Season 12 premiere to follow later in the year. But it sounds like if the BBC has its way, Whovian Christmas will be back on the holiday menu. It will remind everyone that TARDIS Blue is as holiday-centric as red and green. 
Either way, any chance of seeing new episodes is still months off. But with such significant gaps in between seasons, it would be nice to have at least one more dose of the 13th Doctor before the decade closes out.
---
By
for on July 26th, 2019
More to Love from Telly Visions