By
for on October 13th, 2022
The Trailer for "Doc Martin's' Final Season Highlights the Show's Quirky Heart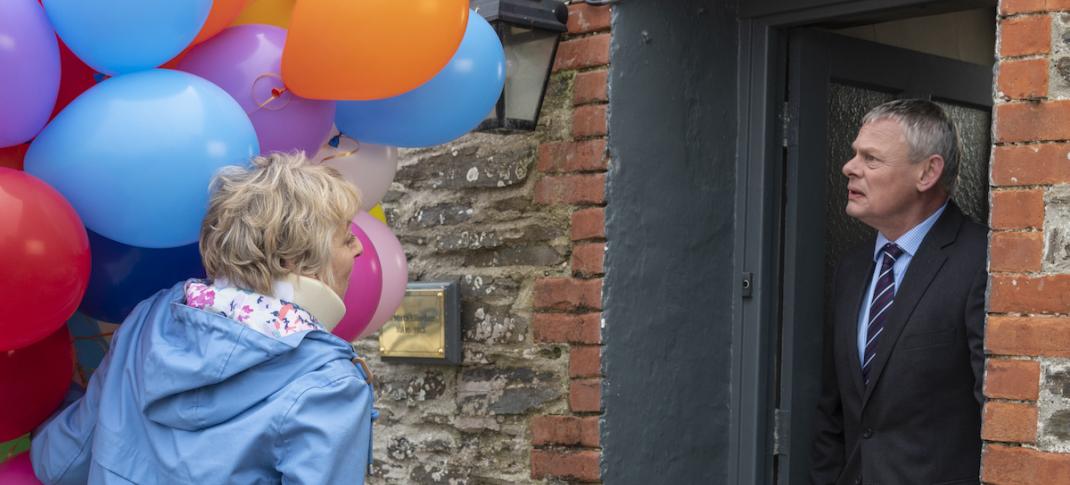 The end of an era is here: The final season of British comedy Doc Martin will launch on Acorn TV next week, closing the book on a franchise that has come to define the idea of quirky, offbeat British comedy for millions of viewers around the world. Over the course of a run that has spanned nearly two decades, the show will end having completed ten seasons of television, with over seventy-five episodes, and two made-for-TV films under its belt. (Plus there's still a Christmas special to come later this year, which will serve as the show's grand farewell.) 
Doc Martin has always been an odd duck, a show that follows a socially awkward but painfully honest GP who moves to an idyllic seaside town and builds a successful new life for himself, despite the fact that he doesn't seem to like his neighbors, is openly rude to most of his patients, and has a demonstrated fear of blood. The humor is often self-deprecating and occasionally cringe, but its heartfelt emotion and open embrace of unconventional characters have helped the show stand out from the comedy crowd for years now.  
Set in the Cornwall village of Portwenn, Doc Martin follows the story of the titular Doctor Martin Ellingham (Martin Clunes), his job at a local medical clinic, and his on-again, off-again romance with a local school teacher named Louisa (Caroline Catz). By the time Season 10 rolls around the two have finally wed (trust that this took some serious time) and now have two children together. 
But after stepping down GP at the end of last season, Martin is beginning to question whether he made the right decision about giving up practicing medicine. With Louisa happily established in her new career as a child counselor, all that's left for Martin to do these days is indulge in his hobby of repairing clocks on the kitchen table while looking after his two young children and he hardly looks what you might call fulfilled. Does he truly want his old job back? Signs in the trailer for the series' final season certainly seem to point to yes. 
But the Acorn TV clip also fully leans into the show's offbeat humor and gruff heart, which are precisely the things that have made so many viewers fall in love with the show over the years.
Alongside Clunes and Catz, most other Portwenn fan favorites will be back for the series' last hurrah, including Dame Eileen Atkins as Doc Martin's formidable Aunt Ruth, Ian McNeice as Bert Large, and Joe Absolom as Bert's son, Al. John Marquez is back as PC Joe Penhale, as is Jessica Ransom as the doctor's former receptionist Morwenna Newcross and Selina Cadell as the local pharmacist and neighborhood gossip Mrs. Tishell.
Guest stars for the final season include Fay Ripley (Suspects), David Hayman (Landscapers), Ben Miller (Professor T), Lesley Nicol (Downton Abbey), Hermione Norris (Cold Feet), Kenneth Cranham (Finding Alice), and Rupert Graves (Sherlock). 
Season 10 will debut its first two episodes on Monday, October 17, with one episode to follow each week until November 28. All nine previous seasons of Doc Martin can be found on Acorn TV, as well as the series' two prequel movies.
---
By
for on October 13th, 2022
More to Love from Telly Visions