By
for on November 22nd, 2019
Dated or Delightful? 'Yes Minister'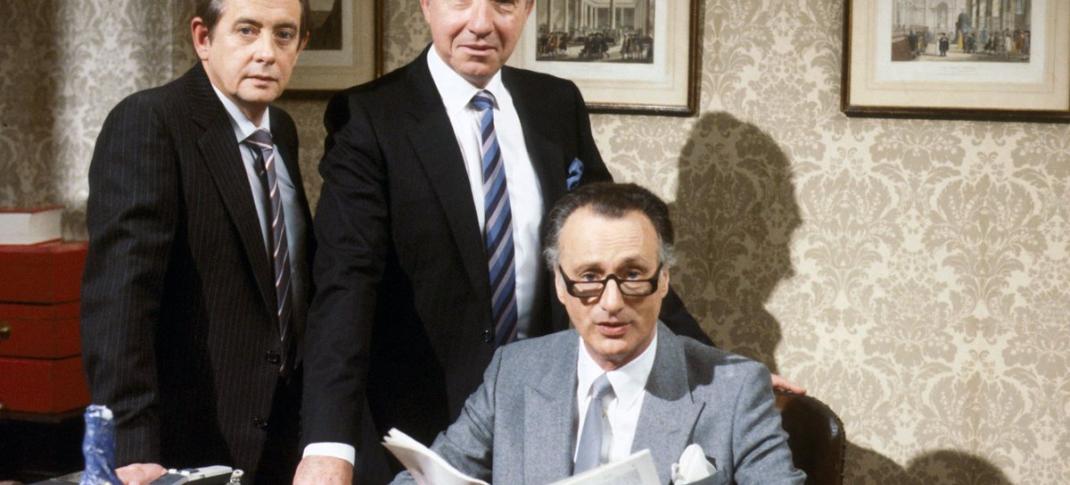 In this installment of Dated or Delightful, we travel back to 1980 to see if a sitcom about the British government can still be funny. Almost forty years ago, the BBC's Yes Minister debuted in the U.K. Its authenticity was credited to the fact that the writers used real Whitehall moles to give them an insider's perspective.
Yes Minister was the first program to win the BAFTA for Best Comedy three years in a row. It's been broadcast in 84 countries across the globe and has landed on countless "favorite/best sitcom" lists over the decades since. But does it hold up over time? Let's find out. 
I recall seeing Yes Minister (and quite possibly some episodes of the sequel, Yes Prime Minister with the same core cast) on PBS in the 80. As an American high school student, I'm sure I didn't grasp the intricacies of the British political system it was mocking, but I knew I was watching something clever and biting.
In 2004 Armando Iannucci, who later went on to create and pen both the political satire sitcoms The Thick of It and Veep, championed Yes Minister as Britain's best sitcom.  
"Yes Minister is the best, most useful warning we've ever had of how we can go on convincing ourselves we operate under a properly functioning democracy while the truth is that the blindnesses and obstinacies of those with any sort of power clumsily conspire to make that democracy dysfunctional."
Sound familiar? With the ongoing Brexit battle and an upcoming U.K. General Election just weeks away, there is very little to laugh about in British politics these days – or politics in general for that matter. But let's get back to happier thoughts about fictional self-serving politicians and their obstructionist civil servant staffers.
Yes Minister, which ran for three seasons, followed the misadventures of well-meaning Member of Parliament, Jim Hacker (Paul Eddington). When we are first introduced to Mr. Hacker, he's just been appointed to the PM's Cabinet as Minister for Administrative Affairs and is full of idealistic plans for making government more transparent and efficient.
That is until he meets his Permanent Secretary and head of the Civil Service in his department, Sir Humphrey Appleby (Nigel Hawthorne), who has other ideas about how things are and should be done. And for Humphrey, his way means without the interference of transient politicians.
Once settled in his ministry with the help of his Principal Private Secretary, Bernard (Derek Fowlds), Hacker is forced to fight Appleby, not to mention the Whitehall system at large, at every turn in order to get his policies enacted. He soon discovers that campaign promises are far harder to keep than he ever imagined.
So we come to the question, is Yes Minister dated or delightful? On the surface there are always dated aspects to programs made so long ago whether it comes to fashion, hairstyles, decorating or simply just the production values of the time.
Technology we are now used to seeing in office settings such as personal computers are absent here, as are mobile phones. The politicians certainly aren't tweeting, but that doesn't mean they aren't acutely aware of the media in a different way.
Rather glaring for a younger generation watching Yes Minister would be the almost complete lack of women portrayed as being part of the government. Despite the fact that Margaret Thatcher became Prime Minister in 1979, the number of female MPs in the early 80's hovered at around 3%.
Currently, there are 206 women in the House of Commons, an all-time high of 32%. Several actresses made guest appearances as MPs and civil servants in the show, including Call the Midwife's Judy Parfitt as Select Committee member, Betty Oldham. But overall, Yes Minister reflected the gender disparity of its time by having an overwhelming majority of male cast members.
Despite changes in production style and overall strides towards gender equality over the decades, Yes Minister is surprisingly relevant and, I daresay, delightful.  Once the rose-colored glasses come off, the MPs are constantly focused on their image and how to get re-elected, rather than whether they should do what is necessary, even if it's unpopular. While apolitical, the civil servants are concerned with maintaining gridlock by frustrating the MPs into submission. It's all exaggerated for comic effect of course. It Is, isn't it?
Just check out Sir Humphrey's explanation of Britain's foreign policy objective regarding Europe and its precursor to the EU (known as the ECC).  He even uses the phrase "quid pro quo."
What are your impressions and memories of Yes Minister? Is it delightfully entertaining, woefully dated or just alarmingly familiar?
If you'd like to revisit the series (or watch for the first time), you can stream all seasons of Yes Minister and Yes Prime Minister on Britbox. Make your vote count in the comments section below!
---
By
for on November 22nd, 2019
More to Love from Telly Visions