By
for on June 17th, 2020
Dated or Delightful? 'Waiting for God'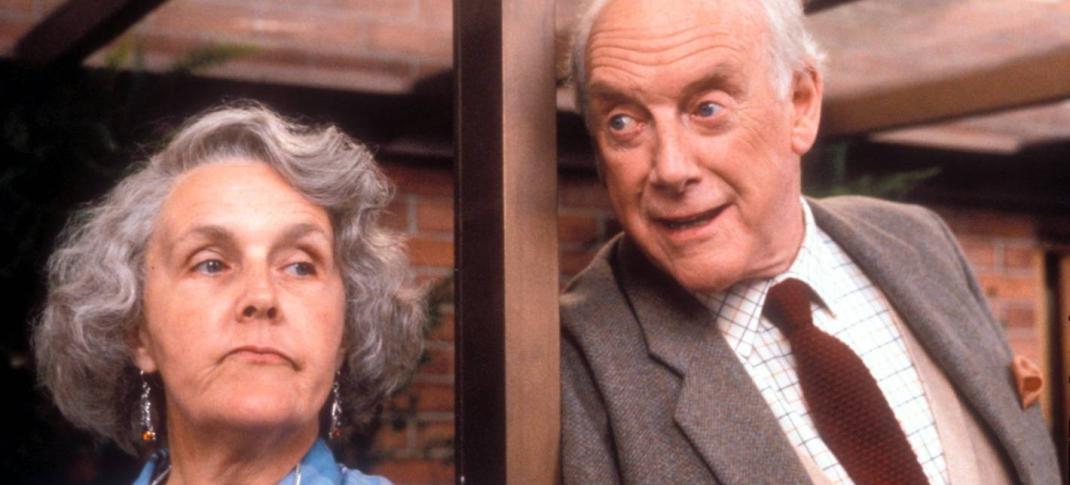 Over the past few months, I've had a bit of downtime from work so I started watching some classic Britcoms I hadn't gotten around to before. One of those was Waiting for God, the BBC One comedy about "two inhabitants of the Bournemouth's Bayview Retirement Home who are growing old disgracefully."
Waiting for God made its debut thirty years ago this month (June 28th, 1990 to be exact). A total of 47 episodes were broadcast over five seasons from 1990-1994. Created and written entirely by Michael Aitkens, the screenwriter says the show was inspired by a retirement village that opened near his house in Australia. Residents of the facility called it "God's Waiting Room".
The cast was led by Stephanie Cole (a familiar face to Doc Martin fans) as retired photographer Diana Trent whose sharp-tongue and cynical attitude have left her rather lonely - though she'd rarely admit it.  Enter Tom Ballard (Graham Crowden), former accountant, daydreamer extraordinaire, and Diana's new neighbor at Bayview. While Tom's generally jovial manner should make him the target of Diana's brutal disdain, the pair realize they are kindred spirits when Tom organizes a hunger strike in protest of the substandard fare served in the dining room.
This alliance is bad news for Bayview's manager Harvey Baines (Daniel Hill) -  a highly superficial man who regards the residents in his care as little more than obstacles to his obsession with the almighty pound. Alas, the only person who sees any worth in the miserly Harvey is his secretary Jane (Janine Duvitski), who also happens to be hopelessly besotted with him.
I watched the first two seasons of Waiting for God on BritBox and found it to be delightfully smart and funny while not distractingly dated. This is due in large part to the strength of the female lead character, Diana Trent.  In my opinion, she's far more interesting, relatable, and entertaining than that other beloved 90's Britcom icon, Hyacinth Bucket. (Yes, I said it and I'm not sorry!)
*Interesting casting fact about Stephanie Cole who plays the inimitable Ms. Trent.  Although Diana was supposed to be a pensioner, Cole was actually 48 years old when she took the role. Her co-star Graham Crowden, on the other hand, was almost two decades older and, at 67, a more appropriate age for his role.
Diana was a fiercely independent woman before she ended up at Bayview. With an intrepid adventurous spirit, she spent her life trekking the globe as a wartime reconnaissance, wildlife, and action photographer. When she found love, it was with a married man and, since she wasn't willing to settle for less, she was resigned to the role of mistress for thirty years.
Since her retirement, Ms. Trent's had ample time to stew on the societal inequities of age and infirmity. And while she might politely be labeled "blunt" in her approach, Diana does have the best interests of her fellow residents, and indeed her whole generation, at heart. Even when she's threatening their hair-dos.
That's not to stay that Mr. Ballard isn't an important part of the successful formula of Waiting for God as well.
In fact, without Tom's calm presence and rather eccentric outlook on life to offset Diana's frequent tirades and pessimistic attitudes, the series would be overly mired in the persistent realities of elderly isolation, dependence, and illness. This pair of non-conformists with wildly different temperaments end up balancing one another out very nicely and forming quite a lovely companionship.
Without shying away from the difficult and eternal realities of aging, the series takes a life-affirming stance on an unavoidable stage of life. The first three seasons can be streamed on BritBox. Please share your opinions on the series and be sure to have your say. Is Waiting for God dated or delightful?
---
By
for on June 17th, 2020
More to Love from Telly Visions